The Comfortable Kitchen – A Cookbook Review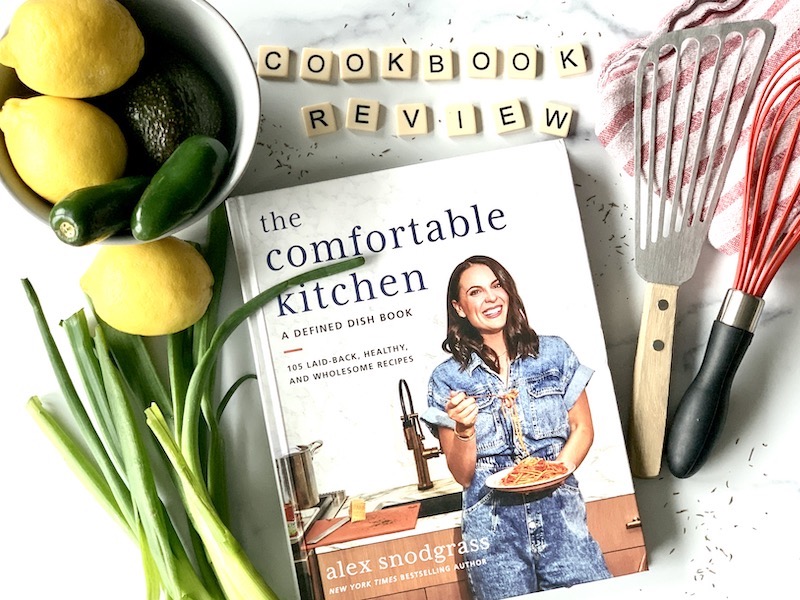 I thank  Alex Snodgrass for coaxing me back into the kitchen. Through the recipes on her blog, The Defined Dish—which utilize pantry staples and other items I might not otherwise try—I fell in love with cooking again. Her first cookbook debuted at the end of 2019, right before the world shut down. The Comfortable Kitchen, her latest collection of recipes packed with flavor and wholesome ingredients, is the ideal gift for Mother's Day or your spring holiday hostess.
Alex's recipes never disappoint. Readers will discover lots of creativity in her newest cookbook, and her creations make me look forward to cooking dinner. How's that for an endorsement?
I can't wait to try the Herby Green Curry Poached Halibut and the Deconstructed Falafel Salad and the Dilly Chicken Burgers with Spicy Slaw but, for starters, here's a glimpse at what we've been cooking from The Comfortable Kitchen.
Truffle Pizza
Although listed in the Appetizer section, this restaurant-worthy pizza is the perfect Sunday dinner for two.
Lonely and forgotten, a bottle of black truffle oil sat in the back of my pantry for quite some time. I didn't know what to do with it. I've now learned truffle oil is delicious when drizzled over pastas, eggs, fish, and vegetables. And in this pizza recipe too.
I baked our pizza longer than the instructed 8-12 minutes, but my pizza stone may have affected the baking time. When it turned beautifully brown and bubbly, I pulled it out of the oven and topped it with the arugula and prosciutto. Yum!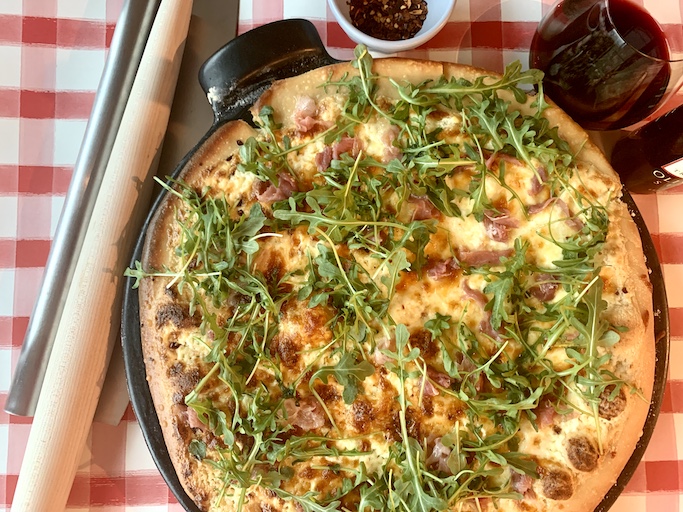 Epic Meatballs
A handful of the 105 recipes in the cookbook appear on Alex's blog. And this is one of them! Whether served atop sautéed spiralized spaghetti squash or whole wheat pasta or eaten alone alongside a salad, these hearty meatballs are on regular rotation in our home.
To save time—in the summer, when basil is plentiful—I fire up the food processor and make batches of pesto. I freeze it in 1/3 to 1/2 cup portions, which is the right amount for this recipe. Or, store-bought pesto works too!
With a bottle of red wine, this is a great dish to bring to new neighbors or parents. Or a friend who needs a little pick-me-up.
Creamy Cauliflower Green Curry Soup
Instead of scavenging leftovers or nibbling crackers and cheese at the kitchen sink, I whipped up this soup and treated myself to a real, healthy, grown-up lunch. To my surprise and delight, Mark liked it as much as I did.
The green curry paste packs a punch, so some cooks may want to tone the spice down a notch. And, since lemongrass availability is hit or miss at my supermarket, I learned 1/2 teaspoon of lemon zest is a worthy stand-in.
Easy Greek-Inspired Lemon Chicken Soup
Fresh oregano and dill from the market or snipped from your garden bring out the bright flavor of this soup. It comes together in minutes, starring a cast of healthy pantry staples. Throw together a salad or heat some crusty bread, and dinner is served. And lunch is ready the next day.
The Best Bolognese
Simmer this meaty sauce on the stovetop, pour a cup of steaming tea, curl up with a book, and prepare to be delighted with a fabulous meal. After discovering this recipe on Alex's blog, it's become a go-to for holiday and birthday celebrations. 
Some cooks may prefer to use all ground beef in this dish, rather than the suggested combination of beef, pork, and veal. But, please, don't skip the anchovies. They "melt" into the sauce and add a subtle, wonderful flavor.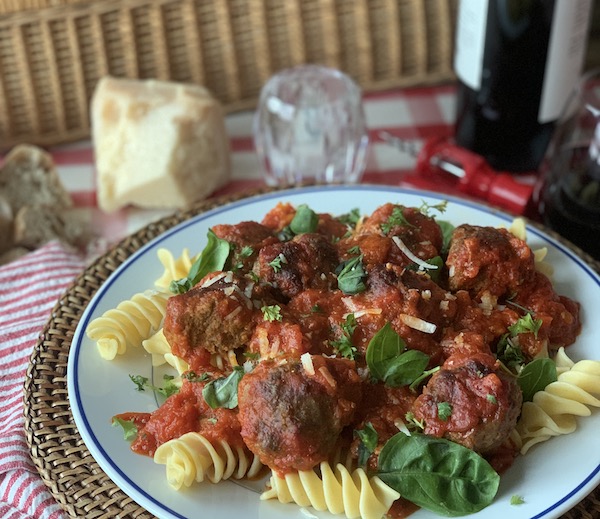 Chorizo-Stuffed Bacon-Wrapped Dates
Delicious and worth the effort, but—full disclosure—a bit of babysitting is required to crisp the bacon. I made this special appetizer for a New Year's Eve meal. The sweet and salty dish comes together with less stress if you prepare the red pepper sauce ahead of time. And be sure to buy pitted dates. The next day, my husband and I gobbled the leftovers—cold. PS, our guests were impressed!
Chicken Dan Dan-Inspired Noodles
With its lengthy ingredient list—including a couple of items I wasn't familiar with—I'd skipped over this recipe in the cookbook. And then my Colorado daughter-in-law, who introduced me to the Defined Dish blog years ago, served it for dinner. Wow!
This is Alex's take on the Sichuan dish, a takeout favorite, consisting of noodles and a spicy sauce. My DIL and I—yep, I came home and made this dish—subbed red pepper flakes for the Sichuan peppercorns. You can find a jar of gochujang, a fermented chile paste, in the international foods section of most supermarkets.
Sutton's No-Bake Monster Cookie Bites
Unlike her first cookbook, The Comfortable Kitchen includes a section of cleaned-up sweet treats. One snowy Colorado afternoon, my little sous chef and I made these no-bake energy bites together. My granddaughter had a ball dropping the chocolate chips and M&M's into the mixing bowl. The one bad thing? You must refrigerate the mixture for 30 minutes before you can shape them into balls and pop them in your mouth. Toddler and adult approved.
One-Pot Cacio e Pepe Israeli Couscous
I'm not a massive fan of this dish in many restaurants—it's often way too rich. But this faux "cheese and pepper" version has become a go-to in our kitchen. I even make it for myself when Mark is out of town. It's that easy, and I almost always have the ingredients on hand.
When you don't want to cook, this budget-friendly meal comes together in a snap. In only one pan.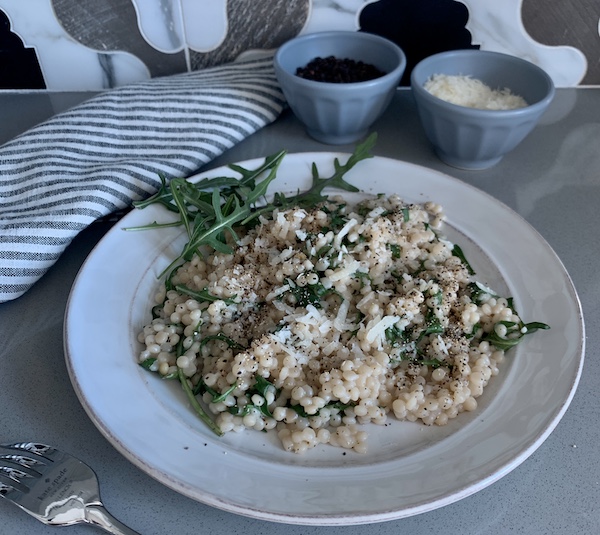 Clayton's Favorite Mustard Salmon
Of the recipes I've tried so far, this is one of my favorites. As Alex's husband exclaimed, "This is restaurant-worthy!"
I mixed the mustard sauce ahead and, instead of opening a can of coconut milk for the required 1/4 cup, I subbed Greek yogurt. Since this dish is messy, a splatter guard on the skillet is helpful.
Confession—I haven't mastered the crispy shallots quite yet. Even though mine don't look pretty or photo-worthy, they taste delicious and add a fabulous crunch to the entree.
Espresso Martini
Alex's cookbook devotes one chapter to cocktails created by her husband, Clayton. And this martini is ultra-smooth and delicious.
When I mixed this concoction for dessert, I opted to make mine with decaf coffee—so I could sleep. As wonderful as this cocktail is, I need to work on my bartending skills. I could not produce the beautiful foam shown in the cookbook photo. Maybe shake the mixture longer and harder? I'll have to make this drink again and again until I get it down… Cheers!
Harissa- and Farro-Stuffed Acorn Squash
This is the perfect dish for those trying to incorporate more plant-based meals into their diets. And, if you haven't cooked with farro, it's a rock star grain packed with nutrients.
We used chicken broth instead of vegetable broth and substituted pistachios for the pumpkin seeds. That's what we hand on hand, and they worked well. The nutty farro flavor paired superbly with the spicy harissa, a hot chile pepper paste. Filling and healthy!
Roasted Veggie Enchiladas Verdes
My husband requested an "out-of-the-ordinary meal" for his birthday, and these vegetarian enchiladas were a huge hit. He's already asking when "we" will make them again.
If you're like me, you run out of steam as the dinner hour approaches. For this dish, might I suggest preparing the green sauce earlier in the day? A clever cook may assemble the entire dish ahead of time. When the dinner hour arrives, all that's left is to pop these delicious enchiladas in the oven, sit back, and enjoy.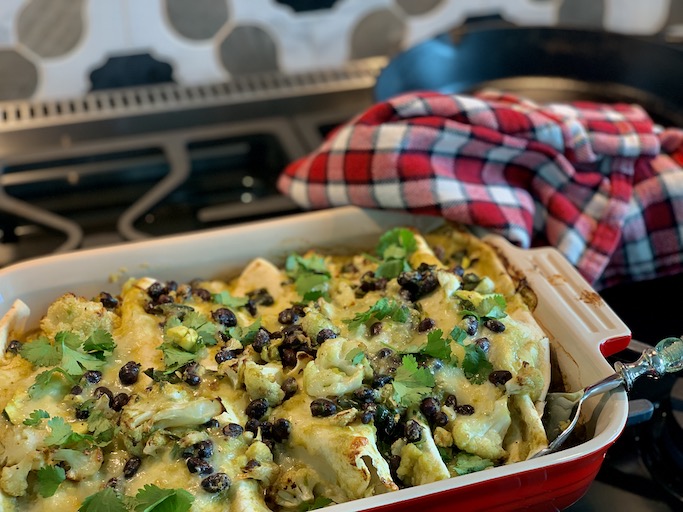 Paleo Lemon Chicken
"I won't make this again," I muttered while cooking this chicken dish. And then I sat down to eat it. Holy Moly! I will make this again—and again.
Almost everything is more straightforward the second time you do it, and this recipe was no exception. The second time I tackled this tangy, sweet chicken, I prepared the lemon sauce earlier in the day. Ditto for all the labor-intensive chicken steps—the pounding, cutting, marinating, and dredging. When dinner rolled around, all I had to do was cook the chicken and steam some white rice.
A great takeout-inspired meal!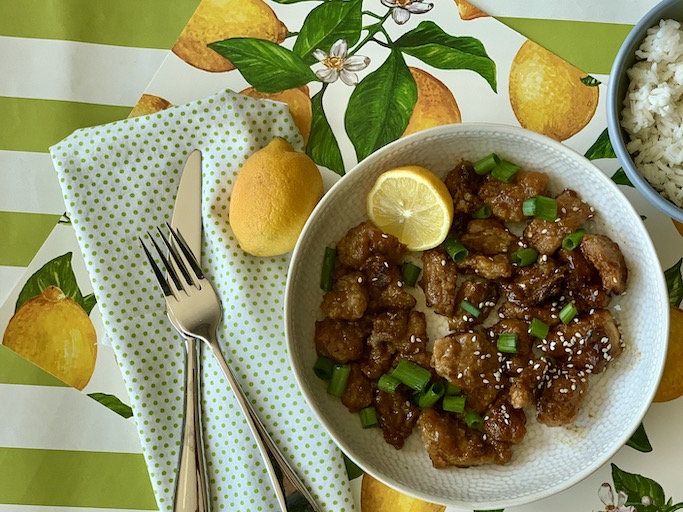 Happy cooking! If you own The Comfortable Kitchen, I'd love to hear what you've made.