A New Year's Eve Tradition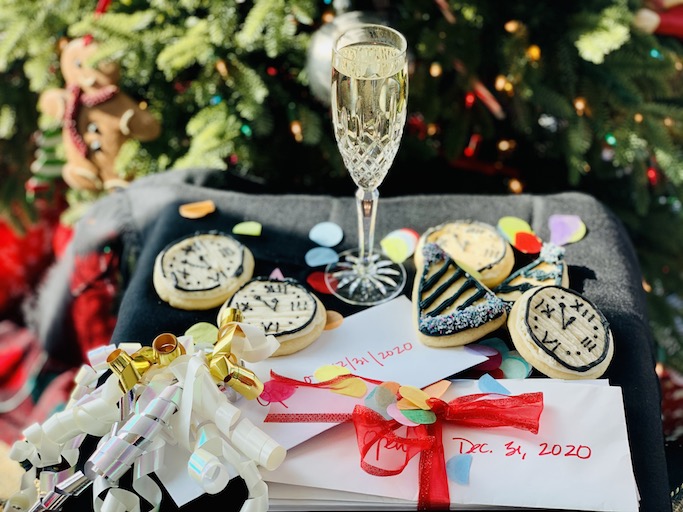 Long ago, I gave up glitzy parties and morning hangovers and late-night celebrations. I no longer require noisemakers and hats to mark the end of the calendar year. On New Year's Eve, I'm happy with a good movie to watch and a quiet dinner my husband and I prepare together.
And our letters.
The tradition began a few years ago. With the kids grown and gone, we craved a festive ritual. At least one of us did. I longed for a special way for the two of us to close out the old year and ring in the new.
Nowadays, on New Year's Eve, we top off our champagne flutes, help ourselves to a stack of leftover holiday cookies, and settle into our respective ends of the couch. Beside the twinkling tree, we rip into the envelopes we sealed and stashed away exactly one year ago.
And then we read the letters we wrote to ourselves the previous New Year's Eve.
Each year, I'm anxious to discover what I penned to myself 365 days ago. Because I truly can't remember what I wrote. Our New Year's routine is to draft our letter—including what we hope to do, see, and learn in the next year—and then plop them in a drawer until the following December 31.
As I read my rambling message to myself, I'm reminded of what worried, frightened, and excited me the previous year—concerns about myself, my family, the world, my friends. Some of these issues worked themselves out—and others did not. I didn't accomplish all I planned. And wasn't always the person I wished to be.
But that's ok.
Armed with my yellow legal pad, I'll begin my annual letter to myself by reflecting on those things I'm especially thankful for this year. Although it's been a difficult and different time, I still have a list. Our grandchild's first birthday, a Covid-free family, Zoom calls and reconnections, cooking and reading, more time with my husband. I am here and healthy and able to celebrate another holiday season—and write another letter.
I'll relate what I loved about this year—favorite books, people, places, food—and what I didn't. We postponed a wedding. We canceled a trip to a baseball game in a stadium I've always wanted to visit. I miss seeing my friends, going to restaurants, listening to music. I hate seeing people and businesses suffer.
I'll muse about becoming a better wife, mom, daughter, friend. Can I worry less, thank more, offer a kinder and gentler approach?
What can I do to improve myself, my family, my world? What do I want to see and do with those I love in the time I have left?
From our living room, as we watch revelers cheer (maybe not many this year?) and the ball drop in Times Square, we'll kiss, say goodbye (and good riddance?) to 2020, and tuck our letters in their designated drawer. Until the next New Year's Eve.
Our kids and grandchildren may stumble upon these letters someday. Before they throw them in the discard pile, as they go through the motions of cleaning out our home, I hope they read them. I hope they smile, remember, and understand more about our lives.
Wishing you and yours a new year filled with fun adventures, bountiful blessings, and good health.
This article was published on Sixty and Me in December 2019.