Kelly Dallas – Napa Valley Bartender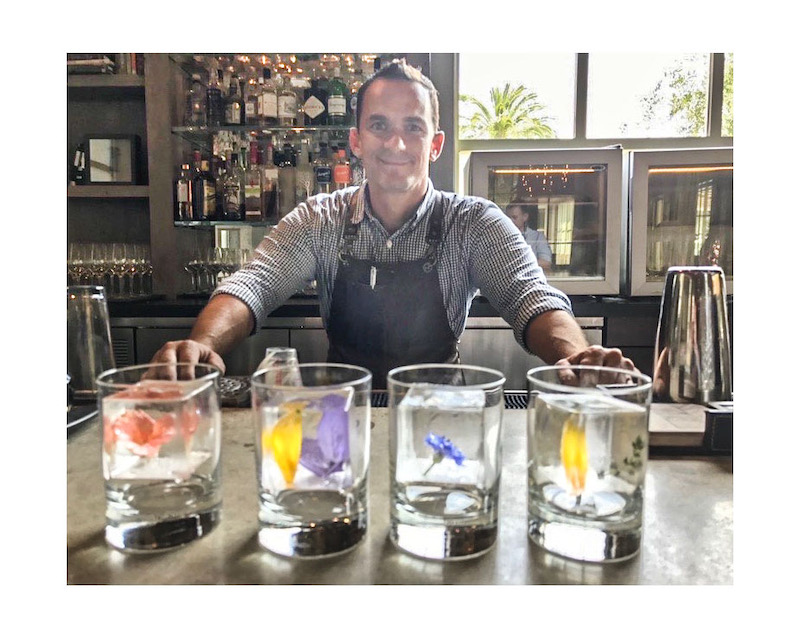 At Solbar, inside the stunning Solage Resort in Napa Valley, bartender Kelly Dallas placed a concoction in front of me, unlike anything I'd ever seen in a cocktail glass. With swirling bubbles and black specks and basil leaves, it reminded me of the lava lamp my teenage friend had on her bedroom nightstand.
I'd requested a mocktail. "Surprise me," I said to Kelly. Recovering from a 50-mile bike ride (albeit electric) in the hot California sun, I wanted something festive and celebratory. But without alcohol.
"If you don't like it, I'm happy to make you something else," said Kelly.
For more than three decades, Kelly worked in the restaurant business. He waited tables, ordered wine and spirits, and managed Napa's beloved Mustard's Grill. A decade ago, he "got his foot in the door" at the Solage, an Auberge Resorts Collection property in Calistoga.
He knew the ins and outs of every food service position. Except bartender.
After a year as the Solage banquet captain, Kelly moved behind the bar at the luxurious resort. "And I've been at home ever since," he says.
Many of the imaginative cocktails he crafts are "food-inspired." "I like to take advantage of the amazing ingredients we have available here in California," he says. With his bar/chef approach, he plays with those excellent ingredients—fruits and vegetables and herbs and spices—to design incredible drinks.
Like the Garnet Horizon, his first-place creation in a 2017 fundraiser for the area's fire victims. While in line at the supermarket, Kelly, a part-time firefighter, noticed a Bon Appetit magazine cover featuring a sweet potato pie with pecans and marshmallows and yams. "I want to turn that into a cocktail," Kelly thought.
And, with some effort, he did. Using a high-quality vegetable juicer, he extracted the fiery orange garnet yam juice—a touch sweet, a shade tart. Mixed with whiskey, lemon, maple syrup, and cinnamon, "it was a balanced cocktail," says Kelly. "But when I added cayenne syrup, it took the drink to the next level."
Kelly explains a balanced cocktail's skeleton, or profile, is the starting point for any delicious drink. For a sour cocktail, the template is 2:1:1. So, to make a Sidecar, mix 2 ounces of alcohol (brandy), 1 ounce sour (lemon juice), and 1 ounce sweet (Cointreau).
"Once you know the basic ratio, you can plug and play and have fun," says Kelly. Add thyme or lavender. Experiment with different types of sour—grapefruit, lemon, lime, orange—adjusting the ratios for sweeter fruits. Sneak cardamon into a gimlet, muddle in lime zest, switch out whiskey for gin. "The possibilities are endless," he says.
What does an expert mixologist order when he goes out?
"I like to sit at the bar," says Kelly. "I like the interaction." And he asks the bartenders to make him "something they are proud of."
What drink makes Kelly proud? He enjoys experimenting with seasonal ingredients. He loves fall with all the spices and colors and pumpkins. Today, he might throw together a delicate green-colored drink, featuring the vibrant, crisp flavors of Granny Smith apples and smoky notes of Mezcal.
Or a rye whiskey infused with caraway seeds. He'd garnish with marble rye and caraway toast points, smothered with orange marmalade. "I tend to go overboard on garnishes," says Kelly.
Kelly likes to add whimsical decor to the rim of a cocktail glass. And delight customers with edible flowers, like the fire fusion flower perfectly preserved in the crystal-clear ice of my husband's old-fashioned. He's fortunate to have an edible flower and herb garden on the property—dedicated to the cocktail program.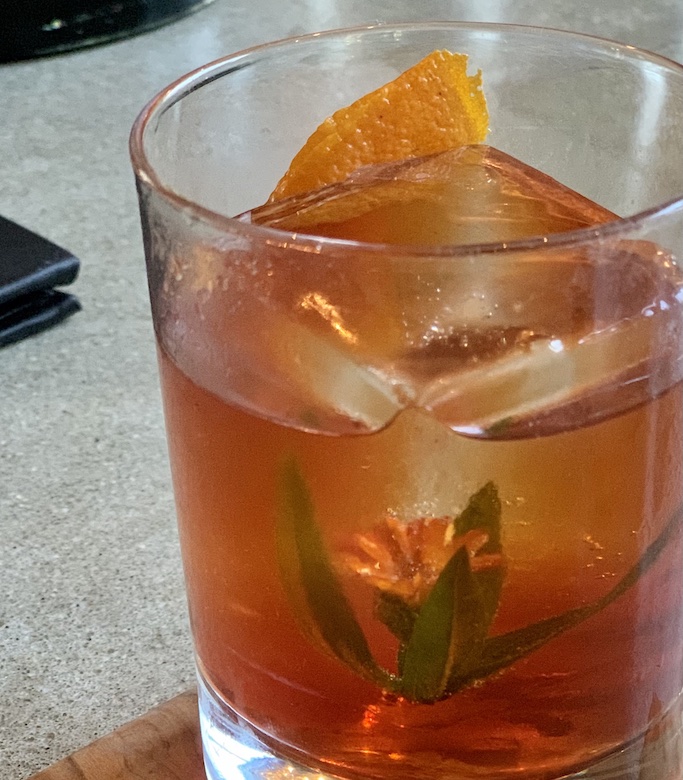 "It's fun to start with a wow," says Kelly. "If a guest reaches for their camera before they've taken a sip, I feel like we are on the right path." (I'm pretty sure I did that!)
Management offers "full freedom" for Kelly and Carly, a longtime teammate, to stock the bar with spirits and develop the cocktail menu. "If we hear about an interesting product, we'll bring it in and play around with it," he says. Of course, cost-effectiveness is a requirement. And so is turnaround time—guests don't want to wait 30 minutes for a drink.
"But we can usually start with a crazy idea and figure out how to make it work," he says. "We strive for an impact and want our guests to remember their cocktail experience with us."
Like with his unconventional, yet so much fun, corn cocktail. Kelly had an interesting corn whiskey from Mexico on hand and wanted to showcase the end-of-the-summer Napa Valley corn crop. He garnished his corn puree, corn whiskey, and Fresno chile mixture with a corncob pipe. He tucked a "coin of corn on the rim of the glass" and wrapped a husk around the straw.
And then watched the appreciative guests pull out their cameras.
"I'm disappointed when guests ask me to make a cocktail they've enjoyed at another restaurant," says Kelly. "Why repeat an adventure? Why not take a risk and treat yourself to a different memorable experience?"
Like the one he delivered me. As I sipped my lava lamp cocktail, I relished the bar, the drink, and the whole fake-rum experience. If your travels take you to Napa Valley, I hope you stop by the Solage and look for Kelly. Cheers!
PS—a California wine guy, a master gardener, and an expert on the Butterball turkey hotline