Jenny Rosenstrach – Dinner A Love Story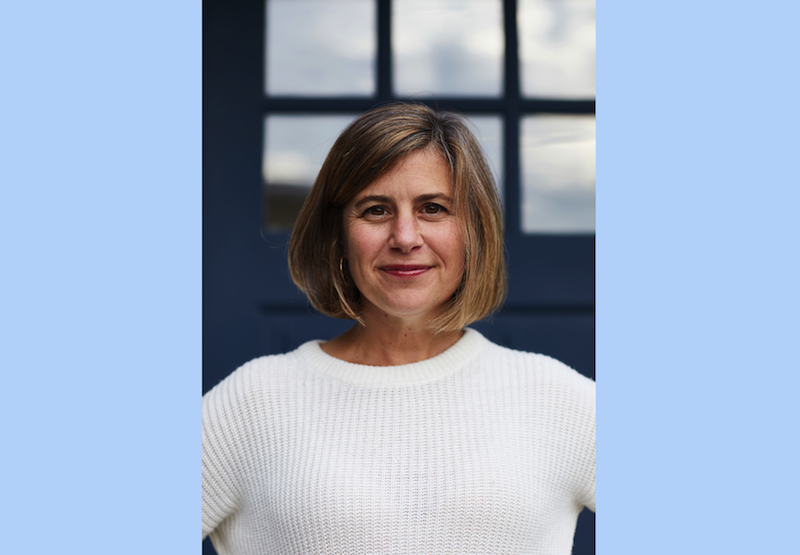 My mission this summer? Pile our dinner plates high with vegetables and plant-based proteins. All the wonderful farm stands around Nashville make my goal easier. And so does Jenny Rosenstrach.
On Dinner A Love Story, Jenny's recipes are more like a conversation—or a suggestion. With instructions that seem like she's talking to a friend, Jenny encourages readers to experiment in the kitchen. And lighten up. No fresh dill or basil on hand? Throw in thyme instead, and see what happens. Or another herb from the spice drawer.
After bringing home my summer bounty, Jenny helps me turn sweet corn and zucchini and tomatoes into a colorful, healthy meal. She's taught me to embrace burrata and grilled peaches and arugula. Without being fancy or stuffy, Jenny's recipes are easy to whip up any night of the week.
After graduation from Amherst, Jenny worked in the magazine world for several years. In Real Simple's features department, she wrote human interest articles—How to Organize a Crab Boil and 25 Family Rituals to Start Now.
The publication's food section employed staff to create, test, and photograph recipes. But when they needed a writer to polish the articles and work magic with the words, Jenny became that person.
In 2009, when Cookie magazine—and her writing position at that parenting publication—ended, Jenny decided to stay home with her small children and "somehow write about food."
Always an enthusiastic home cook, Jenny turned to the dog-eared, lined journal she stored in a kitchen drawer. Since 1998, she'd logged every single one of her family's dinners into the diary. "My diary kept me in control when the rest of my world wasn't," she says.
Her blog, Dinner A Love Story, combines her dinner diary recipes with stories of life around her family's New York state table. As her site grew, its recipes provided the springboard for her first four cookbooks. And her weekly food column for the popular site Cup of Jo.
Centered around busy moms and hungry kids, her cookbooks are packed with easy-to-follow, child-approved recipes that adults also appreciate. Dinner the Playbook includes organizing tips and meal plans for young families. "Kids can—and will— eat more than pasta and chicken nuggets," says Jenny.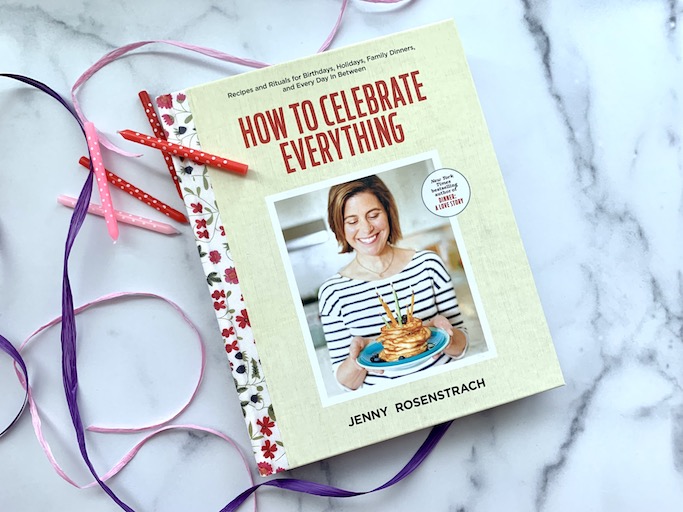 Of course, all her cookbooks are dear to her. But she is "most excited for the next one."
And so am I.
Almost three years ago, Jenny ramped up her plant-based protein cooking—and eating. "I had a handful of vegetarian recipes in my Meatless Monday repertoire, and I wanted to take the next step," says Jenny.
Jenny, her husband, and two teenage daughters adopted a new approach to dinners. Although they eat a burger or pork chop on weekends, chicken is no longer their default weekday dinner option.
"We eat a whole new way now," says Jenny, and The Weekday Vegetarians (out August 31) is a compilation of vegetarian dishes her family "100% eats"—and loves. "It's vegetarian food for people who don't feel they can live without meat," says Jenny. Like her family.
For each recipe in The Weekday Vegetarians, Jenny offers an option for the "meat holdout" at our dinner tables. She suggests stashing crumbled sausage or a spare chicken drumstick in the freezer for those "life raft" moments when someone at the table wants more.
While creating vegetarian meals for her family, Jenny discovered ways to make simple beans and grains shine as the dinner's protein stars.
Her crew is quite content with Farro Risotto—with or without the extra sausage. The protein-packed, nutrient-dense grain is delicious with seasonal veggies mixed in.
And her ultra-simple Brothy Beans, featured on the cover of her new book. "We eat this all the time," says Jenny. (My husband and I do too, thanks to Jenny. We had no idea beans could taste so good.) "Like any other dish, if home cooks start with fresh and quality ingredients, it takes the recipe up a notch," says Jenny.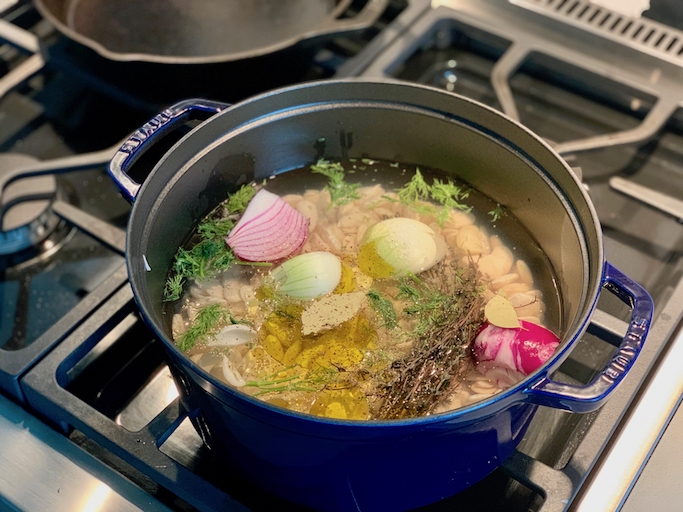 Crispy Chickpea Caesar Salad is on their menu once a week. Jenny adds a bit of smoked paprika and cayenne to her chickpeas for an extra kick, but "do whatever you want," she says.
Putting the book together was a fun adventure, with lots of trial and error and learning. And some epic fails. Like the evening Jenny plopped tofu tacos on the table. "As the kids choked down their dinner, I apologized over and over," she laughs.
Jenny worried some recipes were not interesting or educational enough to include. Was her super simple Pizza Bean Salad, which her testing tribe adored, cookbook-worthy? "Beautiful greens, white beans, small mozzarella balls, tomatoes, basil, that's it," says Jenny.
Jenny strived to keep the book "very much every day." And her mission? Accomplished.
Bring on the veggies! I cannot wait for my copy to arrive!
Feature photograph by Christine Han
PS—A few more cookbooks, another healthy food blogger, and a King Arthur baking instructor
Note: As an Amazon Associate, I earn a commission from qualifying purchases at no extra cost to you. I only recommend products I genuinely like and want to share. This is a way to support Who I Met Today and allow me to run the site and engage with this community I love. Thank you for reading!