Anne Byrn – The Cake Mix Doctor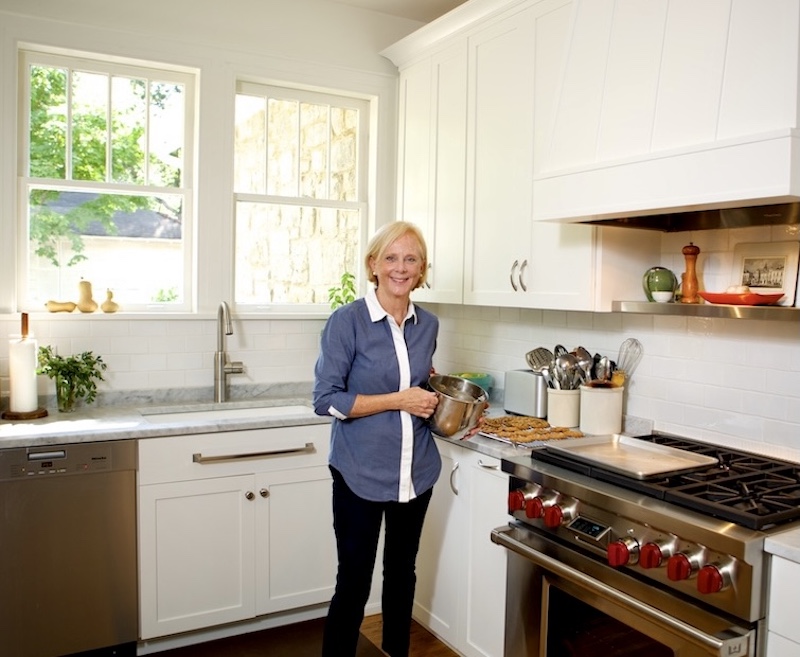 Long before we met, Anne Byrn's face was familiar to me. In 1999, The Cake Mix Doctor, featuring Anne's smiling image and flavorful ways to create magic with a box of cake mix, sold in Costco, Target, bookstores, and—well—most everywhere.
For years I've baked the sweet concoctions from her myriad of cookbooks. And then, a few months before Covid emerged, Skillet Love appeared. Anne's cookbook prompted me to get down on my hands and knees, retrieve my cast-iron skillet from the bowels of my cupboards, and—with Anne's instructions in the book—bring it back to life. That rusted old skillet is now the cleaned-up vessel for dishes like Anne's Chicken Pot Pie, Chocolate Chunk Cookie, and Skillet Pizza.
Armed with a University of Georgia Journalism degree, Anne began her food writing career with The Atlanta Journal-Constitution. After a stint in Paris, studying French cooking at LaVarenne, she returned to Nashville and her hometown newspaper.
One spring, as The Tennesseean's food editor, she published a story focused on her mother's ability to grab a cake mix from the pantry, add a few ingredients to it, and whip up a delicious bread, cake, or treat.
"Do you have recipes that begin with a box of cake mix?" Anne asked her readers.
And the recipes poured in.
Hundreds and hundreds of ideas for cupcakes, breads, and pastries flooded Anne's desk. She spent the summer testing the creations and, of course, learning through trial and error.
Her favorites—including Stacy's Chocolate Chip Cake, which I made 100 times when my boys were growing up—became the foundation for the New York Times' bestselling The Cake Mix Doctor.
Over the last two decades, on the heels of this cookbook's success, a slew of others followed. Although I've loved baking from American Cookie and American Cake, the books are equally enjoyable for those who don't open their ovens or turn on their mixers.
Anne weaves her passion for food history onto each page. Readers discover Creole Stage Plank cookies, "stomach settlers for sailors," were sold on the docks in New Orleans. In the early 1900s, the oatmeal raisin cookie was heralded "as good for our country, a wheat-saving recipe." Joe Froggers are named for a formerly enslaved person who ran a New England tavern.
"During World War I, women baked with our country in mind, our soldiers in mind," says Anne. With sugar in short supply, savvy cooks took it on as "a patriotic duty" to find another way to sweeten cakes and cookies. They gathered apples from their farms and yards, mashed them into a sauce, and discovered their natural sweetness. Voila! Applesauce cakes came into vogue.
Throughout the early 1900s, cookbook authors developed recipes to help readers get through hard times. With chapters devoted to invalid cooking, individuals caring for family members afflicted with the Spanish flu turned to recipes for broths, breakfasts, and light suppers. "These cookbooks can tell us a lot about what was happening in kitchens at that time," says Anne.
Anne loves to share food origins and stories with DAR groups, cooking and book groups, and book festivals. She's spoken to audiences at the Smithsonian National Museum of American History and Philadelphia's Museum of the American Revolution.
In the late 1940s and 1950s, cake mixes gained popularity with consumers. During the war, several companies had experimented with them to feed military personnel. When many women chose to stay in the workforce following the war, they welcomed the convenience of a boxed mix.
A funny thing's happened since The Cake Mix Doctor entered the world almost 25 years ago. Like lots of other things, the mixes are now smaller. So all those original recipes no longer work as well.
In November, Anne's latest cake mix cookbook, A New Take on Cake, hit the market. "We don't eat like we did back then," says Anne. "This cookbook reflects new flavors and eating trends from the past few years," including cakes with less sugar and no gluten. She's tweaked the older favorites, like Better Than Sex Cake and Almond Cream Cheese Pound Cake. She introduces home cooks to delightful new creations made with lavender and matcha and champagne.
"You'll find lots of cookies in this book," says Anne. She has a helper in the kitchen now—a little granddaughter—and cookies are easier to make with the toddler.
And, revised and still popular, Stacy's Chocolate Chip Cake is on page 134.
Nowadays, with three fewer mouths to feed, Anne doesn't bake as much as she once did. She still loves to bring one of her luscious creations to a grieving friend or book club or a birthday gathering. She'll use the newer 6-inch pans and slather a clementine curd between the layers.
After all, "baking a cake is such a nice thing to do for others."
You may also enjoy—this cookbook author, a luxury Nashville concierge, from cancer to cookies, and a cookbook review
Featured photo courtesy of Anne Byrn. Photo credit Bob Delevante
PS—A small world story—When I moved to Nashville, six years ago, Stacy (of Chocolate Chip Cake fame) was the first person I met. In an exercise class at the Y, I happened to set up next to her. She remains a dear friend.