Alex Snodgrass and The Defined Dish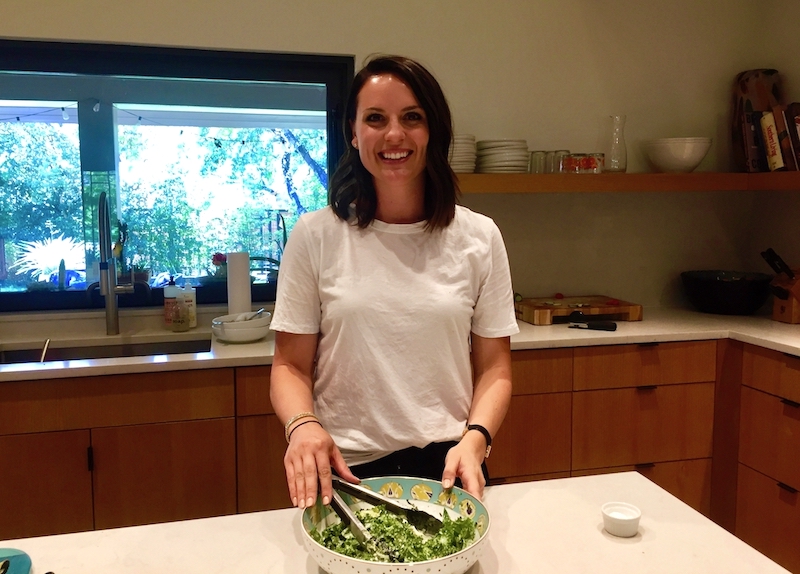 We sit in her backyard on this lovely, balmy September day in Dallas, Texas.  As I devour my beautifully presented lunch, we talk about how much The Defined Dish has grown since it began at the start of this year. Alex Snodgrass is the perfect example of finding what you love to do and turning it into a livelihood. With a huge smile, she laughs and says,  "I am sharing what I love, and it is working!"
How The Defined Dish Got Her Start
Two years ago, The Defined Dish originated as a fitness/food  (Defined=Fitness, Dish=Food) endeavor with her younger sister. Alex took things over in January 2017, rebranded, and invested "money well spent" in a professional website. Since then, things have taken off for her. And we see no signs of slowing down. 
Alex focuses on developing easy and delicious healthy meals, many of them Whole30-compliant recipes. With her beautiful photographs and simple instructions, Alex's recipes are geared for any cook trying to put a healthy meal on the dinner table. With recipes like lemon-basil chicken skillet and cedar plank salmon with deconstructed guacamole,  Alex inspires me to try new things and up my mealtime game.
What is Whole30?
Not meant as a lifestyle regimen, the Whole30 program is more of a nutritional reboot.  For thirty days, you eliminate sugar, alcohol, and processed foods from your diet. Alex has done the Whole30 reset twice. And she lasted the entire thirty days.  She wants to make it an annual January event to kickstart each new year.  Although difficult to remain disciplined for an entire month—think no wine, chocolate, or pretzels—Alex feels better at the end of the process.  "For me, the biggest benefit is mental clarity.  I believe that eating clean affects your gut health and is also connected to your mental health," she adds.
In the Snodgrass household, every weeknight meal is an experiment.  Alex's dinners, for her husband and two young daughters, are the subjects for the gorgeous photos and tasty recipes she posts on her blog. "Unless they don't turn out the way I want!" she laughs. I am astonished when she admits—because this is not my mindset at all—she really does like to cook every night.  Every single night?  "I do.  It is therapeutic to me," she says.  When designing a recipe, I wonder how often it takes to get it right, publishable, and shareable.  She admits it's a "one-shot thing most times."
Not a Planner
As I poke my head into kitchen drawers and cupboards, loving the stash of linens and dishes she uses in her photos, we discuss the fact she has no "system."  I am looking for her meal schedules, lists, and recipe calendar.  Alex confesses she doesn't spend her Sundays prepping for the week or stocking her freezer with prepared items. "I am not a planner.  That takes away the joy of cooking," she says.  This laid-back Texan continues to surprise me when she declares she "loves to go to the grocery store."
Bring on the Heat
She also loves spice and lots of it—Jalapeño chips are her weakness. One of her favorite things to do is convert Asian dishes into Whole30 recipes.  Omitting the traditional sauces due to sugar content, she kicks up the heat with other seasonings. When I gush over the simple, moist, heavily peppered chicken atop my kale salad, Alex advises me it is "just seared in my cast iron skillet." 
As she explains what I "just" need to do to make this in my kitchen, I encourage her to list the steps and the most basic Cooking 101 tips on her blog. She asks me—and I have been cooking reasonably good meals for a long time—if I know the importance of using salt and pepper on all the layers of a dish.  What?  You don't only add salt and pepper at the end of the soup.  Alex believes "seasoning well is what makes good food great."
And the News Spreads
Cooking stints on Good Morning Texas and guest takeovers on the Whole30 Recipes site have spread the news about this foodie with a perpetual smile on her face and an amazingly peaceful demeanor.  The TCU grad gathers 250,000 page views monthly on The Defined Dish.  She is approachable and real to her almost 47,000 Instagram followers, and firms and sponsors are taking notice.  Alex admits her brand has grown fast in the last few months.  "It is kind of wild," she says. She now responds with a media kit when companies, whose products she uses, reach out to her and request endorsement. She views food photography as "a work in progress" and loves the challenge of learning how to make her food look pretty. As far as all the tech stuff, she tends to figure things out as she goes.
The small Texas town of Celina had very few restaurants, so Alex grew up appreciating home-cooked meals.  Although she doesn't eat pasta often these days, her favorite recipe reflects her Italian upbringing.  She loves pasta served with the super simple cacio e pepe sauce—a flavorful mix of butter, cheese, and loads of pepper. She adds she also loves a good filet mignon. 
A Homebody
Her supportive husband, Clayton, accuses her of being a "homebody."  When asked to elaborate, she responds, "I love being social, but I'd truly rather entertain friends in our backyard and cook a delicious dinner for them."  Alex loves assembling a fabulous meat and cheese tray for guests.  "I eat everything on it—life is too short," she chuckles.  Her ideal day starts with a quiet cup of coffee, all by herself, and ends with a relaxing bath and a good book. 
Favorite Kitchen Gadgets
Alex doesn't have to think long when I ask about her favorite kitchen gadgets. Besides her well-seasoned cast iron skillet, she loves to blend soups and dressings with her immersion blender.  She uses a spiralizer to make zucchini or sweet potato noodles, which she serves with meatballs.  And the Instant Pot she resisted buying—"it takes the joy away from cooking things all day long"—has become a go-to for cooking brisket for tacos.   
Future for The Defined Dish
I am excited to follow Alex and see what the future holds for her. She hopes to build a team and eventually reach out with interactive videos. The next celebrity food star? It wouldn't surprise me. She lights up when she says, "I would LOVE to have a cookbook." And lots of us would like that too! For now, she will keep doing what she loves—giving us consistent and reliable content with her relatable self shining through.
Note: As an Amazon Associate, I earn a commission from qualifying purchases at no extra cost to you. I only recommend products I genuinely like and want to share. This is a way to support Who I Met Today and allow me to run the site and engage with this community I love. Thank you for reading!