Judy Wright – A Master Gardener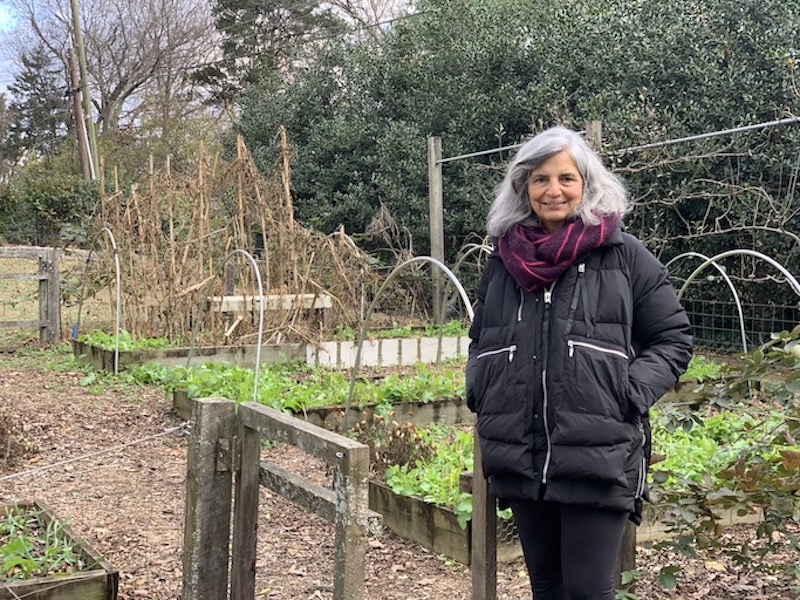 Do you eat a traditional meal on New Year's Day?
Around the world, foods served on the first day of the year symbolize luck, prosperity, and fertility. In Japan, noodles represent longevity. Italians serve dishes with lentils. Scandinavians dine on herring, and the people of Mexico eat grapes.
And, as Judy Wright discovered when she moved to Nashville, Southerners sit down to collard greens, pork, and black-eyed peas.
And this combination of "lucky foods"—some straight from her garden—is on her menu every January 1.
On a recent blustery December day, Judy invited me to tour her lovely backyard. Although her collard greens thrive in the colder weather, most of her vegetable, herb, and flower garden is spent. The rows are now planted with green cover crops—buckwheat, clover, and daikon radish. These plants will enrich the soil over the winter, and Judy can begin her planting cycle all over again on Valentine's Day.
Gardening adds years to your life and life to your years.
From a long line of Sicilian women, "amazing cooks who grew their own food," Judy's first garden was in Boston's Beacon Hill neighborhood, where she and her husband lived years ago. She raised tomatoes on the roof of the bay window belonging to the unit beneath them. Basil and thyme and oregano spilled out of the window boxes.
Nowadays, with lots more room to spread out, Judy's garden and tree-lined yard have been her "sanity in 2020. It's my happy place," she says.
And her chickens like it too.
The six hens toddle after us as Judy points out the butternut squash and broccoli and green onions. The carrots and spinach "will be sweeter after they've experienced a little frost," she says. A fence draped in blackberry vines surrounds the vegetables.
Although they must step away from their luxurious accommodations, the hens roam the property unsupervised most afternoons. And follow after Judy most mornings. When a realtor friend sold a home in the area, the new owners had no need for the high-end chicken coop in their backyard. Judy leaped at the chance to move it to her home—pergola, weathervane, staircase, and all.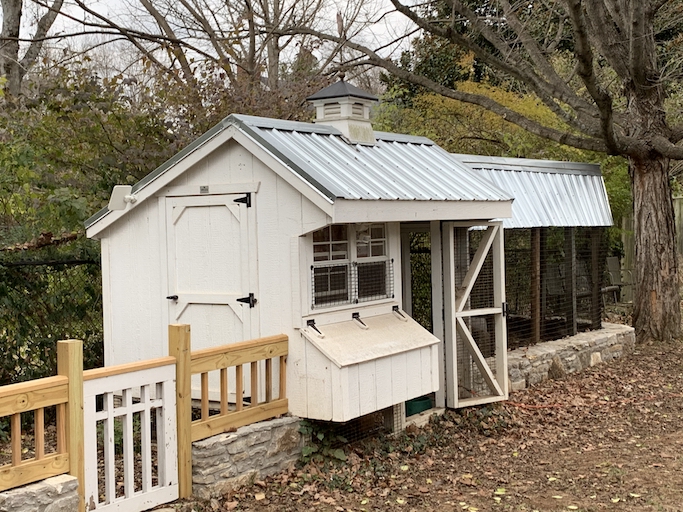 Tending to chickens and a garden seems like a lot of work, and it is. "But there aren't enough hours in the day for what I want to research and learn," says the former disaster nurse. A mom to three and grandmother to two, Judy grows new foods every year. Next spring, she'll experiment with artichokes.Through trial and error and lots of research, she learns what works and what doesn't. "My yard is one big agriculture lab," she laughs.
Gardening simply does not allow one to be mentally old, because too many hopes and dreams are yet to be realized. – Allan Armitage
On her blog, Judy showcases those gardening tips and tricks she's learned and her love of Italian cooking. She offers tutorials on grape jelly, her Aunt Bridget's chicken soup, and do-it-yourself ant removers.
When she's not stirring a pot of her beloved marinara or gathering fresh eggs, Judy shares her expertise about growing food and composting with school kids and garden clubs and scout troops. As a Master Gardener, through the University of Tennessee extension program, she's trained and certified to volunteer in public gardens around town.
Now that Judy's kids are grown and she no longer brings home a salary, she derives fulfillment from people cooking her recipes and raising their own gardens. "It makes me happy to know I've inspired or helped someone," she says.
A perfect day for Judy is to get down on her hands and knees in the dirt. Inspect new sprouts, pick weeds, lose herself in the fresh air. "It's such a gift to have all this," says Judy. "And these last nine months have helped me to understand how much I truly love it."
Here's to health, prosperity, and good fortune in the new year! And a wonderful meal on New Year's Day!