Lee Estes – Silo Mural Brings Well-Deserved Celebrity Status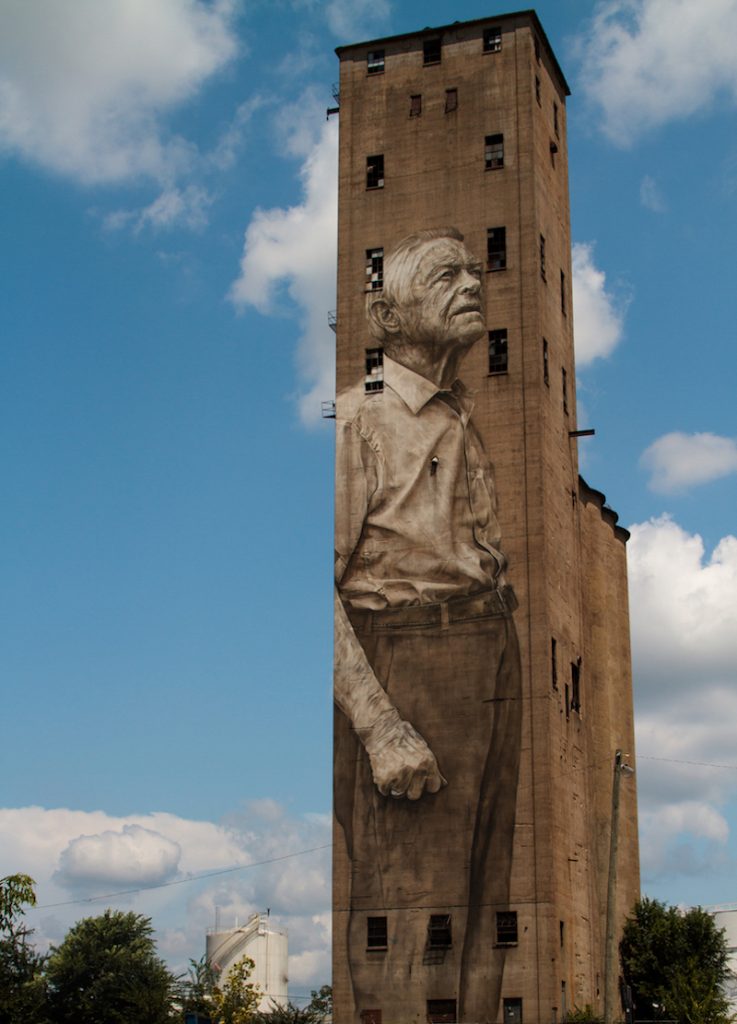 In today's world, with our steady stream of negative news, self-promotion, and verbal and physical attacks, it is heartening to meet a man like Lee Estes.  Humble and unassuming, he is an excellent example of good deeds being rewarded.  As he stands in his driveway and shakes his head and smiles, it is clear he is still not accustomed to seeing his 15-story likeness a few blocks away. 
The Nations is fast becoming a neighborhood of hip bars and restaurants, young families, and trendy shops.  Old mills and factories are being converted into apartments and office spaces.   Multiple homes are turning up on, what used to be, one residential lot.  Mr. Estes, 91 years old and going strong,  continually has folks knocking on the door of the home he's lived in since the 1950's.  "They make good offers, but I am not ready to sell just yet," he says.  He goes on to mention "most of the old-timers have moved away."  "Those of us still here need to learn to live with the progress and love it," continues Mr. Estes, with his characteristic glass-half-full attitude.
Australian Guido van Helten was commissioned to paint an old abandoned grain silo in this reviving community of west Nashville.   A former graffiti artist, van Helten travels the globe painting amazingly photographic-like murals on buildings, silos, and shipping containers.   The artist discovered Mr. Estes through discussions with the staff at St. Luke's Community House.  He wanted to paint a local resident who represented the spirit and history of the Nations area.  According to Mr. Estes, "Guido came to my house and took a few pictures of me.  Next thing I knew, he was up in the air, painting me on the silo, my wrinkles and all!"  He explains it was amazing to watch van Helten work, studying the photos on his phone with one hand while guiding a paint brush with the other.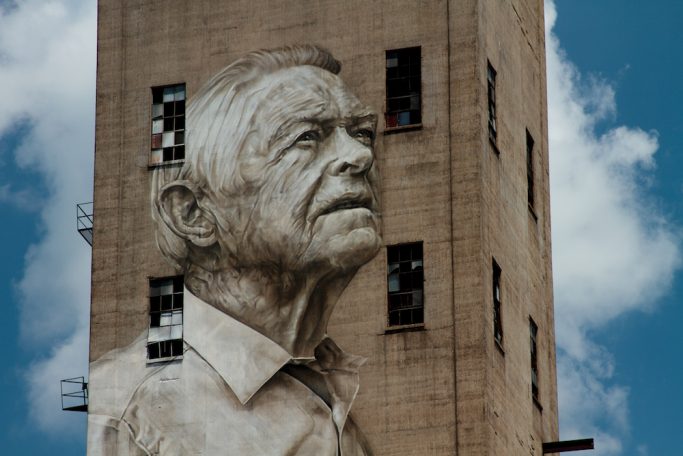 Situated within sight of the silo, St. Luke's mission is to serve low income families and seniors in this changing neighborhood.  The House holds a special place in Mr. Estes' heart and has been a part of his life for 85 years.  He knows everyone by name and even remembers the staff who worked there when he played basketball after school.  As he grew older, he looked forward to the dances and parties St. Luke's hosted. He now enjoys exercise classes, shopping excursions, and restaurant outings through the senior program. He walks  (or drives!) to St. Luke's on Thursdays to volunteer, setting up the arts and crafts activities and assisting others (some much younger than he is) with their projects.
As we talk, Mr. Estes proudly shares with me a scrapbook filled with memories from the day the mural was unveiled.    With his sharp memory, thankful spirit, and peaceful demeanor, I can't help but hope I am a little like him in a few decades.  He points out photos of family, friends, and neighbors and has no trouble at all recalling first and last names.  Marveling at the honor bestowed upon him, he is immensely thankful for his good life and considers every day a blessing. "This makes an old man feel good," he remarks with that constant twinkle in his eye.   "With age, everything keeps getting better and better," he adds.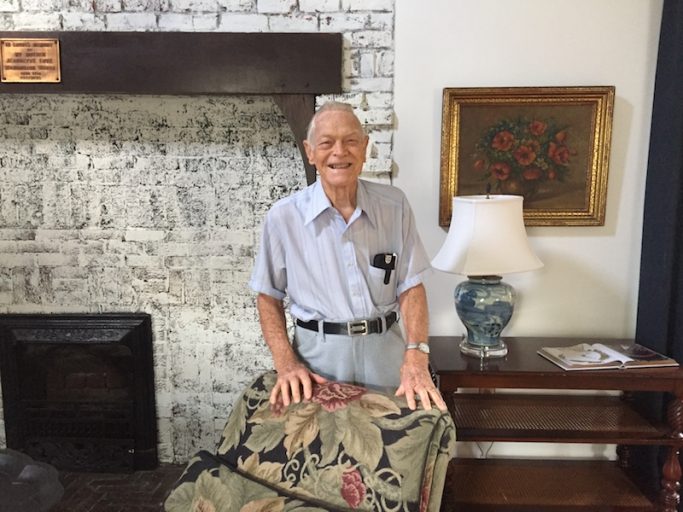 "I am very thankful for my life and all its blessings.

 

I wouldn't change a thing about it."
He reminisces about growing up on a farm, a few blocks from the silo.  Mr. Estes remembers his family having what they needed, but money was scarce.   Starting a job at just 12 years of age, he believes you learn a lot by working. "Working teaches you satisfaction," he reflects.  "You learn to appreciate and be thankful for what you have."  The family had no indoor plumbing, and the kids gathered at one home in the neighborhood to watch the first television set.   He fondly remembers raising chickens for meat and eggs and eating vegetables from the garden.  Mr. Estes laughs out loud as he demonstrates how his grandmother, corn cob pipe hanging from her mouth, sang and milked the family's cow.
In his quiet way, he tells me his dad was a good man and a hard worker.  According to Mr. Estes, "He taught us to follow the Golden Rule – always treat others the way you want them to treat you.  Do your best, do what is right, and treat people kindly."  Mr. Estes says he has always tried to "copy my dad" and hopes he's passed the same message on to his son, daughter, and grandchildren.  He chuckles softly when I point out these are words any parent would be pleased to hear from their child.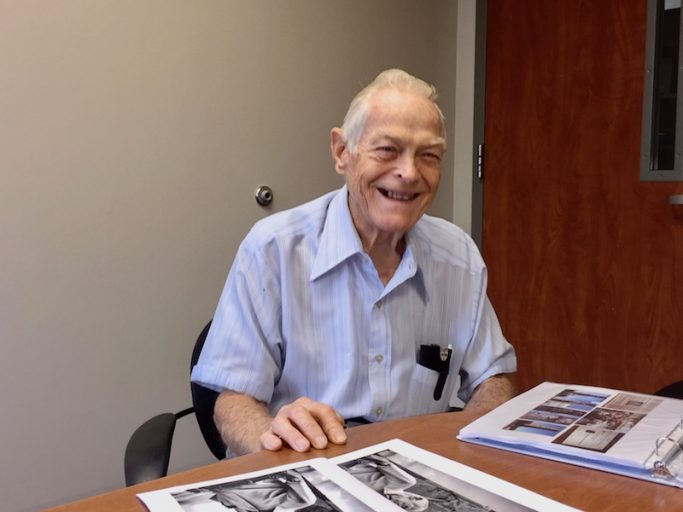 "I hope the people who had anything to do with this mural know how pleased and honored and appreciative I am."
After Mr. Estes returned from Japan and World War 2, he moved into his current home in the Nations. His days begin at 4am – a leftover habit from his 43 years working in the purchasing department of a Nashville based corporation.  He strolls over to the neighborhood market to drink coffee, read the newspapers, work the crossword puzzles, and "shoot the breeze." Tending his vegetable and postcard-worthy flower garden is satisfying work for him – and possibly contributes to him looking years younger than he is.  "Not one to miss a meal," he enjoys some light cooking.   With no computer or cell phone, he reads instead and likes all sorts of books.
Mr. Estes stresses these are his "happiest days."  Although he's been blessed with a great family and a wonderful life, the mural is truly "the icing on his cake."   As I joke about his celebrity status and him being on his best behavior at all times, he shakes his head and quickly responds.   "I don't want to be famous.  I just want to be remembered as a person who tried to be the best I could be for my community and my family."