Podcast – Erin McHugh – Pickleball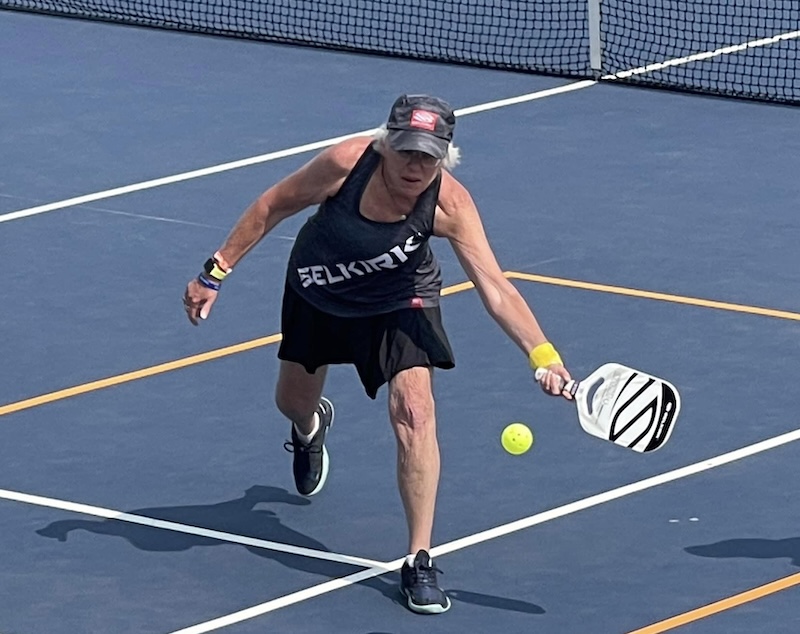 In this episode, pickleball fanatic, evangelist, and author Erin McHugh discusses the game, all the reasons to love pickleball, and how to get started.
Listen to the episode here or on Apple, Spotify, or another podcast app
Erin explains the game's history, its quirky rules, and an easy way to handle the tricky scoring system. She suggests ways to get involved in games, where to find courts, the right equipment needed, and the clothes to wear. Erin, a "missionary for the sport," assures listeners a tennis background isn't necessary, it's never too late to take up the game, and pickleball is an ageless sport.
Pickleball is affordable, accessible, easy to pick up, and a terrific way to meet people and make friends.
Seventy-one-year-old Erin explains why we should be watchful that our lives don't become smaller as we age.
Erin's book is an informative and entertaining look at pickleball—Pickleball is Life: The Complete Guide to Feeding Your Obsession
Ready to grab a paddle and jump in?
Erin recommends this paddle for the beginning player.
Other podcast episodes you may enjoy:
Dr. Ravi Goel and Cataract Surgery
Articles you may enjoy:
A King Arthur Baking Instructor
Photo courtesy of Erin McHugh