Marty Slayton Jordan – Backup Vocalist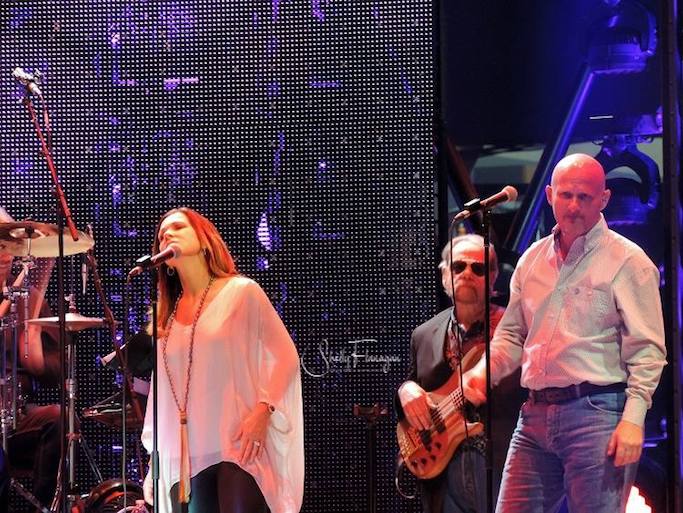 How does it feel? I ask. Check Yes or No winds down, and a stadium filled with 80,000 fans erupts. Amid the claps and screams and shouts, What goes through your mind? Marty Slayton Jordan is way too kind and modest to admit the experience is one gigantic rush. But don't you know it is?
When our lives return to normal—and they will—Marty will celebrate her 20th year as the solo female vocalist in Ace in the Hole, the backup band to country superstar George Strait. Although he retired from major tours back in 2014, George still sells out a dozen or so arena and stadium shows each year. As represented by the gold and platinum records on the wall of Marty's home office, she also sings on his recordings.
From an "itty bitty town" in western Tennessee, Marty performed broadway, pop, rock, and country tunes at the local voice studio from the time she was seven years old. "Beauty pageants were a part of small-town life back then," and Marty nailed the talent segments on her way to Miss Memphis State and a finalist for Miss Tennessee.
Marty had a gift and, like so many others, dreamed of a recording contract and becoming a star in Nashville. While recording in a home studio along Nashville's Music Row, Marty learned Marie Osmond needed a backup soprano to fill in for a short while.
"You don't want to do that, do you?" her musician friends warned. "It was either sing backup or wait tables," says Marty. She needed the money.
As she continued to pursue a record deal of her own, Marty fluctuated between pharmaceutical sales jobs and backup tours with Marie, Lorrie Morgan, and Alan Jackson. When she wrapped up work on her own cd, Marty took a long, hard look at her goals.
"I knew I was talented, and my music was good," she says. But she'd witnessed the ups and downs of the crazy music business. "Do I really want this?" she asked herself. Or would she rather "go out on tour and sing and not have the pressure of being the star."
And that was her tipping point.
Like most areas of life, the music business is not one to navigate alone. "We work together to help and support each other," says Marty. "Musicians tend to be a tight-knit community, and we refer others to gigs we can't fill."
One of those referrals landed Marty an audition with Reba McEntire. A few days after she sang duets and harmonized with the country star, Marty got the phone call. She packed her bags and, for the next two years, sang backup vocals in Australia, Ireland, and beyond with her new band family.
Unfortunately, tours end, and performers go their separate ways. With a condo and a mortgage, Marty contemplated a return to pharma sales. But George Strait's camp called at exactly the right time.
Marty loves rolling down the road on a tour bus, falling asleep to the hum of the engine. "You wake up, and you're in a different city," she says. Not surprisingly, George's buses are roomy. The five passengers have bunks with privacy curtains and built-in tv screens. Front and rear lounges offer space for those who want to talk and stay up late.
Where does a shower come in? "Some tour groups and bands shower at the arenas or venues," says Marty. But, when you travel with George Strait, you have your own hotel room. And a caterer who prepares "plenty of fish and healthy meals" and recipes reflecting the culture of the cities they camp in.
"We keep improving a show because we keep performing the show," says Marty. In a different city each night, the musicians "get into a rhythm." The avid golfer compares singing with the band to practicing her golf swing. "You play, practice, repeat, improve."
Nowadays, when not performing with George and company, Marty takes the stage in the Grand Ole Opry's house band. A whole gamut of renowned Opry performers employ the band and its accomplished musicians. Sometimes they rehearse, Marty tells me. Other times the band members review the music and their parts via email. And then they hit the stage.
As with all public venues, the band and singers at the legendary Opry are on hiatus now. "It's a tough time for musicians," says Marty.
Marty knows many "phenomenal background singers," some as talented as the lead singers they accompany. And, for a few, it may be easy to feel melancholy for stardom not achieved. "I take pride in the music I make on the road, the records, the stage, singing the songs people love to hear," says Marty.
"The harmonies and the choruses are as important as the signature guitar lick or the steel guitar solo," she continues. "Harmonies make the song and enhance the feeling behind it. Our background vocals don't replace the lead singer, but we make the record sound better."
"And our part is what people hum as they walk away from a concert."
Photo By: Shelly Flanagan