Joan Hornberger – Change is Good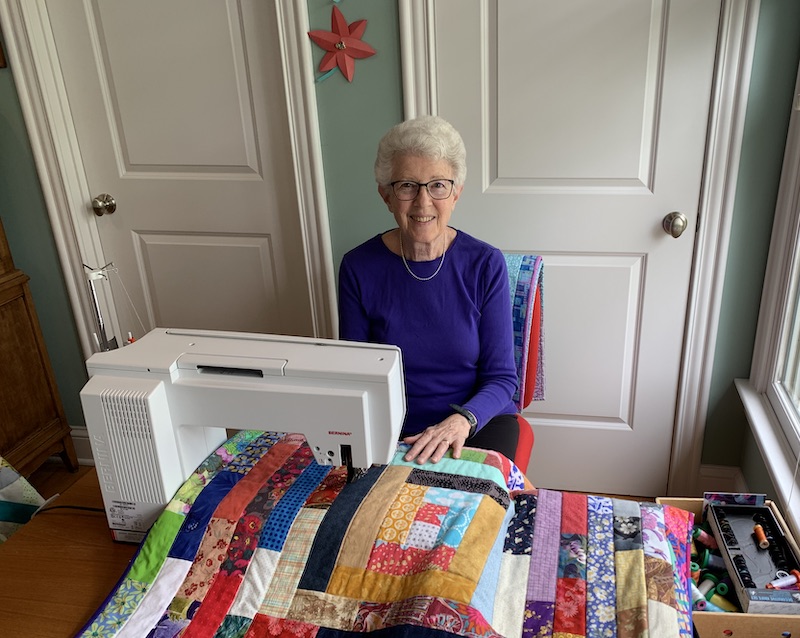 The Orchid Series
A collection of interviews featuring inspiring women over 75 years young. Curious, engaged, active, interesting. The sort of woman I want to be when I grow up!
"Change is good, and I was ready for something different," says Joan Hornberger. After 38 years of living in Charlottesville, VA, she and her husband surprised friends when they packed up and moved to Nashville. 
And right away, Joan tells me, they felt at home in their new city.
Joan was only two when her father headed to Germany and World War II. Two years later, little Joan hid his uniform cap in her toy box when he returned. "I didn't want him to go back," she remembers. 
But he did. After a gunshot wound through his heart, her father spent six months in a coma and was in and out of European military hospitals. When he healed, he still didn't come home. Orders sent him to France. "All that time, my mom received letters. No phone calls, no other communication. It is heartbreaking to think about now," says Joan.
The family didn't have much money, but Joan "loved her childhood. My parents were so in love," she says. "During family car outings, dad would drive, and mom would sit in the middle seat (when cars had those front bench seats), snuggled up next to him." This behavior would horrify most teenagers, "but my brother and I expected it," she laughs.  
Her mom, "an incredible seamstress," taught Joan to sew and knit. While growing up, Joan made most of her clothes and gravitated toward challenging designs. She remembers her first knitting project—mittens with a fancy and intricate pattern. Joan knitted one mitten and abandoned the second. "I'd mastered the project and had no need to finish it," she says. 
Joan's father, who died when she was 17, always wanted her to attend college. She studied home economics (cooking and sewing) at Drexel University and met her future husband in a dormitory dining room. The Head Waiter and Head Waitress married a few years later. 
She and her husband, a professor at the University of Virginia and then Vanderbilt, enjoyed a year-long sabbatical every seven years. "My husband and I have always been open to change and doing new things." Joan realized she could live "just about anywhere" and be happy.
She gushes about the "wonderful places" they experienced with their son and daughter. They loved Canberra, Australia's capital city, and considered not returning to the United States. Her high school-age son "bloomed" in Lancaster, England. And Joan knitted twenty sweaters while they lived there. The family did loads of skiing in Boulder, Colorado, and Joan volunteered every weekday at the humane society. They "didn't want to leave Berkeley"—and its proximity to their grown daughter.
Some might question the feasibility of packing a home, renting it out, and settling into a new place for a year.  But for Joan and her husband, "it always worked. The change was always a good thing." 
When we chatted, Joan had been happily tucked away in her sewing room that morning. Over the years, she's crafted a slew of impressive items—suits and coats for her husband, a camping tent, luggage, backpacks, her daughter's wedding gown. 
Nowadays, she's more likely to tackle a quilt, pillows, or an amusing wall hanging. "I don't necessarily have a reason for making a certain item. I want to learn new skills," she says. Joan enjoys sewing cosmetic bags, coasters, and microwavable bowl holders for charities and loves to give her creations to others. 
But her mother also taught her "to work before play." This winter, Joan devoted time to putting her home in order. "I got rid of papers and organized everything for my kids." Because of her hospice volunteer experience, her father's death, and brain surgery at 61, Joan can think and talk about death. "I'm more accepting," she says. "I also feel grateful and very lucky."
With her organization project complete, Joan will return full steam ahead to her sewing, jigsaw puzzling, and mah-jongg. All the activities she loves. Her advice to younger folks? Always make the time to do what you love. 
Photos courtesy of Joan Hornberger
Another inspiring woman in The Orchid Series and a podcast episode about bone density