Nora Tyson – U.S. Navy Vice Admiral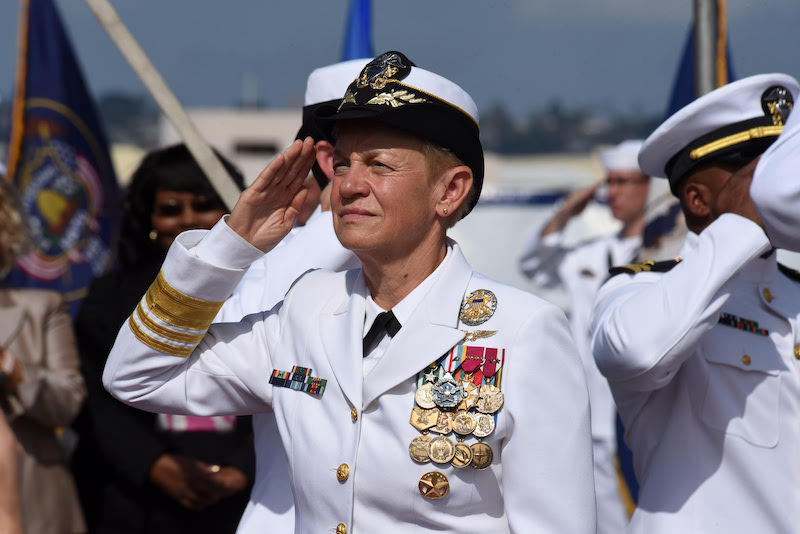 On board the amphibious assault ship, Nora Tyson, the commanding officer leading military exercises off the Panama Canal, briefed Navy and Marine Corps liaison officers from two dozen Latin American countries.
"Ma'am, may I ask you a question?" asked a young Latin American officer who approached Nora after the meeting. 
"Sure," the now-retired Vice Admiral of the U.S. Navy said. 
"What part of the ship do you command?"
"The whole thing," she laughed.
Growing up, Nora loved to camp, earn Girl Scout badges, and climb trees. She attended an all-girls Memphis high school and studied English at Vanderbilt University. Until a naval recruiter phoned, Nora assumed her next step was law school. 
Her father had served in the National Guard, and Nora remembered him sporting his flight suit. She agreed to meet with the recruiter. After a series of fitness, medical, and aptitude tests, Nora received a congratulatory phone call. 
"You've been accepted into Officers' Candidate school," the recruiter said.
Nora surprised the recruiter and didn't jump at the opportunity. She weighed her options. She talked with her "incredibly supportive parents." Then Nora signed on for the four-year commitment.  
"If I don't do this, I'll always wonder what would have happened," she thought at the time.
While serving at Naval District Washington, Nora's bosses encouraged her to consider flight school. In Pensacola, FL, Nora passed the entire battery of tests. Except for the eye exam. Without the required, uncorrected 20/20 vision (nowadays, surgery is an option), Nora could not fly a plane.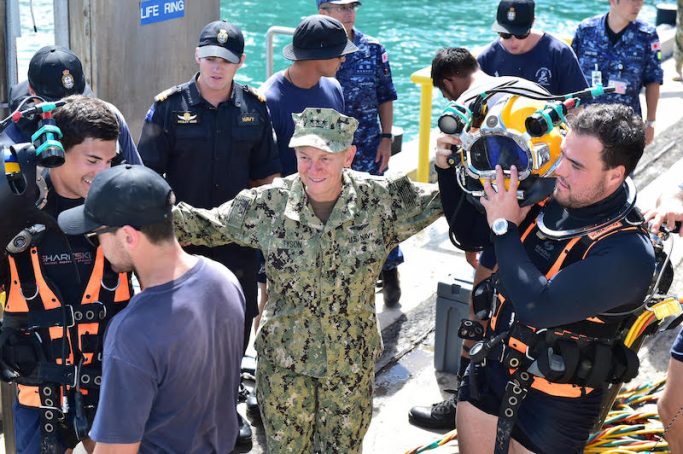 But she could serve as the "mission person, the navigator, the weapons person, the bombardier"—the Goose to Tom Cruise's Maverick. As a Naval Flight Officer, she was the plane's "backseater."
Survival Training
Flight school included survival training. Officers don't like to think about ejecting from their planes, crashing into the sea, or crawling through brush behind enemy lines. But those scenarios occur. 
Nora learned how to evade capture and make sleeping arrangements in the woods. She trained in a simulated Prisoner of War camp. She and fellow officers memorized which bugs and tree bark were safe to consume. They ate critters not often served on a dinner plate. "If you're hungry enough," says Nora, "everything tastes like chicken." 
Including rattlesnakes. Nora and her fellow female aviators hunted rattlesnakes, stashed them in the ankle pocket of their flight suits, and carried them to the campfire. The pockets were dark, and rattlesnakes don't bite when they can't see. 
"At least that's what we were told," says Nora.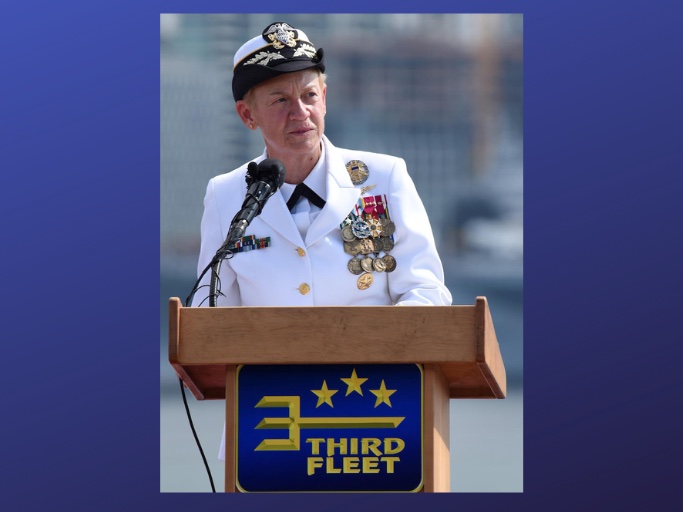 Limited Opportunities for Women
Early in Nora's service, most females worked in nursing and administration roles. During her 38-year career, during sea and shore duty worldwide, Nora witnessed military opportunities opening up for women. Still, she was an anomaly. 
Many times in her career, she'd "find herself in a conference or a briefing, and I'd look around and realize I'm the only woman here. Things opened up for women at an opportune time in my career. I just happened to be the first woman to have the chance to do some of these things."
In July 2010, at 52, Nora was the first female appointed to command a carrier strike group. Nora explained that the U.S. Navy Carrier Strike Group 2 consisted of the nuclear-powered U.S.S. George H.W. Bush aircraft carrier with 5,000-6,000 personnel aboard, an air wing of 60 aircraft, and ten ships. A carrier strike group is the U.S. Navy's pre-eminent war-fighting organization. 
Under her command, the U.S.S. Bataan, an amphibious assault ship, deployed twice to the Persian Gulf to support Operations Iraqi Freedom 1 and 2. The Bataan was the first Navy ship to respond to Hurricane Katrina relief efforts. Humanitarian and medical assistance, disaster relief, and search and rescue are examples of exercises the Navy might participate in during peacetime. "We train for any mission you could imagine that might use any assets of an amphibious assault ship," she says. 
Commander of the Third Fleet
In 2015, Nora became the first woman to lead a U.S. Navy ship fleet. As commander of the Third Fleet in San Diego, she oversaw a combat-ready force of more than 68,000 people, 100 ships, and 400 aircraft stationed throughout California, Hawaii, and Washington. 
Whether on an amphibious assault ship with 3,000 people or an aircraft carrier with 6,000, accommodations depended on seniority. Three hundred enlisted personnel resided in berthing compartments—bunks stacked four high, several heads (restrooms) and showers, and lounge areas. 
As the ship's commander, Nora's cabin included a desk, bedroom, bath, and a dining room table for meetings. While at sea, Nora lived in a tinier stateroom near the navigation bridge. "I was nearby and could help the team maneuver through traffic or handle various situations," she says.
While away at sea, Nora—of course— missed her husband of 37 years. Retired Navy also, "he understood what I did and why I loved it so much," she says. The internet changed how the two communicated. Earlier in their relationship, they relied on letters flown on and off aircraft carriers or delivered when ships docked.  
Do you ever get accustomed to asking people to go into harm's way?
"Well, it's what we do," she says. "When you take the oath, that's part of what you're taking an oath to do. To go into harm's way if required, support and defend the constitution and the people of our country and our way of life. Most understand their leaders do not take it lightly."
During her time in the Navy, Nora learned a great deal from tactical, operational, and strategic perspectives. She grew comfortable making decisions through experience and observing good leaders. 
"You can learn the weapons systems, how ships and aircraft operate together, how we operate with sister services. The hardest decisions are those that affect people's lives. You must use the resources you have available and make what you feel is the right decision in every circumstance. That's your job." 
Retirement
Nora retired as a 3-star admiral, the second-highest naval ranking. Today, 38 active duty three-star admirals serve. There are seven four-star admirals. As Nora reflects on her storied and decorated career, she realizes "that it's not about you. It's about giving to those coming behind you." In retirement, she enjoys giving others the opportunity to succeed through speaking engagements, mentoring, and serving on the board at Vanderbilt.
She and her husband also look forward to traveling, meeting people, broadening their horizons, and learning more about this "incredible world of ours." Upon retirement, they drove across the country, checking off the 50th state Nora's visited. They may explore Scandinavia, Eastern Europe, Poland, and Lithuania. After spending decades near the water, they are excited to settle into their Arizona desert environment with its hiking, cacti, and animals. 
Nora promises to keep snakes out of her pockets.
One new thing—tiny or large—Nora's done or discovered lately?
During their careers, Nora and her husband have lived and traveled all over the world. They spent a fabulous three years in Singapore and had the opportunity to experience Australia, New Zealand, Papua New Guinea, Bangladesh, India, and much of Southeast Asia. But, after reading Iberia by James Michener, she longs to spend some time in Spain and Portugal. 
So, Nora is working on her Spanish language skills via Duolingo and a Spanish Great Courses video and workbook.
Photos courtesy of Nora Tyson