2-3 Days in Prague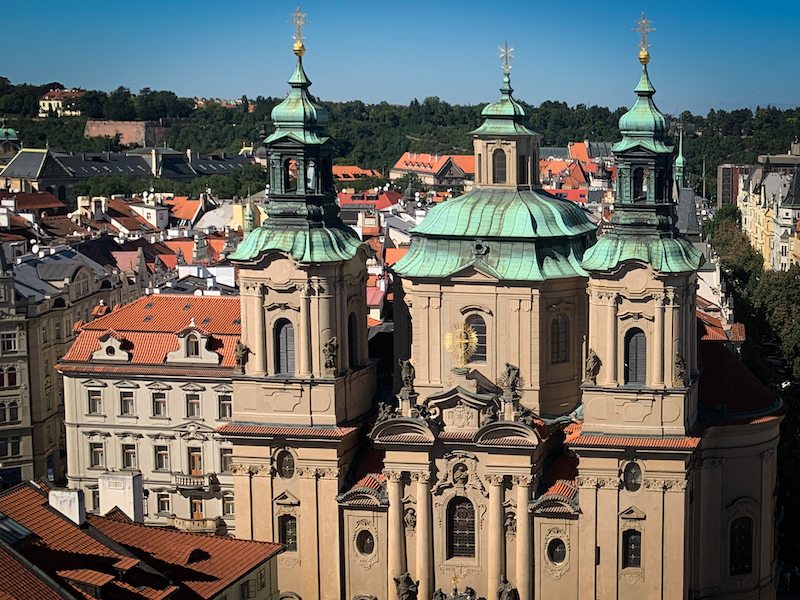 Consider spending 2-3 days in Prague on your next European adventure. With storybook architecture, the Czech Republic's capital city is steeped in history. It's easy to reach—we flew non-stop from New York's JFK. And easy to navigate—athletic shoes are a MUST for wandering the cobblestone streets. 
We cashed in points and stayed at the Augustine in Lesser Town (Mala Strana), a former monastery walkable to everything we wanted to do. (PS—Stroll through the Waldstein Garden next door.) 
The Augustine proved to be handy for midday restroom breaks, also! Public restrooms in the city can be tough to find, and many facilities in public buildings are closed.
Expect lots of beer, including tasty, no-alcohol options everywhere. I had no problem finding a glass of white wine to enjoy. (One helpful server advised me to go white, not red, when considering local wines.)
Share a few of Prague's signature dishes, like goulash (dumplings and beef) and svickova (more dumplings and beef!)
Prague is famous for its wonderful coffee. Sit and enjoy. DO NOT ask for a to-go cup!
Besides meandering, flaneuring, and enjoying a break for coffee, beer, or a warm pretzel with mustard, here are my recommendations for a visit…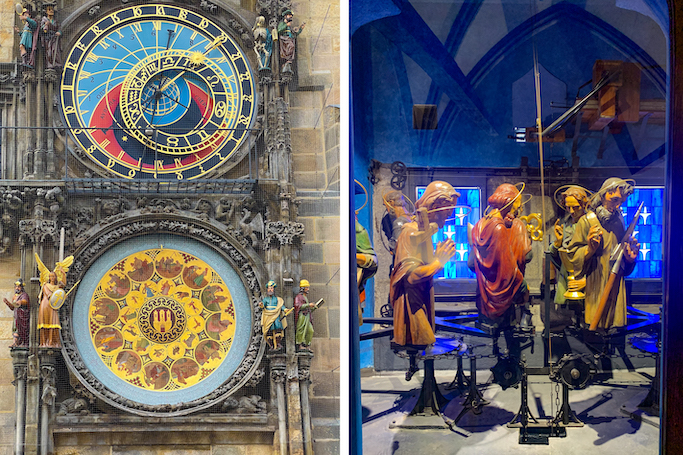 Astronomical Clock
In the middle of Old Town Square, crowds gather to marvel at the "Walk of the Apostles." Every hour on the hour, the animated mechanical "show" features moving Apostle figures that coincide with the time of day. Installed in 1410, this is the world's oldest, still operating clock. 
We bought tickets (not in advance) and joined a guided tour of Old Town Hall, the medieval building housing the astronomical clock. The guided tour includes access to the underground basement, which we found quite interesting. Those who self-guide can climb—or ride—to the top of the tower, which offers beautiful city views. If you tour the building, make sure to plant yourselves in front of the astronomical clock inside as the hour approaches.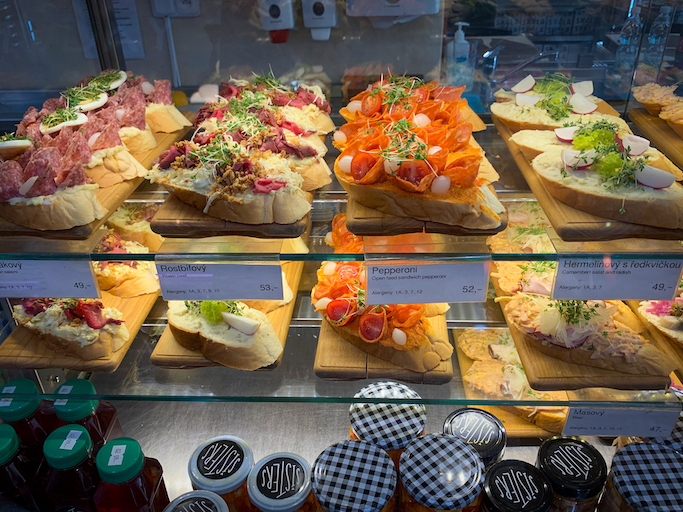 Food Tour
Whether you hire a private guide or join a group, one of the best ways to explore a new city is to take a food tour. A well-informed guide provides information on the area's history and culture and introduces travelers to locals' favorite culinary haunts.
Before we visited Prague, others warned us about bland, heavy food. 
"It's hard to find a good glass of wine," someone told us. 
"Expect lots of potatoes," said another. 
Perhaps because our expectations were low, we were pleasantly surprised.
Our tour guide squired us to a handful of Old Town spots off the beaten path. Traditional food is potato-laden. Years ago, when food was not plentiful, families grew potatoes. Women devised creative ways to feed their families with what they had available. We sampled delicious fruit dumplings, savory dumplings, sausages, and gnocchi piled with poppy seeds. 
The surprise–and highlight—of the tour? Czech open-faced sandwiches. Topped with unique ingredients, these gorgeous treats are served at special parties and events.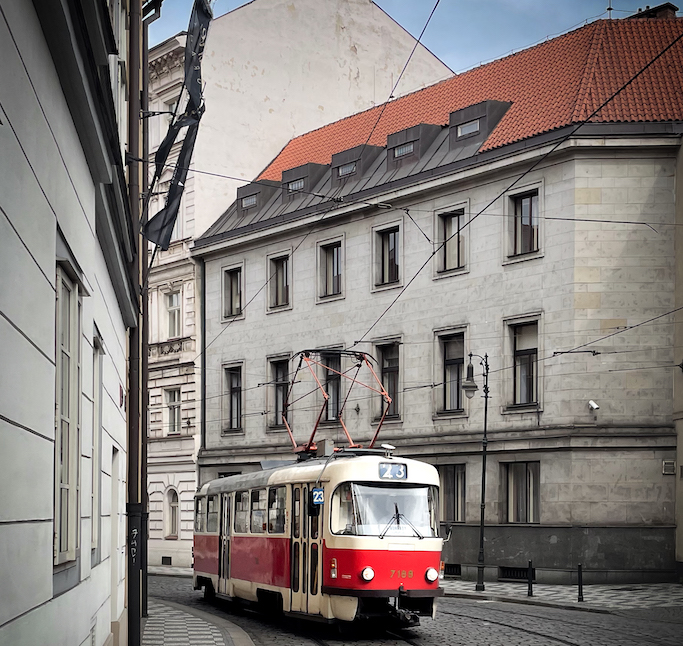 Saints Cyril and Methodius Cathedral

 
This site is a must-see. Before you visit the Cathedral—especially the church's crypt—I urge you to watch the movie Anthropoid. Although true–and disturbing–the film prepares visitors for the courage and heroism of those involved in Operation Anthropoid. 
During World War II, the government devised a plan to assassinate a leading Nazi. His death led to merciless German retaliation. The cathedral and crypt offered a "last stand" for the Special Ops Czech and Slovak agents involved in the plot. 
The Cathedral is a short, easy-to-navigate, clean, safe tram ride away from central Prague. Many hotels sell public transportation tickets, which are valid for 24 hours. Scan tickets upon boarding, and then do not scan them again during the 24-hour period. 
Lunch tip—Grab a delicious sandwich on crusty bread from the Artic Bakeshop, a block from the church.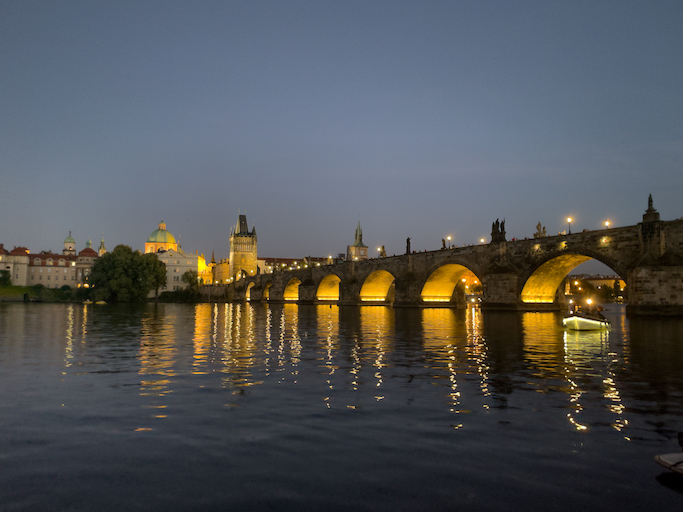 Dinner at Kampa Park
Nestled under the pedestrian-only Charles Bridge that connected Prague Castle and the city's Old Town in medieval times, Kampa Park has it all.  
Views of the stone arch bridge and Vltava River, pleasant, attentive service, a lovely menu, and a warm breeze fluttering through the open windows. 
Mark chose duck, and I opted for the halibut with a frothy, pureed cauliflower foam. Both dishes were perfectly prepared and delicious. 
Book early, and request a downstairs table by the window.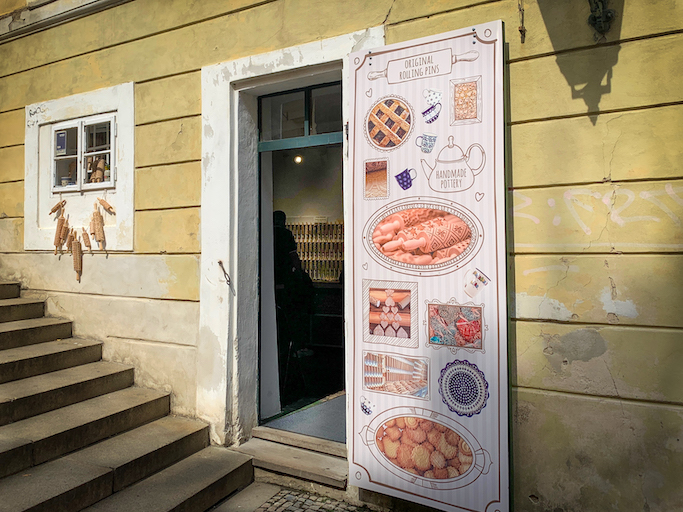 The Castle
Touring the Prague Castle, or parts of it, is a great thing to do on arrival day. The complex, founded in the 9th century, comprises palaces and ecclesiastical buildings of various architectural styles. Although the ticketing process confused us in our jet-lagged states, we toured enough of the complex and accompanying gardens to suit our tastes. 
My favorite section of the sprawling compound was Golden Lane, a series of tiny dwellings occupied until World War II by servants, goldsmiths, and fortune tellers. 
We were also lucky to stumble upon a few shops tucked into the stone staircase leading up to the castle. When closed, the shops disappear into the castle walls—no signage or indicators of a store inside. I loved the tiny and charming rolling pin shop, selling hand-cut rolling pins embossed and engraved with any design a cookie lover might imagine. A treasure trove for the cookie baker and decorator!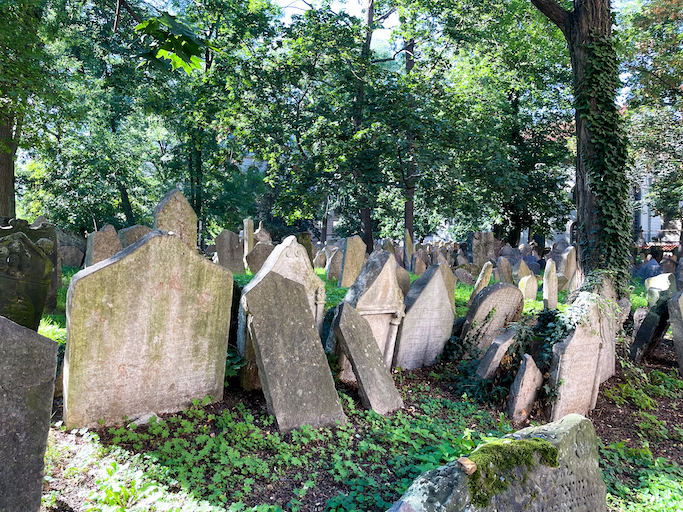 Old Jewish Cemetery
Since much of Prague was occupied during the war but not destroyed, historic buildings and landmarks still stand. Prague Jewish Town contains the world's oldest surviving Jewish burial grounds. It's an emotional experience to walk along the path and view the 12,000 tombstones and graves, some layered ten deep. 
If you've traveled to Prague and have other suggestions, I'd love to know about them!
You may also enjoy: Tipping Tips (Podcast), Favorite Travel Accessories, Favorite Things to Do in Nashville, Where to Go on a Girls' Trip, The Palm Beach Breakers