Maria Ospina – The Breakers Palm Beach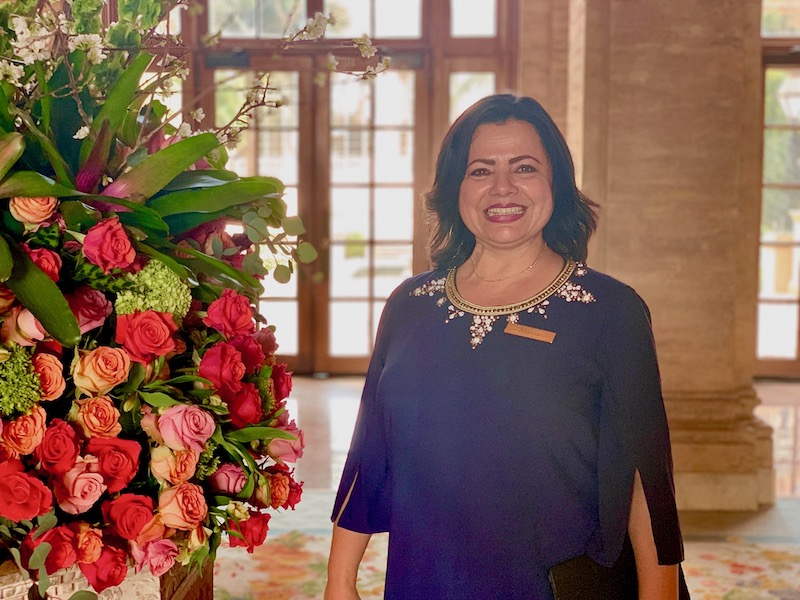 On a recent getaway with a girlfriend, a stay at the luxurious Breakers Palm Beach resort didn't fall within our budget. Instead, one afternoon, we popped into the Italian Renaissance-style hotel to grab a drink and marvel at its majestic architecture. Lucky for us, we met Maria Ospina.
Nine years ago, Maria worked as an assistant to a wealthy widow in Palm Beach, Florida. She drove her around town, managed her bills and paperwork, escorted her to the Palm Beach Country Club, and assisted with her grooming. "She was a wonderful woman. I felt like I lived with my grandmother," says Maria.
A Job at The Breakers
Maria had often gazed out her elderly companion's window, overlooking the beautiful Breakers Resort. "I dreamed of working there," says Maria. After the widow passed away, Maria put together a resume—with "absolutely no hospitality experience"—and attended the resort's job fair. "I knew it was a long shot," she says. 
The hiring manager inquired why Maria applied for an overnight desk clerk position. Maria explained to him she didn't have any related experience. She thought her chances of securing employment might be best if she applied for a job fewer people wanted. "Nope," said the manager. "With your personality, you should be front and center. You're just the type of person we want."
From Colombia to the U.S.
When she came to the U.S. from Colombia 26 years ago, Maria abandoned her Journalism studies "to follow love. I went against my parents' wishes," she says.
Always juggling two or three jobs to make ends meet, Maria attended massage therapy school, earned a Certified Nursing Assistant diploma, and taught breastfeeding and nutrition classes to low-income moms.
The Breakers, founded by oil and railroad tycoon Henry Flagler—and still owned by his heirs—provided the stability, hours, pay, and benefits Maria craved. 
Maria started at The Breakers, greeting guests at the outside entrance, near the valet stand. "We need you indoors, mingling and assisting guests," her manager soon told her. Supervisors recognized Maria's natural gift—she excelled at dealing with people. 
Nowadays, wearing her chic, hotel-issued, navy Lilly Pulitzer dresses (which I would love to have in my wardrobe), Maria greets guests and visitors in the spacious lobby. Many guests have been staying at The Breakers for generations and bring their grandkids or new babies to show off to Maria. 
Everyone's a VIP
"Any VIPs in the house?" someone will ask. "I'm talking to one!" is Maria's reply. Whether Bill Gates, Sylvester Stallone, or a Middle Eastern princess, Maria prides herself on giving everyone the hotel's signature exceptional customer service. 
On our visit, Maria steered my friend and me to The Circle dining room, boasting soaring frescoed ceilings and Renaissance murals. She suggested a mocktail in the Seafood Bar overlooking the Atlantic Ocean, complete with fish swimming underneath the bar's countertop. Although we strolled the grounds and peeked in the shops, the beach club and pool are for in-house guests and members only.
Maria is proud her two grown sons are now employees of the hotel. "A wonderful family runs the resort, encouraging community and charity work," she says. Despite a traditional atmosphere, it's much more informal now than in the seventies and eighties. Back then, gentlemen wore jackets on the premises after 7 p.m. (My husband and I still laugh that we were not allowed in the doors because he lacked a jacket!)
The Breakers History
Built in 1896, The Breakers burned down twice and was rebuilt bigger and grander than before. After serving as a hospital during World War II, the hotel fell into disrepair. The Flagler heirs sunk a generous sum of money into renovating the 538 rooms, suites, and amenities. And the guests returned—some traveling in their swanky private rail cars. Since restoring the resort to its old-world elegance, management devotes an annual $25 million to improvements.
On any visit to "the island," Maria recommends a stop at the Flagler Museum, Henry Flagler's Gilded Age mansion. Meander down Worth Avenue to explore an upscale mix of shops and restaurants. Stroll the neighborhoods and gaze at the beautiful architecture, landscaping, and seaside homes. 
On her off days, Maria cares for her orchids and "beautiful flowers and plants." She cherishes time with family. Every day is different for Maria, which is why she loves her job. She never tires of talking with interesting people. Two weeks ago, National League Football coaches, owners, and spouses were in town. The following week, a wedding with A-list celebrities. 
If you're lucky enough to get to The Breakers, please say hi to Maria. She's the one with a big smile on her face.