Susansnaps Cookies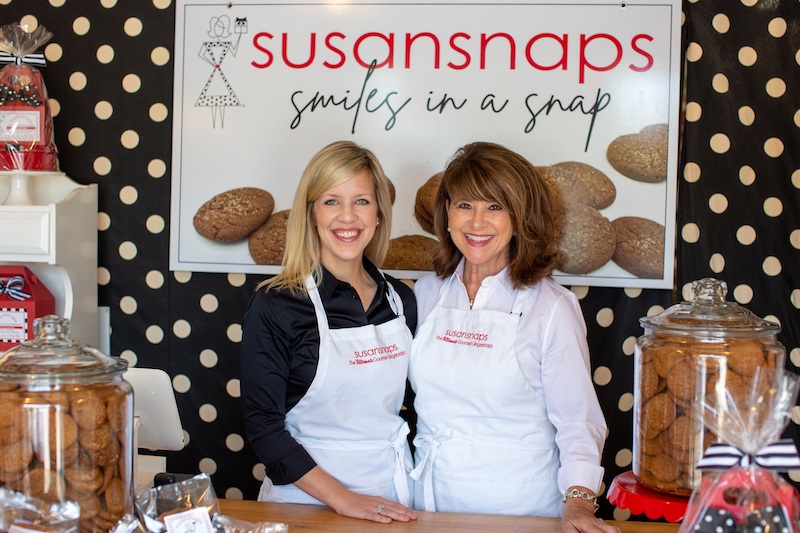 In their final days of school, most college seniors celebrate with friends, prepare to start jobs, or plan where their adult lives will take them. But, two weeks shy of her Auburn University graduation, Susan Stachler received a shocking diagnosis. 
Susan is named after her mother, Laura's, sister.  Four years before Susan was born, Aunt Susan died of Hodgkin's Lymphoma. She was only 28 years old. Laura never imagined watching her daughter face the same cancer as her namesake.
Even more devastating? Laura's husband (Susan's dad) was also undergoing chemotherapy for a different type of cancer. As a wife and mom, I cannot fathom a husband and daughter suffering through cancer treatment at the same time.
"It was very difficult to see those I loved hurting and sick. Cancer is a scary business," says Laura.

 
When her husband's treatment began, Laura contemplated returning to her teaching career. Instead, she "did a crazy thing." She converted her suburban Atlanta home's garage into a commercial kitchen. Orders poured in for Laura's dessert creations—banana nut cakes, luscious cheesecakes, and creamy pies.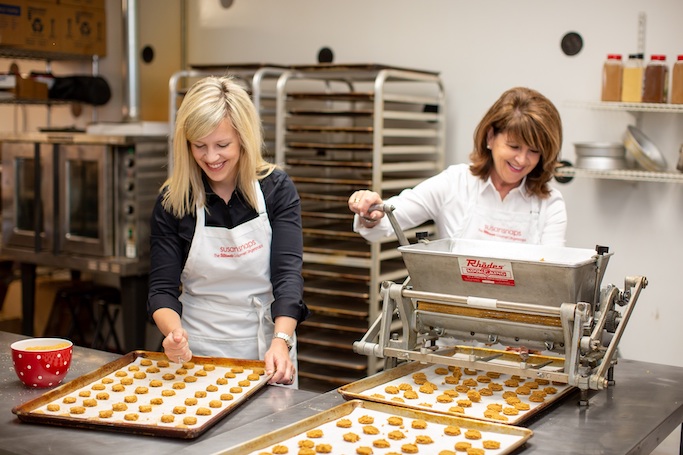 Laura felt helpless as Susan faced grueling rounds of chemotherapy and radiation. Since ginger is a natural stomach soother, Laura began experimenting with gingersnap cookie recipes to help Susan and her father cope with the nausea that often comes with treatment.
Susansnaps Cookies
When Susan felt well enough, she worked alongside her mom. The mother-daughter team baked and bagged the cookies—coined Susansnaps—and tied the packages with ribbon. Susan distributed them to fellow patients on her chemo days. 
The ginger-laden cookies did help to settle stomachs. "Also, when you go through chemo," says Susan, "your taste buds go crazy, and you often have a metallic taste in your mouth." Susan and her cancer warriors devoured the Susansnaps cookies. "With plenty of flavor and spices, they tasted good to us," she says.
"The blessings were two-fold," says Laura. The duo created delicious cookies they are still proud of. And other patients appreciated the kind gesture and the reminder that others cared. Studies show that simple acts of kindness make the giver and recipient feel good, and this gesture proved it.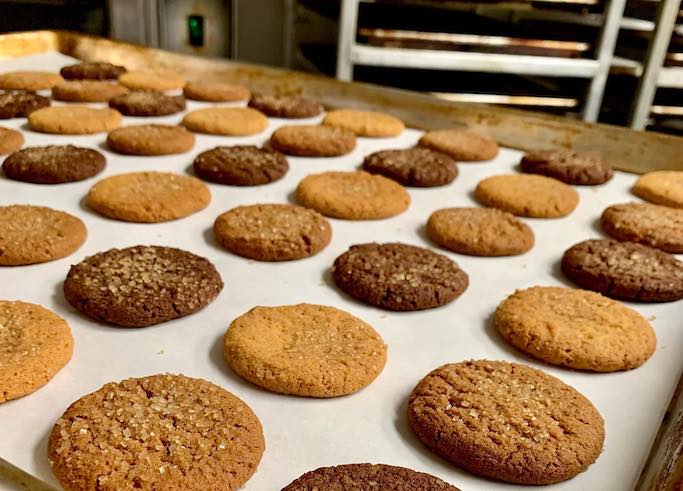 Nowadays, Susan, Laura, and their team churn out Susansnaps cookies from a charming bakery in Sandy Springs, Georgia. Mom and daughter are still "quite hands-on." Customers who pop in will likely find one working the counter. 
Susansnaps ships nationwide
For those who don't live nearby, the bakery ships all five standard flavors—plus special, once-a-year varieties like red velvet, mint, and candy cane— nationwide. After a national news segment featured Susan and Laura, a San Francisco tech company ordered 3000 boxes of Susansnaps cookies. That's 60,000 cookies. 
In my humble opinion, the cookies make a great get-well or thinking-of-you treat. Susan and Laura partner with Angel Flight Soars, an organization providing free flight transportation to people requiring lifesaving medical treatment. Susansnaps donates gingersnap packages for patients to enjoy on the flight. "The cookies bring smiles, which means a lot to us," says Susan. 
At a young age, Susan faced a situation that gave her the kind of perspective many of us don't learn until later. "At  22, when I sat in the chemo center, I knew that many people with me weren't going to make it," says Susan.
"Writing The Cookie Cure: A Mother-Daughter Memoir of Cookies and Cancer is the most challenging thing we've taken on," says Susan. 
"Battling cancer and baking cookies in the family garage was not in my plans," says Susan. "But my experience taught me to carry on when things get tough, and let life take you to places you might never imagine."
Today, Susan is the happy, healthy mom of two young children. Her dad is doing well too. Both women feel fortunate to work together—a blessing derived from tragedy. "It's pure joy," says Laura. 
Photos courtesy of Susan and Laura Stachler
PS—A story about ovarian cancer, a recipe developer creating healthy dishes, a dessert cookbook author