Favorite Travel Accessories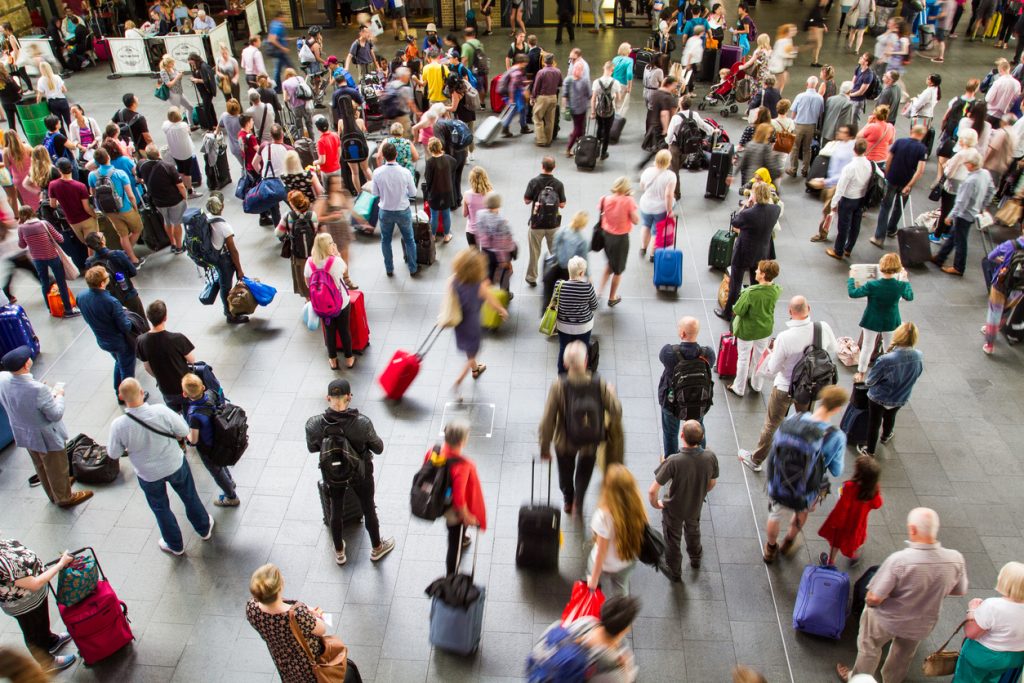 At 6 am on December 22, I handed a large duffel bag to the airport ticket agent. As she checked my bag, stuffed with Christmas presents and ski helmets and clothing to combat the minus twenty-degree temps I headed into, I casually asked the agent, Will Denver airport employees work outside in this weather?
I soon discovered the answer. No, they will not. 
With multiple flight cancellations, four airports, and delay reasons I didn't even know existed (We're sorry, but local ordinance states city officials must escort the parked and unoccupied plane to the gate), I had forty hours to sit in an airport, read a book, and count my blessings. Unlike many others, we were not traveling with young kids or older parents. We had good health, the ability to pivot, and a hotel to sleep in when our flight was canceled yet again. 
I also had plenty of time to look around and take stock of grounded passengers' luggage and travel toys. And so, I inquired of these fellow travelers, and a few readers also…
What are your favorite travel accessories?

 
One stranded traveler, attempting to reach New Orleans for the holidays, showed off her new Monos Metro Duffel. Sleek and stylish, the bag had oodles of handy compartments. With its trolley sleeve, the nylon bag attached to her roller bag, AND its separate tiny case popped on and off the duffel. Although pricey, it was a beautiful personal bag to stow under an airplane seat.  
A reader claims, "this neck support travel pillow may look silly, but it is the BEST for international flights." She reports she can sleep 8 hours straight (Impressed she can do it on a plane, I can't do that at home) in economy and not wake up with a stiff neck.
Another clever passenger raved about the drawstring bags (something like this) she discovered. She uses them—or shower caps work too!—to store shoes in her suitcase and closet. 
Standing in a long line for coffee, I admired the Away Everywhere Bag a woman next to me had atop her roller bag. She'd been traveling for work when the airport tsunami swept in, and she was trying to get home to her family in Dallas. The personal bag featured zippered compartments, a laptop sleeve, and space for a water bottle. It seemed functional and exactly like what I'd been searching for in a tote bag. 
And, a friend exclaims over this less expensive version of the (above) Away Everywhere Bag. "It holds an incredible amount of items and slides under the airplane seat," she says. 
One woman I spoke with rummaged in her bag and produced her favorite travel accessory—a compact, lighted make-up mirror (like this one) she bought twenty years ago. 
A retired flight attendant swears by "very durable and extremely lightweight" Travelpro luggage. She prefers the two-wheeled roller bags. This airplane pro says, "The four-wheeled bags lose a bit of space because of design, and sometimes don't fit in overhead bins."
A reader stashes this handy duffel, which folds flat, in her larger suitcase. "Just in case I need extra space for purchases," she says.
Backpack Always Ready to Go
"My backpack is only used for travel and is always packed with my essentials," another Denver-bound woman told me. "It contains my journal, hand sanitizer, sanitizing wipes, compression socks, Advil, lip balm, and lotion."
Another flight attendant tip—For reasons we didn't get into (!), she advises we never walk barefoot or in our stocking feet on a plane. She suggests compression socks and disposable travel slippers on long-haul flights.
"My favorite travel item of all time is my black Coach BIG BAG," says a friend. Over the years, she's transported blankets, food, pillows, and even lamps to her grown kids. 
A frequent traveler loves these clear, waterproof, zippered pouches to stash toiletries, snacks, and electronics. They make the perfect on-the-go diaper kit too!
Laugh-Out-Loud Favorite Travel Accessory
I laughed out loud when a reader sent me this random travel accessory. She loops one of these light-up bracelets around hotel or Airbnb door knobs to light the way to the bathroom. No stumbling around when she gets up in the middle of the night! For safety reasons, she wears one on early morning walks too. A genius idea!
During my delay, I spotted water bottles in all shapes and sizes. I love mine. If it turns upside down in my bag, it doesn't leak!
From a woman en route to Connecticut—"I think the single biggest item that has helped me is a toiletry and makeup bag I always keep packed. I don't have to recreate the wheel every time I go on a trip. Not only does it cut down on packing time, but I don't forget things. I hang mine from a hook in the hotel bathroom, so it frees up counter space. It's expensive to purchase duplicate cosmetics and makeup brushes upfront, but it's a handy investment."
Says a traveling photographer—"My favorite thing for packing light is Miracle Balm from the Bobbi Brown Jones Road makeup line. The product is perfect for a touch of color and luminance on cheeks, lips, and eyes. Magic Hour is my favorite color, I love this product, and I get compliments every time I wear it!" 
Packing Cubes
Over and over, women declared their love affairs with packing cubes. The gadgets keep belongings organized and maximize luggage space. They also keep clean and dirty clothes separated. 
A Seattle-bound woman loves her Kindle, charged and loaded with books. "An on-the-go bookstore," she says.
"Global Entry is a game changer for the international traveler," said one woman.
My checked bag? It beat me to Denver, arriving on a different airline. Miraculously, I spotted the caramel-colored duffel, among a mountain of black suitcases, in seconds. 
I'd love to hear about your favorite travel accessories! Please comment below. 
Note: As an Amazon Associate, I earn a commission from qualifying purchases at no extra cost to you. I only recommend products I genuinely like and want to share. This is a way to support Who I Met Today and allow me to run the site and engage with this community I love. Thank you for reading!