Bubbles – The Orchid Series – A Yearly Activity
The Orchid Series
A collection of interviews featuring inspiring women over 75 years young. Curious, engaged, active, interesting. The sort of woman I want to be when I grow up!
In January, when Connie—Bubbles to all who know her—flips her calendar to 2023, she will begin another year of learning to do a new activity. Sixteen years ago, at 60, Bubbles created this fun challenge for herself. She isn't yet sure what 2023's project will be, but she's already looking forward to it.  
Bubbles' first grandchild christened her with the nickname, and it fits this Southern lady to a tee. Oozing energy and charm, Bubbles speaks with a smooth, honeyed drawl that seems to wrap listeners in a big hug. Born and raised in Huntsville, Alabama, Bubbles had a "delightful, Norman Rockwell childhood." She grew up in a two-bedroom, one-bath home where the neighborhood kids gathered after school to eat popsicles on the front porch or popcorn in the living room. 
Do small things with great love—Bubbles' Motto to Live By #1
"I'm very proud of my mother and daddy," says Bubbles. They came from difficult backgrounds and became successful people." Her father bought and sold farms. Her mom, at age 14, hopped on a bus to live with a Huntsville relative who could feed and clothe her. She talked her way into a job at the town's only dress shop.
"We were the last people in the neighborhood to have a tv. The last people to have a new car," says Bubbles. Her parents worked hard and expected Bubbles and her younger brother to go to church and make good grades. "I never loved school, didn't love to study," she says. Bubbles was more interested in her friends, school clubs, and activities. 
Go to church on Sunday—Bubbles' Motto to Live By #2
"In the South, when you were 14, parents allowed their daughters to attend chaperoned dances at the boys' schools," Bubbles tells me. When a certain young man entered the gymnasium, Bubbles informed her friend she would marry him. And she did. 
Married at 19, with three kids by age 24, Bubbles wouldn't change that trajectory "for anything." But the day her husband left her and the three young children, "it broke my heart," says Bubbles.
For the next 14 years, Bubbles raised her children and ran a design and gift shop in a quaint southern town. "I didn't date much at all," she says. "I concentrated on raising my children, and I didn't think a man in the picture was healthy." One gentleman asked Bubbles out many times while the children were growing up. She didn't say "yes" until the last child went off to college. Not long ago, she and that man celebrated their 27th wedding anniversary.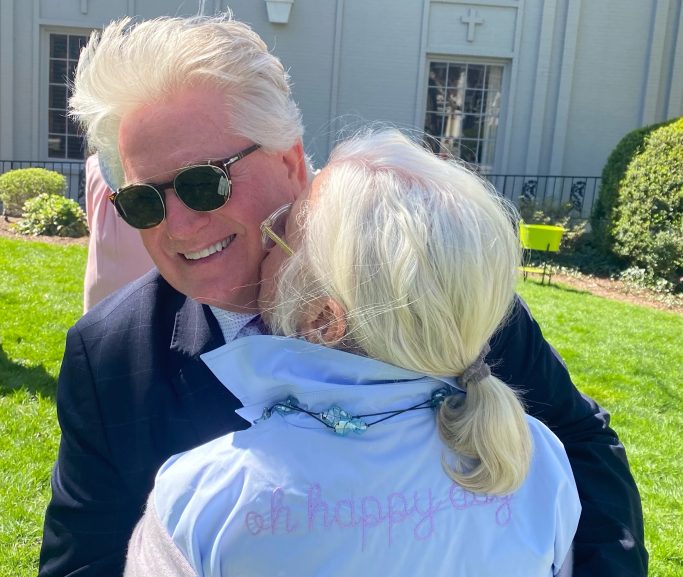 Do unto others as you would have them do unto you—Bubbles' Motto to Live By #3
As a divorced, single mom, Bubbles may not have had a man in her life, but she had girlfriends galore.  And still does.  Despite her share of rough patches (including losing a daughter to cancer), this woman—who welcomes others with open arms—appears to be a walking, talking instruction manual for maintaining social engagement and friendships as we grow older. 
Twice a week, she walks, lifts weights, and stretches with a friend. Since she spent one "learning year" focused on mah jongg, Bubbles now plays regularly with a group of 30-somethings. "I think it's important to have friends of all ages," she says. She loves to cook for friends and set a pretty table. She served "osso bucco over a nice rice" for lunch yesterday.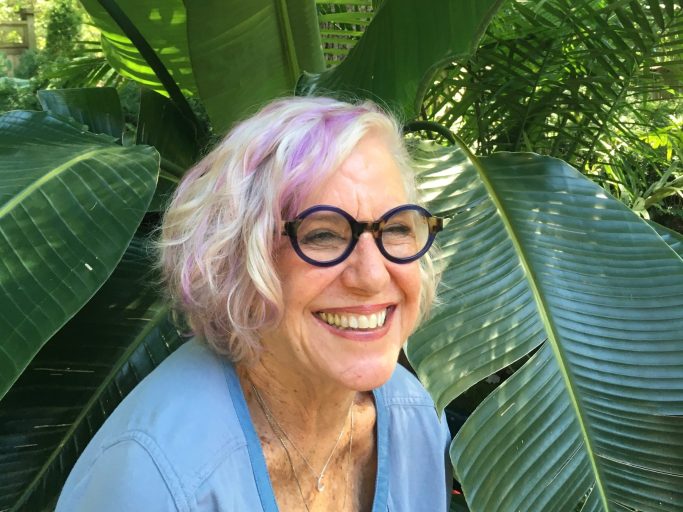 Church is a big part of her life. She makes most flower arrangements for her parish and gathers women for floral classes at holiday times. Bubbles was 60 when her priest suggested she apply for the Washington National Cathedral's coveted floral workshop. With 18 others from around the country, Bubbles roomed in the priest's quarters and spent mornings arranging flowers in the chapels. Attendees toured the massive cathedral's secret passages, listened to private organ concerts, and learned the history of the tower's bells and bellringers.
"It was an education and an experience," says Bubbles.
Shower the people you love with love—Bubbles' Motto to Live By #4
Because she had kids at a young age, Bubbles has a front-row seat in her seven grandchildren's lives. Accompanying her granddaughter on a mission trip ranks as one of her most memorable life events. For ten days, she and her teenage granddaughter worked side by side with poverty-stricken kids. 
Bubbles new activity this year? She's learning to write. On her 75th birthday, her kids gifted her a Storyworth subscription. Each week Bubbles crafts a story based on a question her children ask. What was your first car? What mottos do you live by? At the end of the year, the company compiles her stories—and photos too—into a keepsake book.
Wear lipstick and mascara—Bubbles' Motto to Live By #5
"At first, I wasn't confident; I didn't know how to write," says Bubbles. But she read a couple of books on the subject, and she's now concentrating on writing in an effective and meaningful way. "I want to create something lasting," she says, "and I enjoy it. My daughter tells me I'm doing a good job."
She's still pondering her new activity for next year. One year she learned tips and tricks on her iPhone. The year she devoted to knitting "didn't go so well. But I tried," she says.
Make my bed—Bubbles' Motto to Live By #6
After we talk, Bubbles is off to the Apple store. "I want to learn how to use my new Apple watch," she says.
*For privacy, last names and locations omitted
Photos courtesy of Bubbles' family