Lynn Lesher – Sewing For The Stars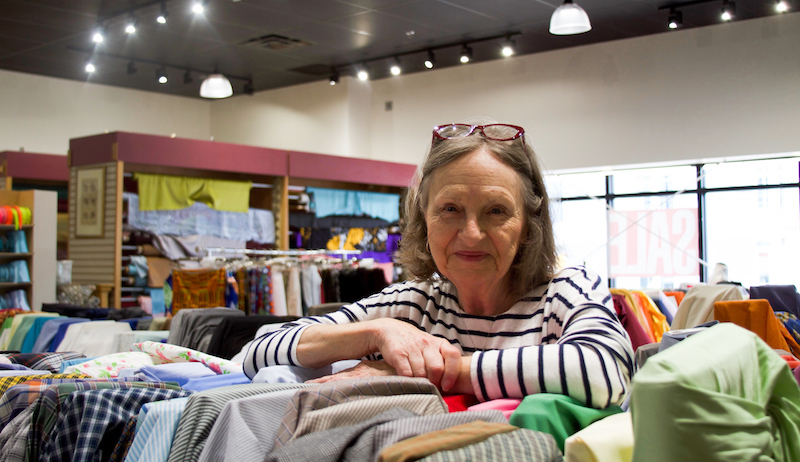 Give Lynn Lesher a challenge, and she's happy. Problems delight her, and routines bore her to tears. She describes herself as "a domestic AND an intellect." She has found a way to employ both tendencies while working alongside some of Nashville's biggest country music stars.
Twenty years ago, Lynn decided she was tired of offices and the corporate world. "I literally just quit one day," she says, sounding like it still surprises her. While working in Human Resources, she taught sewing classes at a local fabric store on weekends. Smiling, she explained, "People often asked me to make dresses or tweak outfits for them—and I always said nope, can't do it, too busy with work. Well, I quit my job and started saying yes!" 
One of the first people Lynn said "yes" to was country music star Blake Shelton's stylist. She approached Lynn with one of Blake's tour shirts that needed some major reworking—and, oh, by the way, it needed to be ready to go by the next day.  Lynn successfully reconstructed the shirt that evening, and "the next thing I know, I am making all Blake Shelton's shirts!" she remembers.
Lynn is an expert pattern maker—skilled at drafting patterns for whatever someone may want to produce. She's made prototypes for bras, clothing lines, medical devices, a laptop holder for stationary bikes, wallets, and the list goes on and on.  She considers herself a problem solver.  "I get phone calls from all kinds of crazy places because I love to look at things and figure out how to get to where we need to be,"  Lynn says.
"I quit my job and started saying yes!"
For Carrie Underwood's Just A Dream video, the director wanted Carrie to wear a wedding dress which morphed into a funeral dress. Not surprisingly, the stylist was having trouble finding this type of garment! From photos and an idea list, Lynn made the pattern and dresses Carrie wears in the video.
Dolly Parton's design team came calling one day, wanting  Lynn's expertise in designing clothes and making patterns for the country superstar. Lynn says, "Dolly had a crazy wardrobe budget, a jam-packed schedule, and trucks to haul her wardrobe. If she were photographed in a dress on tour, she would likely not wear it again." So Lynn and her team of five seamstresses revamped and re-embellished the clothing for new wearings. Her seamstresses each had their specialty. One sewed on snaps and buttons and ripped things out; another put in zippers.
She has a ball making costumes for some of today's up-and-coming artists. Lynn will typically produce  8-10 different outfits for the young stars. This will give the artist plenty of options and costume changes for their performances when they tour. She also thinks photo shoots are fun and does a lot of them. "They are easy.  Slam, bam, done; let's go home," she laughs. 
She also likes handling last-minute wardrobe malfunctions before awards shows. "Although they really aren't last minute, because the stars dress at 1 in the afternoon," she says. Lynn's other loves? A good meat and three, bird watching, planning a trip to her 50th state (she needs Alaska), and being the ultimate fun grandmother. 
Lynn works as hard as ever today—except out of her home. Lynn says her three grown kids often ask her why she doesn't retire. "Why should I? I can still do what I love doing. I'm good at it. It gets me out of the house, and I get to meet a lot of very interesting people. Why  should I stop?"
You may also enjoy reading about the backup singer to a country music superstar