Robyn Sargent – King Arthur Baking Instructor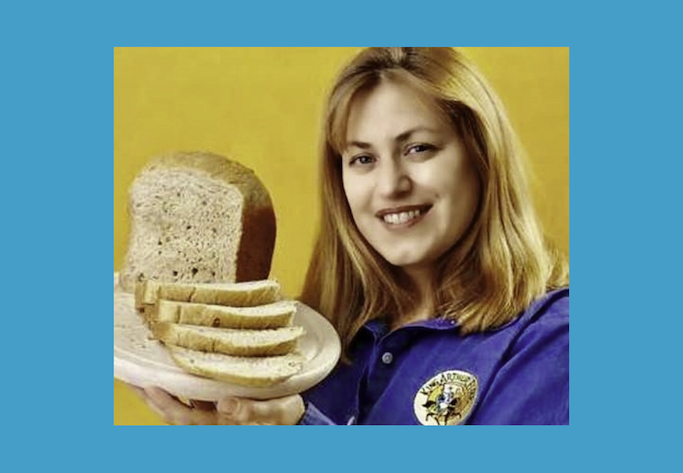 Robyn Sargent's job is a delicious one. In her "office," a spacious test kitchen equipped with the latest baking pans and gadgets, Robyn bakes cinnamon rolls, pizza dough, and cream puffs. She adjusts seasonings and ingredients until the final product tastes just right. And as a King Arthur baking instructor, she gets paid to do this.
I discovered King Arthur Baking this past holiday season. A lovely friend gave me a gift card for Christmas. Sure, I'd heard baking professionals rave about King Arthur flour and claim it's the gold standard in the industry. What I didn't know is their website is a treasure chest for the home baker.   
"We have incredible resources on our site," says Robyn from her snowy home in Vermont. "We offer tips, products, great recipes, and virtual classes."
Robyn grew up baking alongside her mom. When she graduated from the University of New Hampshire, she couldn't find a position utilizing her Political Science degree. But Robyn did find a job—with a view—she loved. "I baked all the desserts and breads for a restaurant located in a renovated flour mill," she says. She kneaded bread and shaped pastries while gazing out the window at the scenic Pemigewassett River.
Her baking experience steered her to food writing, and Robyn crafted a weekly, country-style column for the local newspaper. In Robyn's Nest, she featured stories about in-season produce and how to cook it, recipes, restaurants, and local food-related folks.
Almost three decades ago, while writing an article on white whole wheat (a new strain of wheat at the time), Robyn interviewed the then-owner of King Arthur Flour. The two "hit it off," and the owner hired Robyn to field baking questions for the Norwich, Vermont company's baking hotline.
And she's been with King Arthur ever since.
To answer calls from stumped bakers, it was important for Robyn to "be an expert." She earned a baking science accreditation through correspondence courses with the acclaimed American Institute of Baking in Kansas.
That expertise has allowed her to wear many hats, or chef coats, at King Arthur. In their baking school, she creates curriculums and teaches classes on making the perfect chocolate cream pie, eclair, or croissant. She's traveled the country—"even Hawaii"—teaching adults how to bake bread in the company's national baking program.
King Arthur's Bake For Good program is one of her favorites. "I go into middle schools, teach students how to make a basic yeast bread, and send them home with the ingredients for an assignment," says Robyn. Their homework? Bake two more loaves at home. One loaf, she instructs the students, is to enjoy at home, with their family. They must donate the second loaf to a soup kitchen, shelter, or family in need. "It's a great lesson and program," Robyn says.
What to Bake with Kids
To keep kids and grandkids busy on these cold, winter days, Robyn recommends baking projects that involve bread dough. "Rolling it, kneading it, it has lots of tactile and textural components," she says. Bread dough is a good springboard for little hands to make monkey bread, soft pretzels, or mini pizzas. Homemade pasta (her favorite class to teach) is a huge hit with the younger set also.
In recipes calling for vanilla, Robyn suggests substituting almond, coconut, or maple extract.  Or her favorite—and a King Arthur Baking exclusive—Fiori di Sicilia (flower of Sicily), a luscious Italian combination of vanilla and orange. "It tastes like a creamsicle," says Robyn. (I have this on order and can't wait to try it in sugar cookies!)
Measure for Measure Flour
Gluten-intolerant folks will want to know about the "magical" Measure for Measure flour.  In any recipe without yeast—cookies, cakes, quick breads—"this is a one-for-one flour replacement and turns the recipe gluten-free," says Robyn.
From late May to November, Robyn tramps the woods near her New England home in search of wild edible mushrooms. On her regular hikes, she comes across chanterelles, black trumpets, morels, and porcini. And she uses these to cook at home.
When we talk over Zoom, Robyn steps away from our call to take a shepherd's pie out of the oven. I've been looking for a simple version of this dish, and I figure Robyn's the one to ask. "Oh, I made it up this morning," she says. As she rattles off vague instructions, including imprecise amounts of rosemary, Worcestershire sauce, and garlic, I follow along and think I can do this. When she gets to the part where she makes a slurry, she loses me!
On my travel bucket list, I'd love to attend a class or two at the King Arthur baking school in Vermont. Wouldn't that be a fun girls' trip? "Come in the autumn," says Robyn. "It's gorgeous here." I want Robyn to teach my class—and write down the steps for her shepherd's pie also. Meanwhile, I'll try their Iron Skillet Crispy Cheesy Pan Pizza. A friend gives it five stars.
Featured photo courtesy of Robyn Sargent