Betty – Is Curiosity the Secret?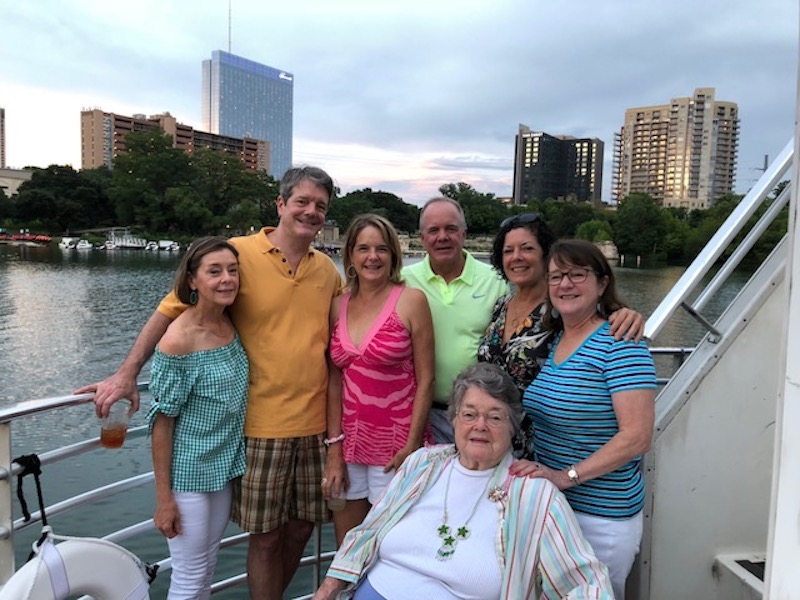 The Orchid Series
A collection of interviews featuring inspiring women over 75 years young. Curious, engaged, active, interesting. The sort of woman I want to be when I grow up!  
Assuming decent health and a side of good luck, what can we do to enhance our older years? How do we stay sharp so we can continue doing what we love to do? I've talked with some remarkable women, and their common denominator—their secret sauce—is curiosity. In their 70s, 80s, and 90s, these women maintain a zest for life and all that surrounds them.
Betty is one of these inspiring women who seems curious about everyone and everything. Have you always been this way? I asked her. "Yes, I'm interested in most topics—except professional sports," she laughed.
According to one of Betty's daughters, her 93-year-old "mom is the most engaging person" she knows. "And Betty's other three daughters, two sons, eleven grandchildren, and eight great-grandchildren will agree." I sensed it was hard for Betty, a gracious Virginian-turned-Texan with a pleasing Southern accent, to talk about herself. She doesn't consider herself special. 
Betty earned a  Zoology degree from Wellesley and, as her kids grew older, taught Biology. On weekends, she and her children often packed up and headed to Texas state parks with the Audubon Society. They camped, enjoyed nature, and learned to identify a great variety of Texas birds.
Teaching Travels
When her youngest child left home, Betty (divorced by this time) traveled to Scotland, solo, as an exchange teacher in the State Department's The Fulbright Program. Reminiscent of the film, The Holiday, she and a Glasgow science teacher swapped homes and jobs for a year.
"Yes, I was a bit apprehensive," said Betty. But, she met "other wonderful people, explored her ancestral home," and toured Europe during school breaks. "Since I was 60, I was eligible for the train discounts," she said.
After she retired, at age 65, Betty noticed an opportunity in her church's newsletter. Why not go to Honduras to teach for one year? she thought. Through the Honduran program, Betty lived with a local family and taught Science to predominantly Spanish-speaking students.  "I was not proficient in Spanish, and my English-speaking seniors helped me with grocery store lists,' she said.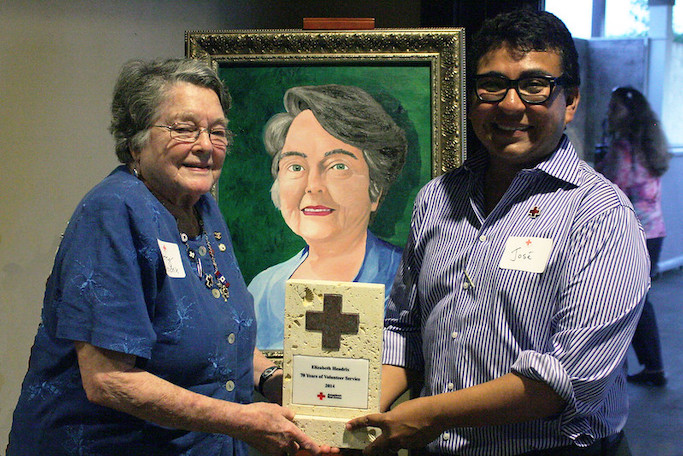 70 Years with the Red Cross
The Red Cross has always been dear to Betty. During World War II, she and her mother volunteered to roll bandages and knit clothing. As a young adult, she taught swim classes and ran a Learn to Swim program for the organization. Despite her job and family responsibilities, she continued to lend a helping hand to local chapters.
In her sixties and seventies, she drove throughout Texas and flew to North Carolina and Pennsylvania to assist victims of hurricanes and floods. By herself? "Of course," said Betty. As a volunteer disaster responder, she interviewed clients to determine their losses and how the Red Cross might help.
In 2011, the Red Cross presented Betty with a special award. One she's mighty proud of. "They thanked me for 70 years of volunteer service," she said.
I wish I could?… "Still travel," Betty says without hesitation. 
Betty enjoyed her trips with Road Scholar (formerly Elderhostel), an educational travel company. Traveling solo in an organized group of like-minded folks, she met people who wanted to learn and explore as much as she did. Betty has fond memories of Trinidad and the lovely bird sanctuary with its unusual specimens. And the trip to Australia, where she snorkeled on the Great Barrier Reef and attended a performance at the Sydney Opera House.
Today's Schedule
Nowadays, Betty spends mornings "taking care of me." She grabs her walker, heads to the fitness center, and joins a biking or chair exercise class (or two) at her retirement community. She may do exercises in the pool or swim laps. She "devotes afternoons to entertainment," whether a sewing or knitting group (she's making a blanket for another great grandchild), book discussion (she loves history), or bingo. After dinner with friends from the community, she'll attend a lecture or musical program or play board games. She tries not to miss day outings to view landmarks or graffiti art. "I'm busy all day and do whatever is going on," she says.
But every Monday at 5, Betty settles in her apartment that overlooks the community courtyard. She'll watch the sparrows and the grackles bathe and drink at the water fountain. And then, right on time, she Zooms with her six kids. The occasional grandchild may pop onto the call. "Our standing appointment is my favorite time of the week," she said.
Photos courtesy of Betty's family
If you know someone 75+ who inspires YOU, I'd love to connect with them
PS—Another curious woman, and another who lives separately from her spouse, and one more