Lynne Warne – Antarctica Travels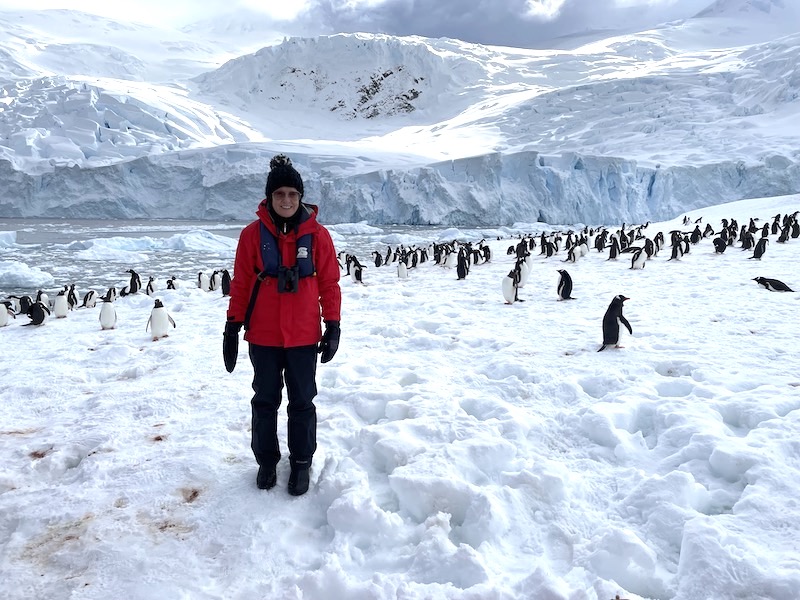 I'd love to see the mass of penguins and Antarctica's pristine, rugged landscape. But, I know myself. For various reasons, I won't make the rigorous trip to the coldest, highest, driest, windiest continent on earth. And so, I must live vicariously through Lynne Warne.
Last November, Lynne and her husband set sail on Silversea for an 18-day "trip of a lifetime" and the cruise industry's first Antarctica voyage since the pandemic. Due to Covid restrictions, rather than boarding the ship in Ushuaia, Argentina—the world's southernmost city—they departed from Puerto Williams, Chile, a four-hour flight from Santiago.
As passengers boarded the ship, they received anti-nausea medicine. Unless you fly straight to the Antarctic Peninsula—not financially feasible for most travelers–you must endure two days crossing the Drake Passage. Between the southern tip of South America and the South Shetland Islands (at the "entrance" to the Antarctic Peninsula,) this 600-mile stretch of water is the roughest on earth. No islands block the currents, and water flows 600 times faster than our planet's most rapid river.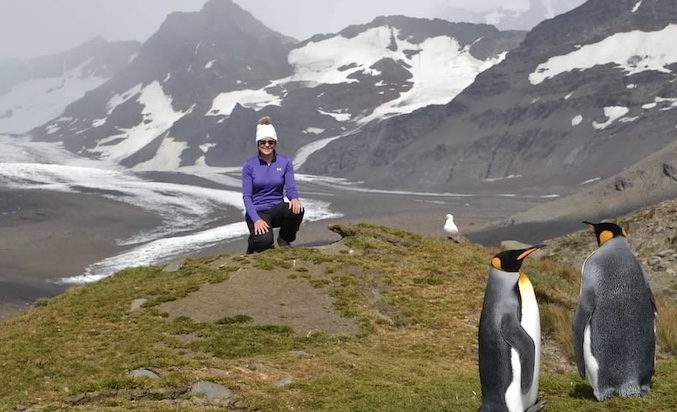 "Our swells were average, 15 to 24 feet," says Lynne. "The boat rocked wildly, and the crew chained down the dining chairs." Swells can be much worse, and captains never know what they might face. They may navigate the "Drake Lake" (what's all the fuss about? ) to the non-stop, toilet hugging, "Drake Shake."
After passengers complete the crossing, with the aid of pills or patches or pillows over their heads, the beauty begins.
The ship meandered past skyscraper glaciers and icebergs and spouting whales. Twice a day, it stopped along the Antarctic Peninsula's bays, coves, and harbors. The expedition crew—all specialists, including an ornithologist and a 60-ish marine biologist who was the first woman to scuba dive in Antarctica—ventured ashore and cleared a path. Then passengers boarded the wobbly inflatable boats and headed for land.
"With no permanent inhabitants and the continent's desolation, I felt like I was seeing what our forefathers saw," says Lynne. Penguins and seals "ruled the day." Visitors may not approach the wildlife, but these friendly-looking creatures aren't afraid to take a closer look at human trespassers. "Fur seals don't look like they can move fast, but I promise they can," says Lynne. All ended well, but one of the 700-pound animals chased after her across the snow.
"South Georgia Island and The Falkland Islands are breathtaking," says Lynne. More than a million three-foot-high king penguins and their adorable, fuzzy chicks waddle around both islands. The Falkland Islands host thousands of nesting albatross, the giant seabirds which can soar for years without touching land.
Lynne, who grew up on a Minnesota hog and crop farm, didn't want to miss a thing on this memorable trip. One of the highlights for her, aka Dora the Explorer, was the polar plunge. Once their blood pressure was checked, she and her husband stripped down to swimsuits, braved the 30-degree temps, and jumped into the frigid water. Due to its high salt content, the water freezes at 28 degrees in this part of the world.
Another day, she paddled a kayak through ice—and plenty of penguins.
When packing for this trip, fashionistas need not agonize over what sweaters or shoes to tote along. Silversea provided insulated outfits and outerwear, complete with rubberized boots. Site cross-contamination is a concern, and crew members clean and inspect boots and outerwear before and after every shore excursion.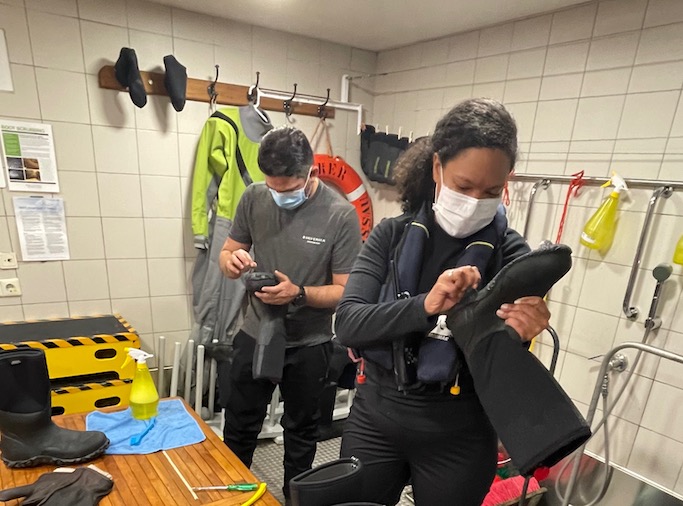 Was Lynne ever uneasy or concerned? asks this anxious person interviewing her. "Not at all," she says. The cautious crew vetoed a trip through the gorgeous Lamar Channel because of ice levels. Although the ship can break through some ice, the packs needed a few more months of summer to warm up.
A physical is not required to visit this polar desert, but it is helpful to be in good shape. Like Lynne and her husband. "It takes balance to trudge through the snow and ice, and many people slipped and fell," she says.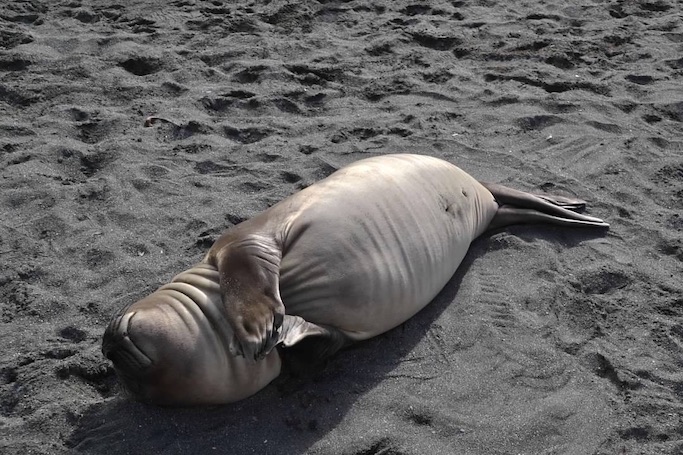 This fearless explorer's calendar is packed. She serves on the board of her alma mater, St. Cloud State University, and is the National Catholic Women's Business Association president. She and her husband will open their fifth Burger Republic this spring and sold three Nothing Bundt Cakes franchises last year.
And, "while she's healthy and able," she researches and plans trips—Galapagos, the Holy Land, and Machu Picchu. And, since she didn't find polar bears, narwhals, and walruses in Antarctica, she looks forward to visiting The Arctic in 2023.
Even with different cost options, it's expensive to journey to the ends of the earth. For most, it's a bucket list trip. But, "it's so very, very special," says Lynne. "With no other humans, you feel like an explorer." Who knows? I may reconsider…
Photos courtesy of Lynne and Jeff Warne
PS—Hiking the Grand Canyon, the wild horses of Camargue, 2-3 days in Prague, and a salmon fisherman in Alaska