Mo Houston – Walking The Camino De Santiago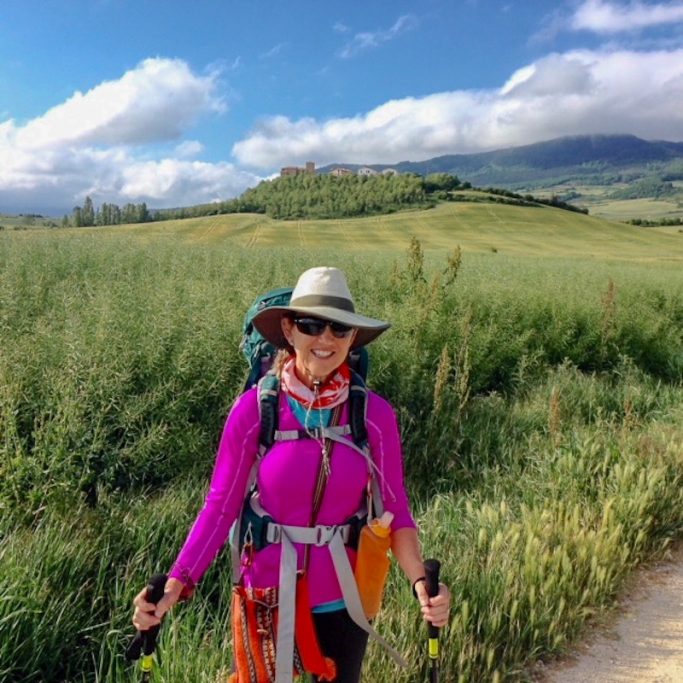 Boarding a flight to Madrid, Mo Houston shoved her one piece of luggage, a backpack weighing less than 18 pounds, in the overhead bin. It contained two sets of clothes, a pair of shoes, flip flops, a rain suit, a head lamp, bandana, and not much else. All her supplies for the next month.
For hundreds of years, people have journeyed to the Apostle St. James in the Cathedral of Santiago de Compostela. According to legend, the remains of St. James are buried here. Pilgrims begin their trek in France or Portugal or Germany. The Camino de Santiago – or The Way of St. James –  refers to any of the different routes pilgrims choose to reach this sacred shrine near Santiago, Spain.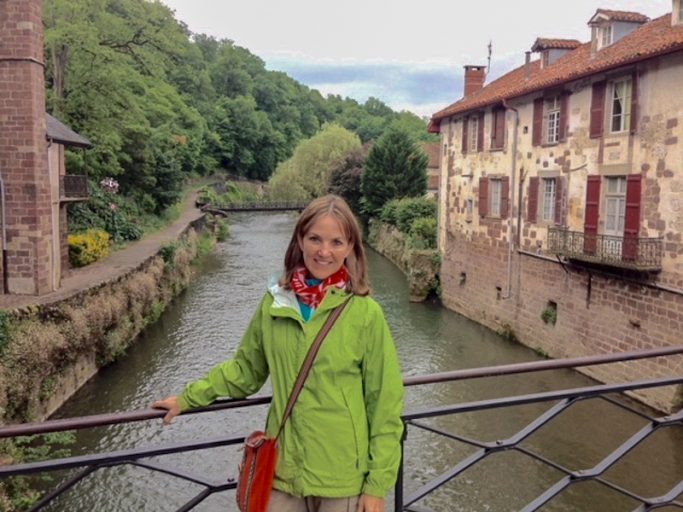 The Way of St. James is a spiritual journey, a soul-searching personal undertaking. People walk  The Camino, a 500-mile trek in the Basque region of northern Spain, for reasons special to themselves. 
"The Camino is full of miracles and marvels – every single day."
Busy with teenagers and their activities, Mo didn't stop to mourn the recent loss of both parents. For her, walking The Way was a time to think about her mom and dad –  and grieve.  "It wasn't sad. It was beautiful," she says.
Even for those in great shape, a journey of this magnitude is challenging for the body, mind and spirit. Taking a train from Madrid to Pamplona, and then a bus to France, Mo and her husband, Greg, reached the starting point for The Way. As they set out from Saint-Jean-Pied-a-Port, the first portion of the spiritual walk was all about the "body adjusting to walking 15-20 miles a day," Mo explains. Climbing the steep hills through lush forests and pastures of grazing sheep was hard work. Zigzagging her way back down, to avoid shin splits, was tough too.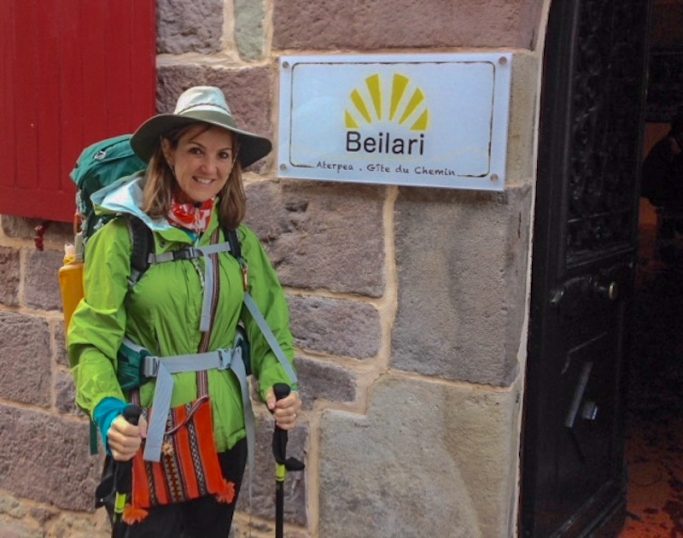 Their Camino family – eight other pilgrims from Australia, Spain, Italy, and Germany –  shared meals of stale bread, octopus, and chocolate croissants.  "We took nothing for granted along The Camino," Mo remembers.  "We were thankful for every little thing."
As she sloshed through cow manure, admired fields of roses, and gazed at gigantic stork nests, Mo took the time to notice her surroundings. "There were no distractions," she says.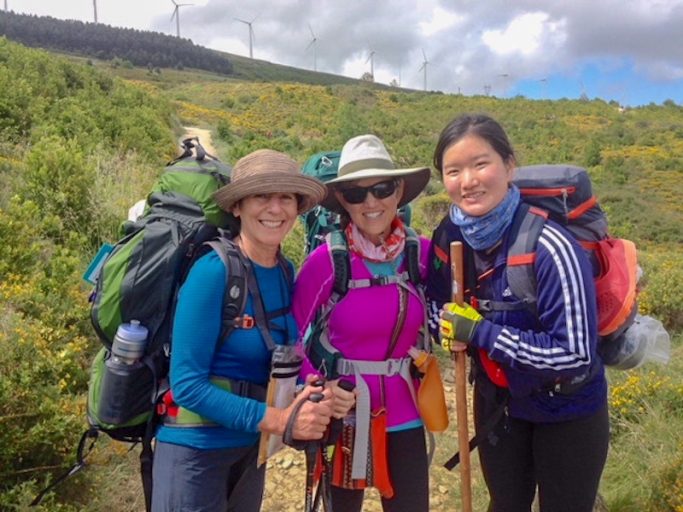 Walking 15-20 miles, she trusted she'd find a spot to eat and sleep after each exhausting day. "You don't make a reservation for the local auberges, which are upscale hostels," explains Mo. Walkers knock on the inns' doors and hope.  "It worked out every evening for us," says Mo, "and reminded me I need to let my worries go.  God will provide."
Mo got used to the coughs and snores and nighttime noises in the bunk rooms filled with 30 strangers. Was she frightened, nervous, uncomfortable? "Never," she says.
"Right away you learn material objects don't mean anything."
For five weeks, this perky woman with the cute outfit, haircut, and smile woke around 5am, strapped on her headlamp, and gathered her belongings for the day. Dressing was a snap. She slept in the clothes she planned to wear the next day. No makeup, hair dryers, contacts, skin care routines, shampoo.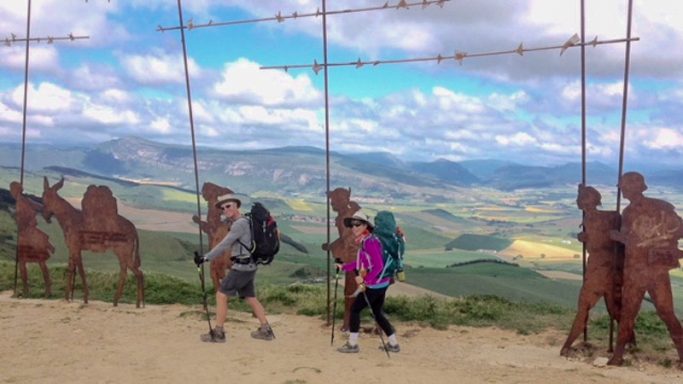 "I did have a tube of lipstick," Mo laughs. And lots of Vicks Vapor rub for her aching feet. "The simpleness felt good," the designer from Houston added. "Right away you learn material objects don't mean anything."
Each innkeeper stamped her Camino passport with their unique design – a cross, a farmer, the name of the auberge. Stone fountains in villages provided drinking water and, sometimes, red wine. And then she set out for the day, morning coffee a few miles away, with damp socks swinging from her backpack to dry in the breeze.
"My husband & I returned with totally different ideas about how we want to live the rest of our lives."
Not every day was full of storybook sights. Ancient stone bridges, medieval churches, sweet cows with bells dangling from their necks. Mo spent monotonous days trudging along the seashell-marked trail and listening to the relentless click-click of her walking sticks. But this is "where I really got into my soul." 
"In the big picture of my life, does this really matter?"
"The most magical thing about The Camino is the people," says Mo. Greeting those she encountered along the trail with a "Buen Camino," she didn't know if she was meeting a prince or a peasant or a spry, elderly man celebrating his 80th birthday. Everyone had their story, and she learned from all. "We are all different races and origins and speak various languages, but we are all so very similar," Mo says.
Teary-eyed, Mo walked the final steps to mass at the Cathedral of Santiago de Compostela.  After 33 days and 500 miles, she was exhausted, accomplished, emotionally drained.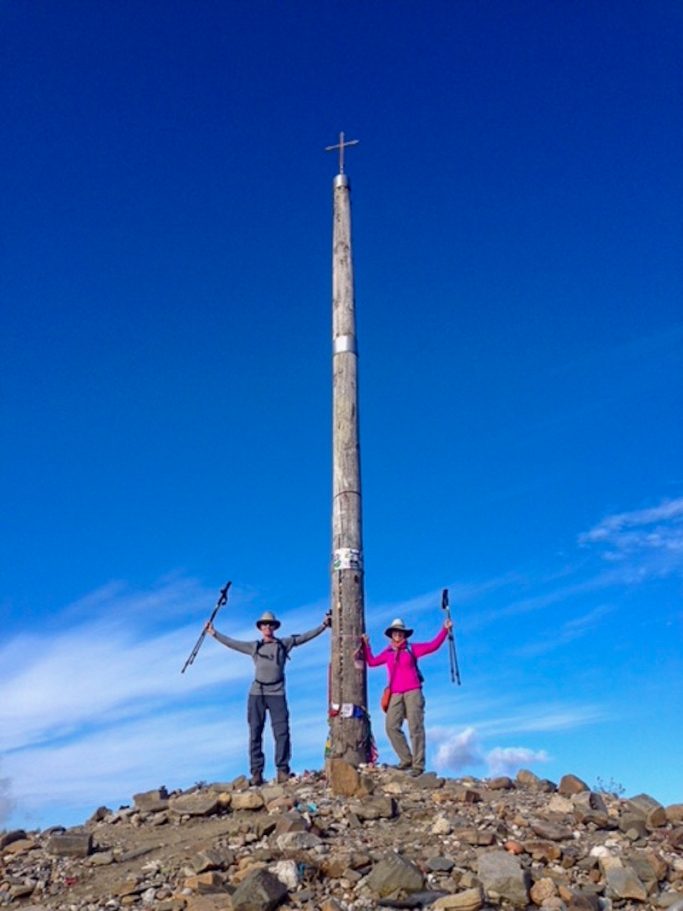 The Camino is a walk of faith. "You don't think about the fearful things – where you will sleep, what you will eat, what happens if you get sick," says Mo. "Everyday is an adventure and a search for the beauty around you.  I am a mom, so I will still worry. But I hope I returned with a greater faith, more confidence, and new ideas about how I want to live the rest of my life."
Mo's blog about her adventures turned into a book, Texans on the Camino.
All photos courtesy of Mo Houston