Audrey Carroll – Airstream Trailer Travels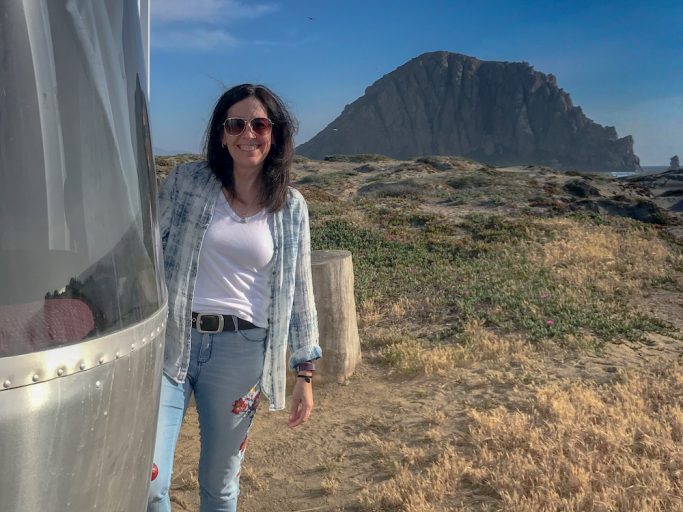 Each week has seven days, and someday isn't one of them.  Still, many of us sit back and wait for the perfect moment to execute our plans. But, that time may never come…
I am not a camping kind of gal. And, even though snap judgments can get us into trouble, I didn't picture Audrey Carroll sleeping in the great outdoors either. With her pulled-together outfit, pretty haircut, and poised manner,  I took her for a woman who enjoys a hotel with room service and a concierge at the ready.
As she shows me photos of her recent trips to Big Sur and Half Moon Bay—a beautiful sunset over the Pacific Ocean, wine and cheese arranged on a quilted table outside, blackberry cobbler cooling in the tiny Airstream trailer kitchen—Audrey doesn't seem to be roughing it.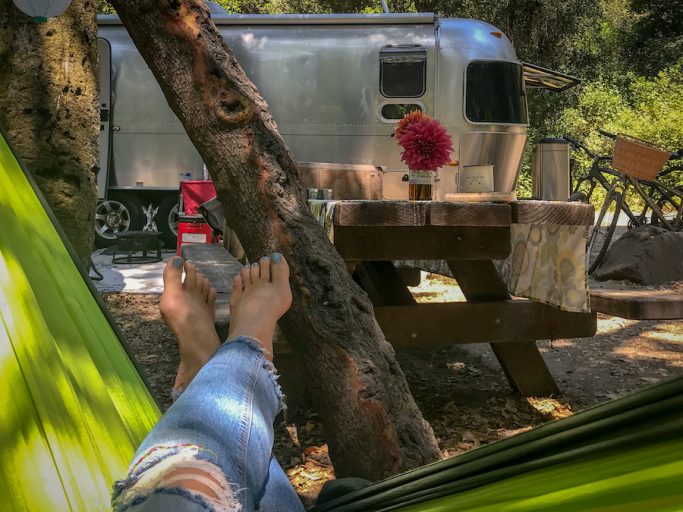 Reared in Southern California, Audrey and her family didn't have a lot of leftover funds to spend on fancy vacations. Her husband's upbringing in central California was similar. Camping as kids, they both grew up loving the outdoors and share a sense of adventure. Before they married, camping in a state or national park was an easy, inexpensive getaway—and one where you test-drive a relationship, I imagine. 
When they raised their three children in the San Francisco Bay Area, their camping tradition continued. Pitching tents with other families a couple of times a year, the adults cooked and talked and the kids ran around and played.  "It was a great community," Audrey reflects.
"It doesn't have to be perfect, you just have to start." 
Audrey and her husband, Paul, often discussed buying an Airstream trailer.  The old, nostalgic feel of those travel trailers appealed to Audrey, and the couple was ready for some creature comforts—a shower, a toilet, a proper bed, and a place to stay dry and warm.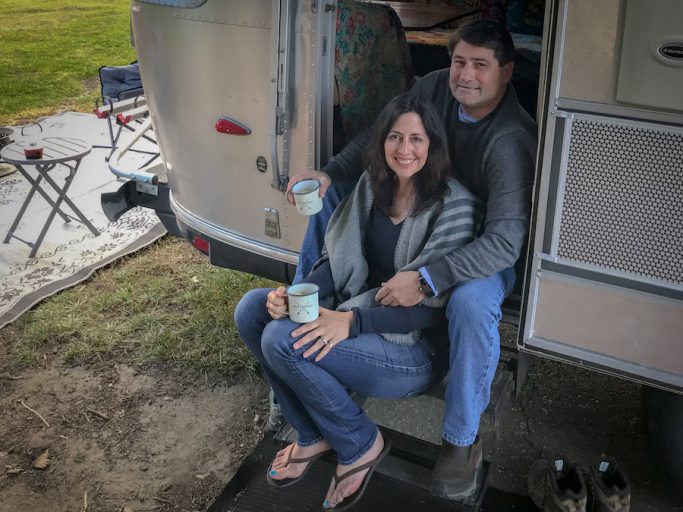 They dreamed about packing up and heading off to the beautiful parks up and down the California coast. But all this would happen LATER—after their children left home and Paul retired. When the time was right.
Diagnosed with breast cancer at age 51, Audrey's mom passed away a few years later. "She'd always wanted to see Yosemite, and mom kept saying she'd go when she got better," Audrey says. But her health did not improve, and the dream trip never happened.
As she approached her 50th birthday, memories of things her mom wanted to do but missed, flooded back to Audrey.  "What am I waiting for?" she asked herself.  "I decided right then and there to live my life and not wait to do the things I love," Audrey says.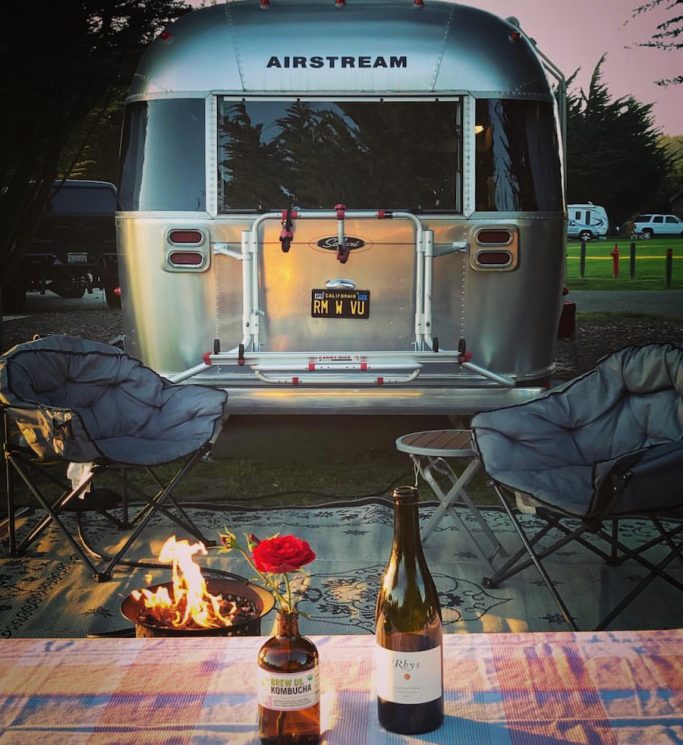 So now, hitching the 25-foot Airstream trailer they bought three years ago to their Suburban, off Audrey and Paul go. Setting up house along the Santa Barbara coastline and among the Big Basin redwood forests, Audrey and Paul spend "romantic days" hiking and biking and taking long walks along the beach. "Part of the fun" for Audrey is trying out new camping recipes in the homey kitchen Paul remodeled.
"Enjoy the little t

hings in life, for one day you'll look back and realize they were the big things." – Kurt Vonnegut
"We are in close quarters, and it's good for our marriage," Audrey says. "We spend most evenings reading and listening to music, with no internet and, usually, no cable connection," Audrey continues.  She spends lots of time, curled up in vintage quilts scattered about, writing in journals.  "In this intimate space, it is nice to clear our heads and focus on each other," Audrey tells me.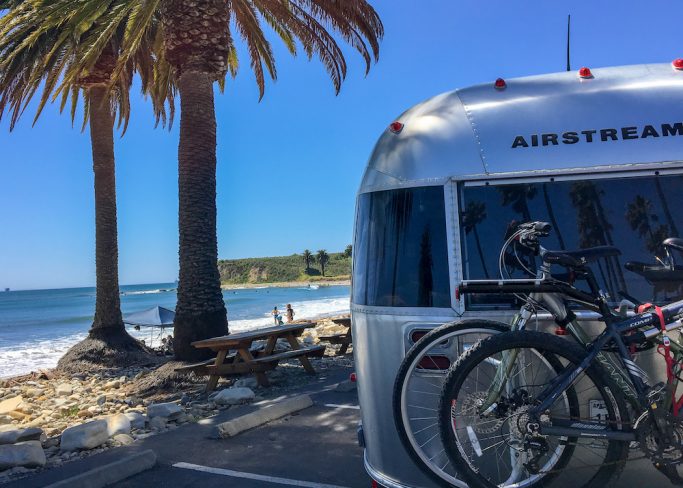 Outfitted with everything they need, their Airstream has a tiny bathroom (think your last Southwest flight) with a separate shower. Except for the occasional skunk rooting through the recycling bin, Audrey swears she sleeps better in the 184-square-foot traveling home's queen bed than she does in her house. 
I wonder if reservations at campgrounds near Costanoa and Big Sur and the Santa Cruz mountains are tough to come by, and Audrey responds with an emphatic, "Yes!"  If she wants to hear the waves crash or see the sun go down over the ocean, "I mark my calendar to reserve exactly six months in advance."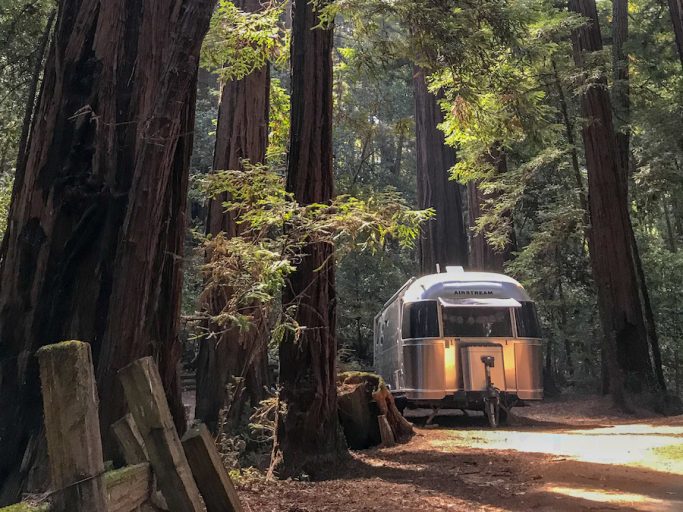 Once Paul retires, they look forward to hitting the road for longer periods.  Oregon, Washington, Orcas Island, Montana, Minnesota, the Tetons, Grand Canyon —they have quite a long list.  Audrey brings up a good point.  Many couples forget how much fun they can have alone—just the two of them.  And I applaud Audrey and Paul for making—and executing—their plan. 
PS—Oregon wine country, Florida's 30A, and Nashville favorites
You can follow Audrey's travels on her Instagram account
Photos courtesy of Audrey Carroll