Rachel Marks – Ketubah Designer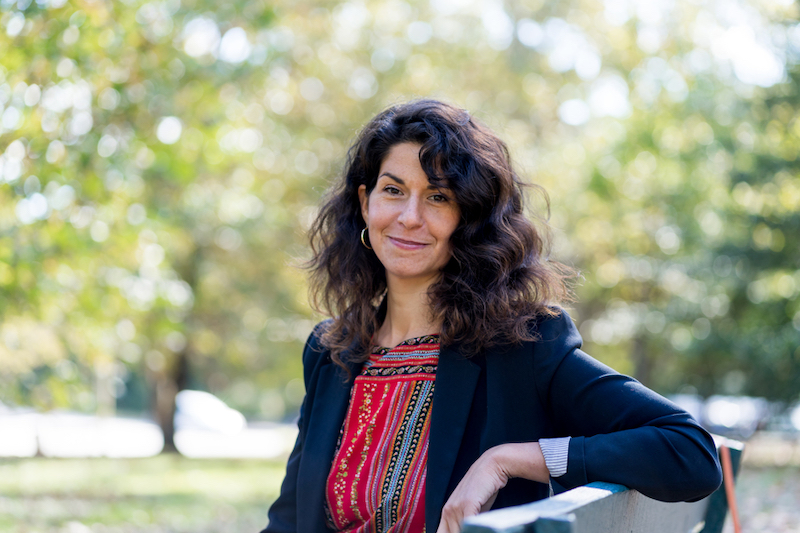 In 2009, when Rachel Marks and her husband married, the young Jewish couple struggled to find the perfect ready-made ketubah. "There weren't many options back then, and the artwork was more traditional than we wanted," says Rachel. So, the trained landscape painter designed a ketubah as a keepsake of their special day. 
A ketubah, a traditional Jewish marriage certificate dating back 2000 years, was initially created to protect the bride. Embellished with ornate text and decorative touches, the document outlined the groom's marital, financial, and familial obligations. The certificate assured the bride's family their daughter would be taken care of by her new husband. 
Rachel attended Maryland Institute College of Art, a leading art and design college in Baltimore. A landscape painter, she worked for several years in arts administration and displayed her paintings in galleries. As a side hustle, she painted ketubahs for friends and family members when they married. In the back of her mind, Rachel thought designing ketubahs might make a fun business someday.
The young couple relocated to the Philadelphia area when Rachel's husband accepted a new job. Pregnant with their daughter, Rachel decided the time was right to start that business she'd dreamed about. 
When happy clients referred friends and acquaintances, Rachel's ketubah business took off. Within a year or two, Tallulah Ketubahs became a full-time venture.  
Her original watercolors are inspired by tile mosaics, Southern Live Oak trees, Catskills' wildflowers, Pacific Northwest evenings, and Pennsylvania folk art. On her website, Rachel offers a variety of affordable, limited edition ketubah prints.
But many couples—from the U.S., Canada, England, and Australia—seek a unique, customized-just-for-them ketubah. And this is where Rachel's talents shine. 
"Custom pieces are a big undertaking, and the process takes several months from start to finish," says Rachel. An initial conversation with the couples—Jewish or interfaith—determines their hobbies, interests, and what type of artwork they imagine. If a couple met in Colorado and enjoyed hiking together, they may wish to include mountains in their ketubah design. Others may prefer botanical or floral watercolor artwork. 
Rachel worked with a Jewish groom and an American Indian bride to create a ketubah incorporating both cultures. The finished design mimics a traditional Indian embroidery style, Chikancari. Rachel added a Mughal-style architectural motif around the text. Pomegranate trees—a traditional Jewish symbol—comprise the background.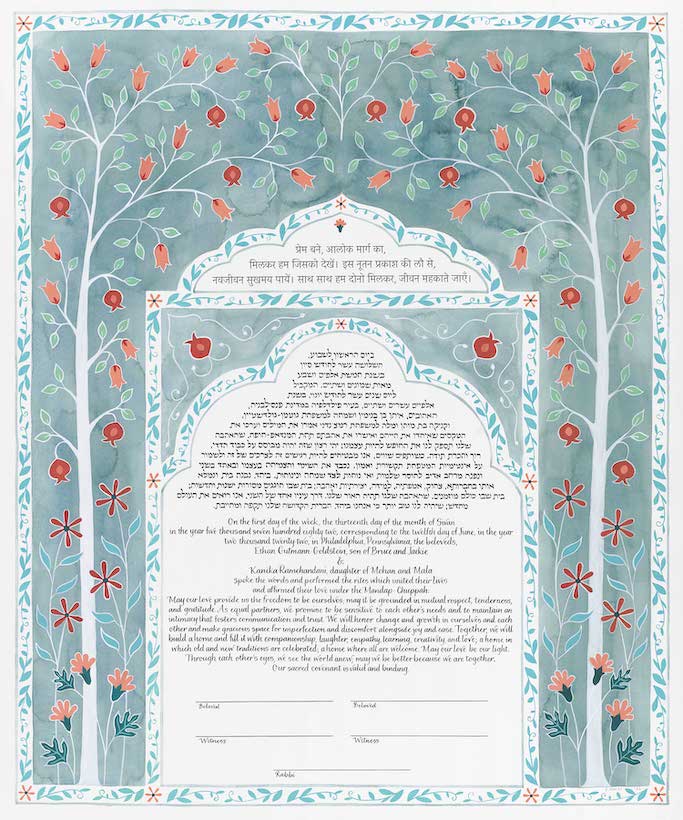 After studying calligraphy with a master penman in Philadelphia, Rachel began adding the fancy handwriting to her ketubahs. Couples choose for Rachel to calligraphy the ketubah text in English, Hebrew, or both, using modern or traditional language. 
"On many of the ketubahs I create, the language is similar to vows," says Rachel. "Along with their names and the wedding date, the text might state the partners' plan to work together to create a joyful, peaceful world. Or they may mention they hope to have a Jewish home and continue the traditions of their ancestors." 
Rachel points out she also works with non-Jewish couples to create artwork centered around their marriage vows. "I design Quaker wedding certificates too," says Rachel. These large documents announce the couple's names, their declarations, and the procedure they followed.
"Since I attended art school, I have many friends who are incredible artists," says Rachel. From time to time—to add variety, interest, and more ketubah options to her site—Rachel invites guest artists to create designs for her. For example, Rachel will paint a watercolor background, and guest artist Annie Howe will layer a unique paper cut on top of it.
Another guest artist, Sarah Rafferty, crafted a cyanotype piece of art. The 170-year-old photographic printing process produces prints (in this case, a fern design) in a distinctive dark greenish-blue. All guest artist prints are limited editions, with runs of only 15 to 30 prints.
2022 has been a busy year for Rachel. On the heels of the pandemic, the wedding business is booming. "Couples spend a lot of money on weddings, and much of what they purchase is disposable," says Rachel. She feels fortunate and happy to create something for people that will live in their homes for the rest of their lives. 
Rachel says, "I get to paint every day and create a meaningful work of art for the most special of occasions—weddings!"
Photos courtesy of Rachel Marks
Featured photo by Traci Elaine Photography