Five Fun Things in Newport, Rhode Island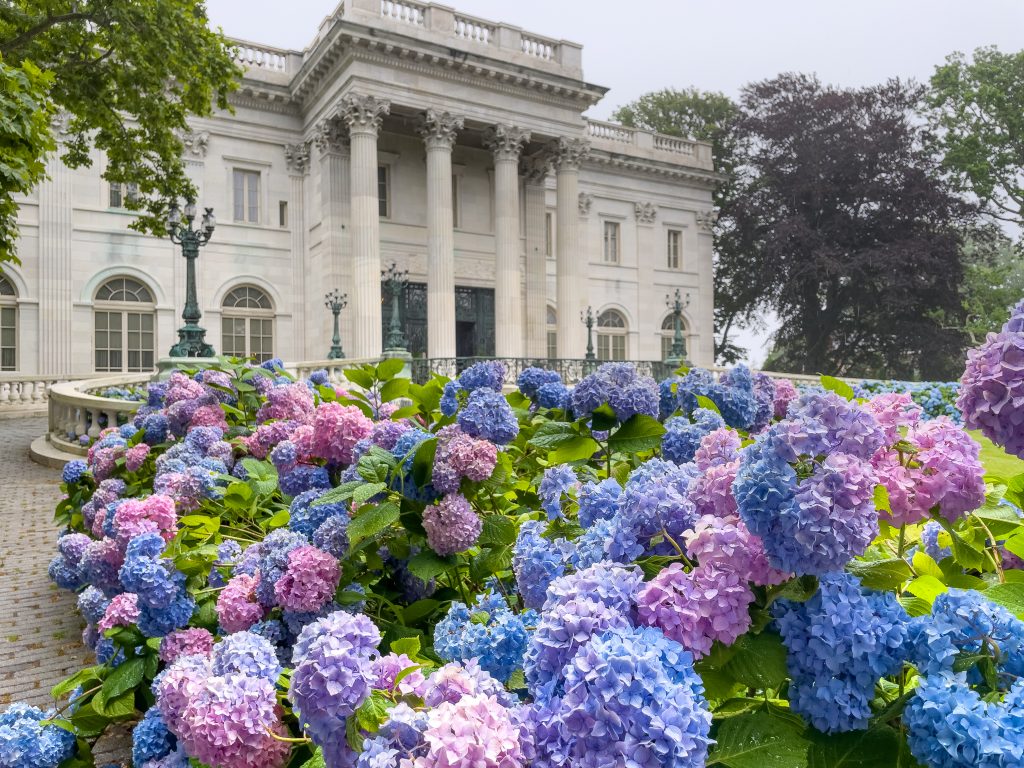 Recently, my husband and I slipped away for a few days to celebrate our anniversary. Our first getaway in a long while with no traveling partners, business calls, or grandchildren. Just us.
We began in Boston (although Providence is a good starting point also) and meandered our way down to Newport—a 1 ½- to 2-hour drive through quaint towns and seaside villages. Newport makes for the perfect couples' or girls' trip, and it's easy to explore on your own too. Another bonus? In summer, the hydrangeas are in full bloom.
For lovers of history, architecture, good food, and beautiful scenery, Newport offers something for all…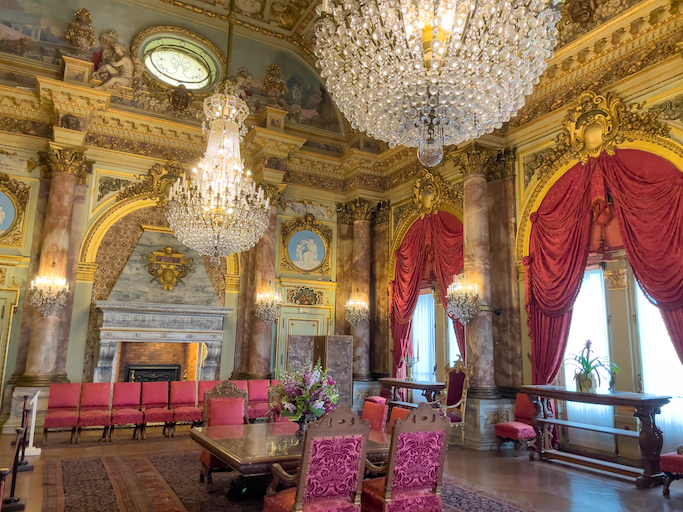 Assuming my husband had no desire to traipse through more than one Gilded Age home, I made plans to tour the grandest of the Newport mansions—The Breakers. Built in 1895 by Cornelius Vanderbilt II, this 140,000-square-foot summer cottage is massive and gaudy and completely over the top. But so much fun! After lunch at the Breakers café, a rainy afternoon caused us to shift plans. My good sport of a husband was willing to keep going…
We added Marble House (Alva Vanderbilt's 39th birthday present), Rosecliff (the summer home of a Nevada silver heiress), and The Elms to our itinerary at a discounted rate. With a membership to The Preservation Society of Newport County, guests receive unlimited admission to all mansions for one year.
The Elms closes in October for a couple of weeks while the next season of The Gilded Age films. After touring these mansions and learning some backstory, I can't wait to rewatch the first season.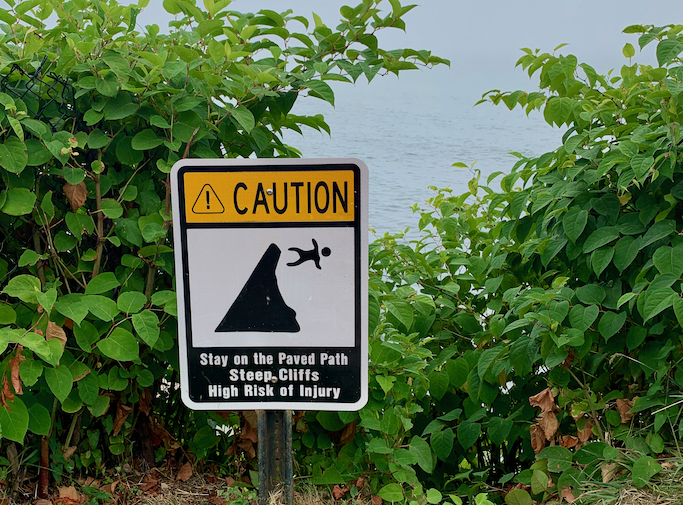 With the Atlantic Ocean on one side and grand mansions on the other, this 3 ½-mile walk is a great way to start the day. Most of the path is a leisurely stroll, but portions of the coastline trail are rocky and slippery. Exits along the route allow visitors to walk as little, or as much, as they prefer.
Tall hedgerows and stone walls protect many of the summer "cottages" from gawkers like me. But sharp-eyed hikers will catch a glimpse of assorted Gilded Age homes, sprawling lawns, and a helicopter pad or two.
The Chanler, a former mansion turned luxury hotel, sits directly on the Cliff Walk with ocean views and direct access to the path. We didn't make it to Cara, the Chanler's five-star restaurant, but I hear it's a special spot for anniversaries and celebrations.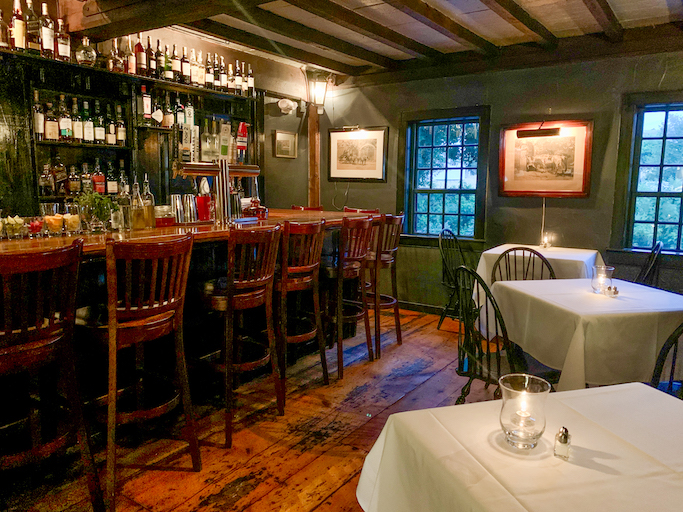 Be sure to save a night for dinner at White Horse Tavern, the oldest operating restaurant in the nation and the tenth oldest in the world. Built as a residence in 1652, the original two-story structure consisted of two rooms. The White Horse, on the National Register of Historic Places, became a tavern in 1773 and has served food since.
Beef Wellington is the tavern's signature dish, and all dishes are exquisitely prepared and presented. Enjoy a cocktail in the charming bar, outfitted with period furnishings, before you head to an adjacent dining room and settle around the massive stone fireplace. Or make your way—carefully—up the narrow staircase. One of the upstairs dining rooms is original construction and, according to our server, much of the wide-planked flooring is left over from colonial days.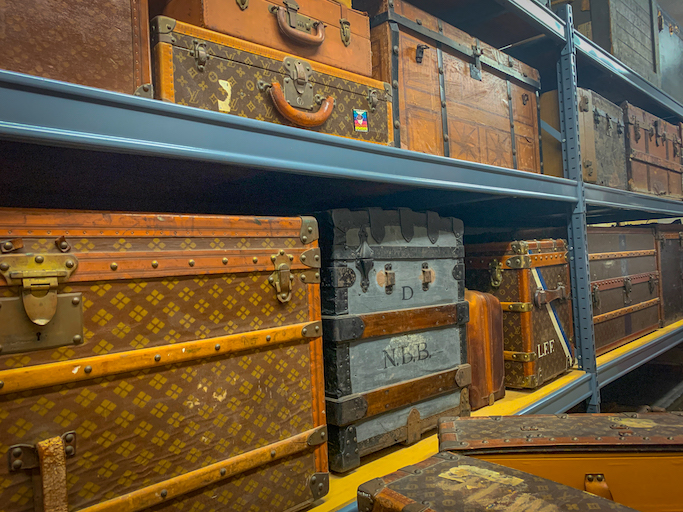 "You must take the Servant Life Tour," Cindy told me. And the longer-than-expected tour of The Elms servants' areas exceeded my expectations.
Our knowledgeable guide regaled our group with stories of servant life near the turn of the 19thcentury. Curious souls, fans of Downton Abbey, and history aficionados will adore exploring china pantries, laundries, and boiler rooms. Edwin Julius Berwin, a coal magnate, built The Elms, his family's summer home, with nicer servant living and working spaces than most mansions of the day offered.
Two tours daily—make reservations in advance.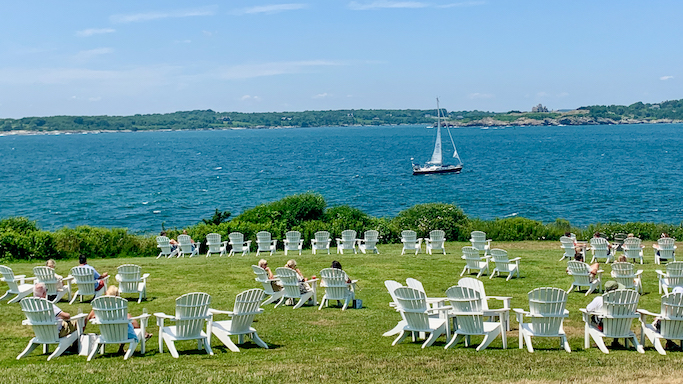 A helpful mansion docent suggested lunch at Castle Hill Inn's restaurant. What a delightful—albeit windy—spot to capture a quintessential Newport experience. Don a hat and sunglasses, dine al fresco, and watch the sailboats glide across Narragansett Bay. Or grab a drink at the outdoor bar, stroll across the lush sloping lawn, and plop in an Adirondack chair. Some vacationers at this luxurious hotel may select accommodations in the historic Agassiz Mansion. Others may prefer a beach cottage or beach house room, steps from the private beach. Located about a fifteen-minute drive from central Newport.
Before you travel to Newport, Rhode Island, some Gilded Age and related books…
The Social Graces by Renee Rosen
American Heiress by Daisy Goodwin
The Lost Summers of Newport by Beatriz Williams, Lauren Willig, Karen White
The Glitter and the Gold by Consuelo Vanderbilt Balsan
The Husband Hunters by Anne de Courcy
The Last Castle by Denise Kiernan
Lost Newport by Paul Miller
Murder at Beechwood by Alyssa Maxwell