Cookbook Review – A New Take on Cake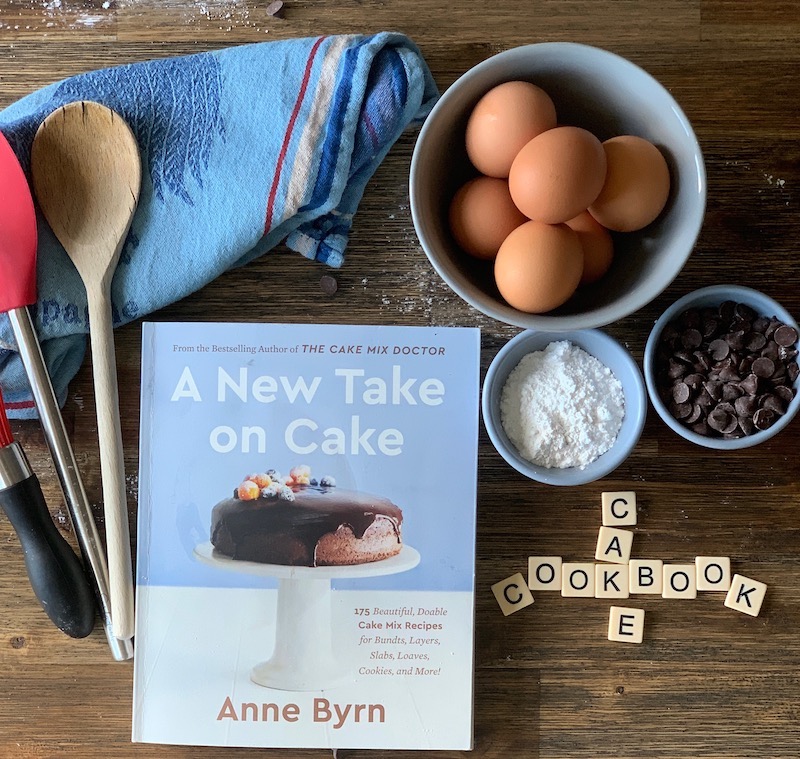 A few weeks ago, a college friend and I discussed those cookbooks we owned and used. She mentioned it would be nice to test drive a cookbook before taking the plunge and buying it. 
I had just talked with Anne Byrn, of The Cake Mix Doctor fame. Anne shared stories surrounding her cake mix lineage and the yummy recipes she created for her latest cookbook, A New Take on Cake.
My friend's comment made me think…Why don't I play around with Anne's newest cookbook, experiment with the recipes, and introduce readers to some of my favorites? And so, for the month of February, I baked through A New Take on Cake.
I've not been much of a cake baker. I'm more of a cookie and brownie person. So—on my hands and knees—I dug out the springform pan I unwrapped at my bridal shower, my decades-old bundt, the cake pans, the tube pan. Throughout February, I brushed up on some rusty skills, tried a different technique or two, and explored a few new baking trends. 
All beginning with a box of cake mix, each recipe went together without much fuss. If indicated, I did use whole milk or buttermilk to ensure a creamy and moist texture. I stashed many goodies in the freezer to enjoy later. Others, I distributed to delighted delivery drivers, building personnel, neighbors, and businesses.
This journey through A New Take on Cake turned out to be a delightful one. My old, standby recipes are tasty and trustworthy, but there's a whole world of fun and new combinations out there. I discovered recipes I'll come back to again and again. 
And—without exception—every single cake or cookie tasted even more delicious with ice cream! 
Chocolate Olive Oil Cake with Chocolate Ganache
Cookbooks introduce us to ingredients and foods we might not otherwise discover. I'd never eaten an olive oil cake, and this smooth, creamy, chocolatey creation earns a big blue ribbon from me—my favorite for the month. Anne says, "You will make it again and again," and I agree. I'm a chocolate lover, and the dark ganache—WOW! I may have eaten some of it with a spoon. After the frosting cooled a bit, it glided across the cake with my offset spatula. A healthy amount of olive oil in this recipe, no butter. 
Texas Sheet Cake
I discovered a more complicated version of this southern standby when we moved from California to Texas eons ago. A New Take on Cake's simpler rendition is even tastier than what I remember devouring at all those Houston birthday parties and barbecues. Even if you don't have Texas roots, I encourage you to give this a try. You won't regret it! PS—Although purists will disagree, I think this tastes best straight from the refrigerator.
White Chocolate Peppermint Chiffon Cake
Every year, when December 1 rolls around, I pounce on all things peppermint—lattes, ice cream, cookies, brownies. And this light, dreamy blend of peppermint and chocolate, with its white chocolate glaze, will now be a part of my holiday repertoire. PS—Grease the tube pan thoroughly. I used a non-stick cooking spray (PAM, of course!) 
Stacy's Chocolate Chip Cake
This recipe appeared in Anne's original cookbook in 1995—The Cake Mix Doctor. Before she passed away from breast cancer, a dear Houston friend introduced me to this breakfast, snacking, dessert bundt cake. I bet I made it 1000 times when my boys were growing up. Anne's new recipe, still a favorite, accounts for the smaller cake mix sizes on supermarket shelves today. My sons are grown now, and I don't bake it as often. But, when I do, I think of the friend I lost. And, unbelievably, one of my first Nashville friends—Stacy!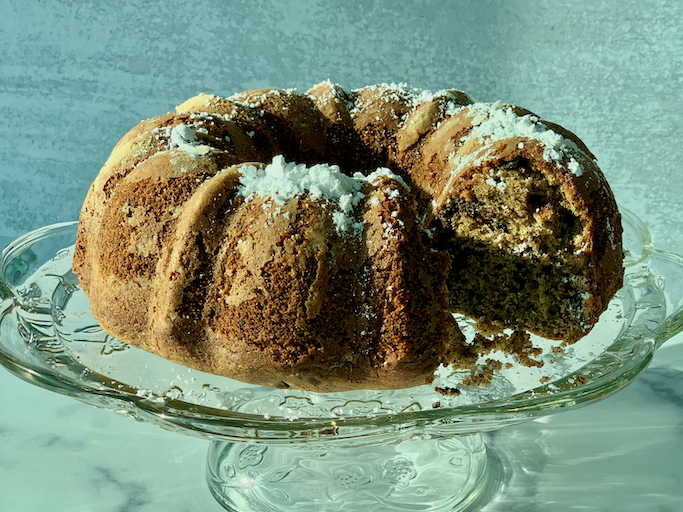 Hershey's Bar Pound Cake
Made with plenty of Hershey's candy bars and almonds and buttermilk—for moisture—this treat is perfect with morning coffee or afternoon tea. My honest opinion? We liked this bundt cake, but it is similar in taste and texture to Stacy's Chocolate Chip Cake. And that one gets our vote.
Italian Cream Cake
My husband is a willing taster for my baking endeavors, and this cake was his favorite for the month. If you like coconut and pecans like we do, you will love the Southern version of this delicious cake. The cream cheese frosting—my, oh my. An effortless, very impressive dessert. With only a single layer, one may feel less guilty about the calories.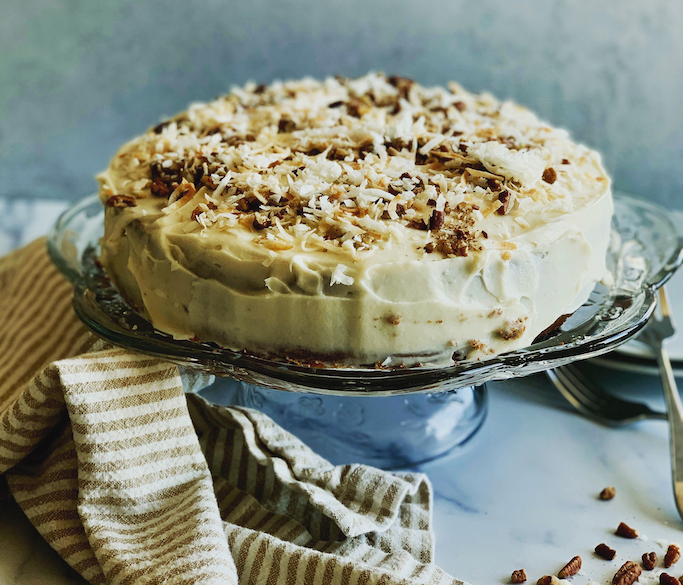 Double Chocolate Drop Cookies
Your little sous chef will enjoy making these cookies on a rainy day. Crispy around the edges, soft in the middle, and good straight from the oven. Slather softened ice cream in-between two (and then refreeze) for an even more decadent treat. PS—Do not grease the cookie sheet or use a Silpat. I made that mistake with the first batch.  
Sugar Cookies
One of those things people don't know about me—I love to bake and decorate sugar cookies. And eat them too! Anne's version of basic sugar cookies is a versatile one. Some bakers might choose to shape the dough into a log, slice the cookies, and bake. Others may form the dough into little balls coated with colored sugar and bake. And some will roll the dough out with a rolling pin, cut hearts or shamrocks or bunnies with cookie cutters, and pipe the buttercream frosting onto the shapes. That's what I like to do, despite the disaster of a kitchen it creates.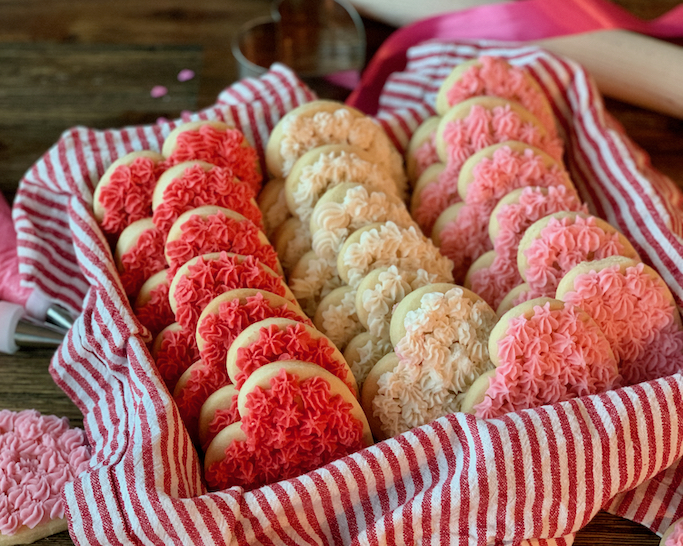 Susan's Lemon Cake
Since Jamie Lee Curtis raved about this cake on a talk show, I bought my first box of Jello (in how many years?!) and whipped this up one gray February afternoon. I don't own one of the fancier Heritage bundt pans, but this lemon concoction still tasted terrific. And reminded me of sunnier, springier, warmer days to come.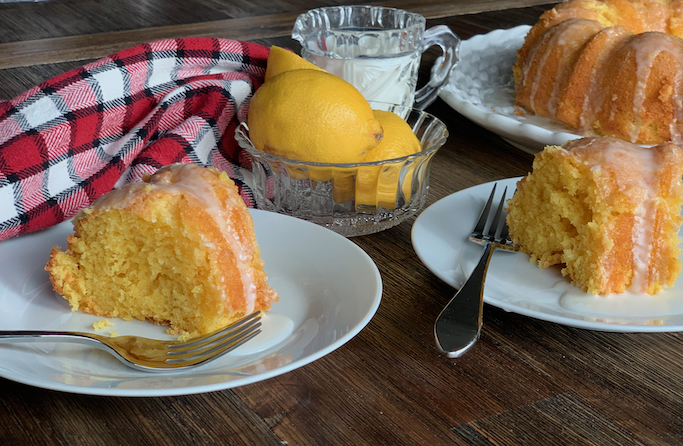 Roasted Strawberry Upside-Down Cake
Not long ago, I read old-fashioned desserts and entrees are making a comeback. Think stuff our moms used to make—creamy casseroles and jello molds and pineapple upside-down cakes. Prepared in a cast-iron skillet, this is a riff on the traditional upside-down cake, and it is tastier than the photo depicts! (Maybe that's why Anne didn't include a picture in her cookbook!) Serve warm with plenty of ice cream. PS—Balsamic glaze is near the balsamic vinegar at the market.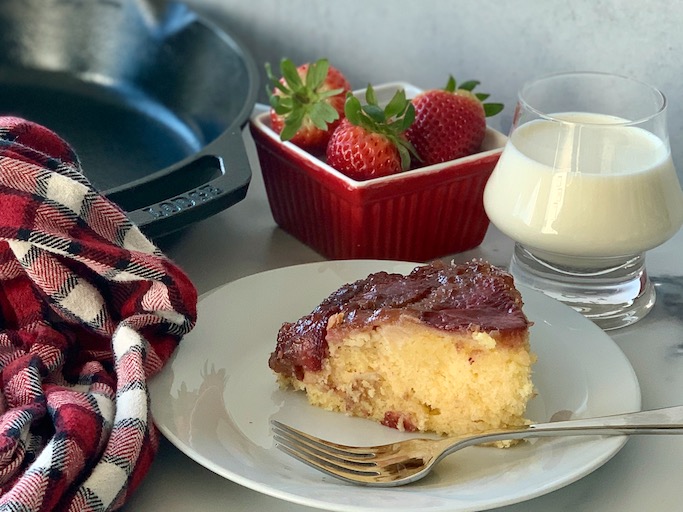 Peanut Butter and Jelly Snack Cake
Are snack cakes a thing? Because all toddler houses have peanut butter and jelly on hand, my granddaughter and I had a ball baking this snack cake together. This simple cake was fine. But, if I'm going to eat the calories, I want something more decadent. My husband liked it (and so did my little helper), but he's a less-gooey eater than I am.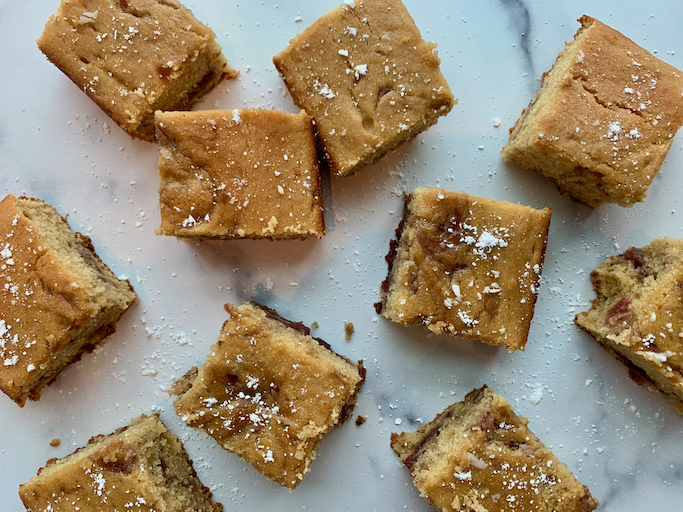 I have a long list of other recipes I plan to try. The Pumpkin Skillet Crumble and Maple Nut Coffee Cake in October. Chocolate Fudge Peppermint Sticks and Eggnog Cake next holiday season. And I'm still debating which of the baby cakes I'll try for my husband's birthday in March. 
Thanks, Anne, for a tasty and fun February.
PS—how to help an ailing friend, a King Arthur baking instructor, and a French pastry chef in Oregon,