Five Fun Things in Boston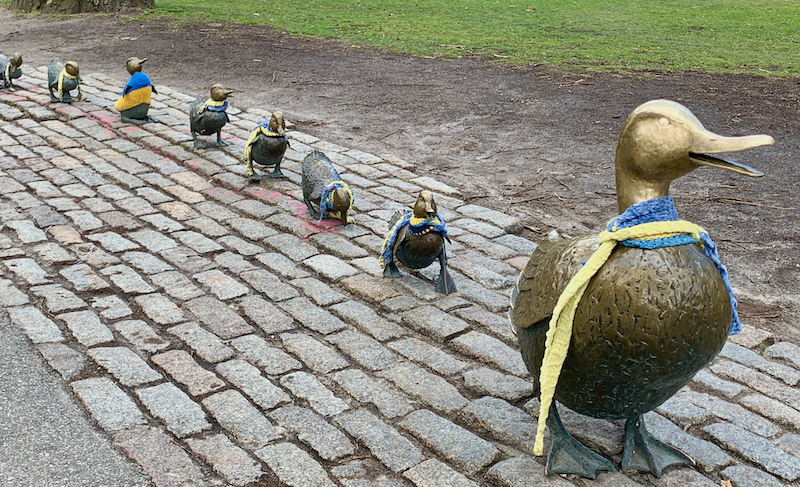 I love Boston. The city is small-ish, walkable, clean, and loaded with interesting sights, great food, and history. Recently, I tagged along with my husband on a work trip. It was a perfect time of the year to visit—sunny spring weather, blooming tulips, flowering trees. I cannot wait to go back! Here are a few fun things I discovered…
Make Way for Ducklings Sculpture
In the Public Garden (no charge), America's first public botanical garden, you'll find landscaped pathways, flowers, shaded benches, a lagoon, and swan boats. Near the Charles Street entrance, stop and say hello to Mrs. Mallard and her eight ducklings. The bronze statues pay homage to Robert McCloskey's 1941 Make Way for Ducklings. This beloved children's classic chronicles the adventures of the duck family in Boston's Public Garden. The cute critters dress for the season, and they currently sport Ukrainian blue and gold. A must for any bibliophile. (Photo Above)
Grill 23's Famous Coconut Cake
If you love coconut as much as I do, meet the dessert of your dreams.
Pop into the bar at Back Bay's Grill 23 for a massive slice of this heavenly cake. Served alongside pineapple sherbet and swimming in luscious coconut dulce de leche, the coconut cake is TALL. Think six layers of creamy cake and toasted coconut frosting. Save the leftovers to eat with morning coffee.
Commonwealth Avenue
For fans of The Gilded Age and historic architecture, stroll this avenue's promenade adorned with shade trees, park benches, and monuments. Imagine life in the grand three- and four-story homes with iron gates and servant's entrances. At 395 Commonwealth is a 15,000-square-foot mansion designed by Charles Tiffany. Although this single-family home is on the market for a cool $17 million, most other buildings on the avenue have been turned into apartments and condominiums.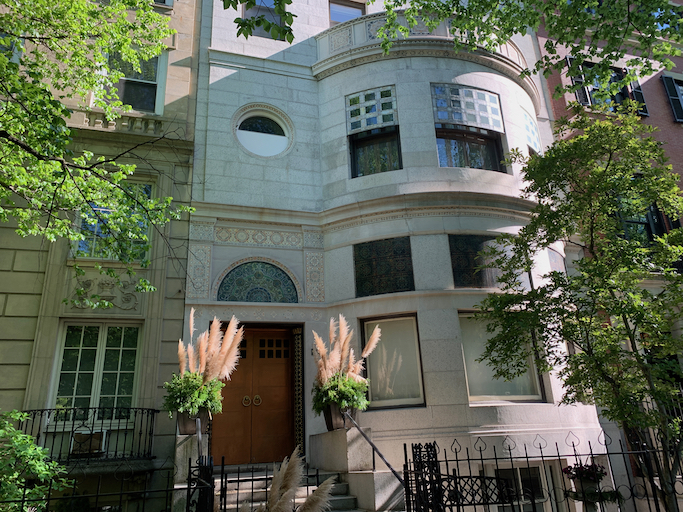 The Liberty Hotel
After exploring the Public Garden and Make Way for Ducklings sculpture, meander down historic—and cobblestone-bumpy—Charles Street. Wander past the wine merchant and clothing boutiques and restaurants to the Liberty Hotel. Originally the Charles Street Jail, the prison was an innovative design offering inmates plenty of windows, light, and fresh air. Peek into the restaurant and bar and notice the preserved jail cells. Although I didn't stay here, sources tell me the hotel is quite a buzzy scene in the evenings. 
Polcari's Coffee
Open the door and step back in time. It's always 1932, the year the shop's doors opened, at this tiny North End institution—or it looks like it could be. Coffee snobs will adore this cramped space, its shelves bulging with old-time jars of coffee beans, spices, candy, and nuts. Take the neighbor who watched your house and gathered your mail a pound of coffee beans—they have coconut! Or treat yourself to a unique flavor. Simple coffee drinks are served to go.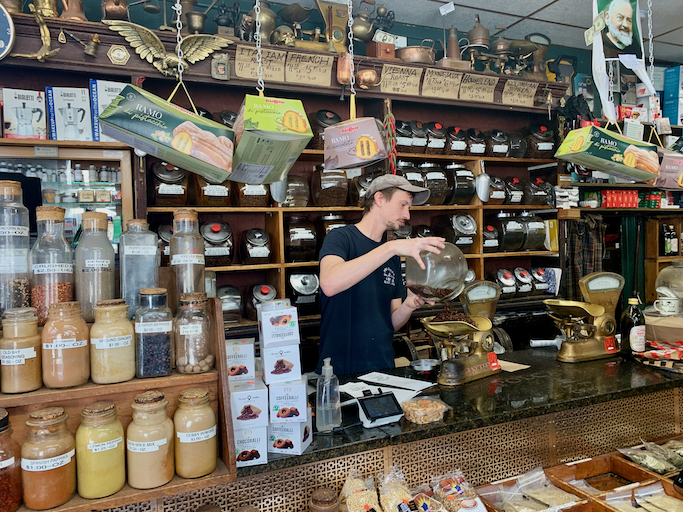 ______________________________________________________________________________
Other ideas for things to do in Boston? I'd love to hear!