Katy McAvoy and Two Summer Mocktails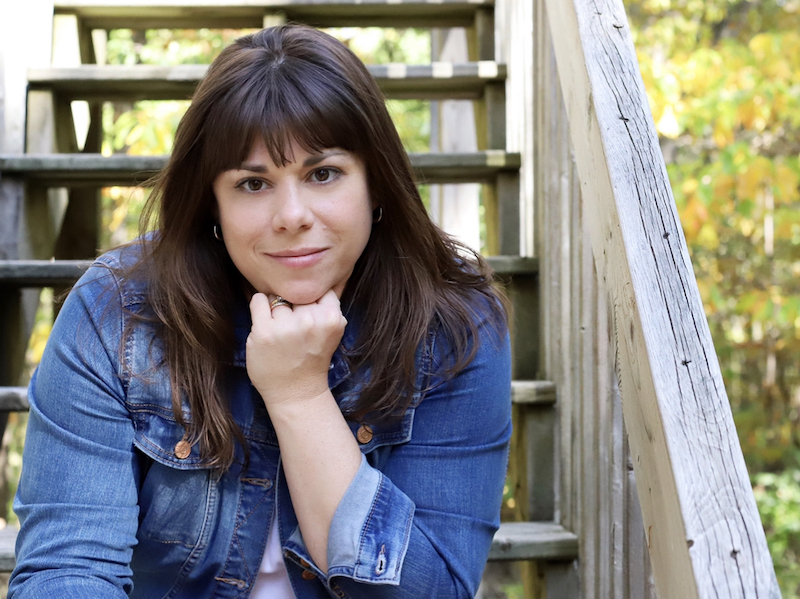 I'm always excited when restaurants include signature mocktails on their menus. Although I enjoy a good drink with alcohol, sometimes I'd rather skip the spirits. Yes, I can order sparkling water or soda, but a colorful drink in a pretty glass seems more festive. 
Cocktail Baskets
Years ago, Katy McAvoy and her sister-in-law began exchanging cocktail baskets at holiday time. Both couples had plenty of things around their homes and decided they'd gift consumable items. The baskets—"kind of like an experience," says Katy—are great fun to give and receive.
Throughout the year, the women keep their eyes open for clever cocktail napkins, fun picks, and unique bar tools. They assemble baskets with homemade syrups, infused liquors, and unusual bitters. They add drink recipes and seasonal fruits. 
These creative gifts propelled Katy into the cocktail-recipe business. Residing in the Lower Peninsula of Michigan—the region nicknamed "the mitten"—Katy now develops cocktails and mocktails for restaurants, private parties, and spirits brands. Restaurant- and bar-goers choose to skip alcohol for lots of reasons, and more people are turning to non-alcoholic beer, zero-proof spirits, and festive mocktails.
This spring and summer, Katy is creating and testing thirty drink recipes for a new mocktail-focused restaurant. Although the spot will serve cocktails, "mocktails will have as much importance and weight as their alcohol-laden counterparts," says Katy. 
When developing a drink, Katy begins with "super fresh seasonal ingredients." She adds herbs, homemade syrups, and flavored waters. 
Before testing—and loving—Katy's recipes, I assumed homemade syrups were the time-consuming step of mocktail preparation. And I was correct.
Making the Simple Syrup
But, with a bit of prep work, a cocktail or mocktail goes together quickly at the 5:00 hour.
Katy "makes batches of syrups" on Saturday mornings. She prepares a simple syrup, brown sugar syrup, maybe blueberry, hibiscus, or strawberry. Mason jars—designed for canning and holding hot liquids—make the perfect storage vessel and line her refrigerator shelves. "Syrups will keep for at least two weeks, probably longer," says Katy. If the mixture turns cloudy, it's time to toss. 
One of my favorite things about Nashville is the abundance of farmstands around town. And, right now, strawberries and blueberries are plentiful. So! I asked Katy if she might offer two mocktails incorporating those fruits. 
Cheers to the beginning of summer!
Blueberry Grapefruit Mocktail
one serving
2 oz blueberry syrup (made with sugar, water, fresh or frozen blueberries)
1.5 oz fresh grapefruit juice (one grapefruit)
3-4 oz club soda
3-inch piece of fresh rosemary or thyme
Fill a glass with ice. Set aside.
Place a 1-inch piece of rosemary (or thyme) in a cocktail shaker and muddle it slightly to break it up and release the oils.
Fill the shaker with ice. Add blueberry syrup and grapefruit juice. Shake well.
Strain into your prepared glass. Top with club soda.
Garnish with a sprig of fresh rosemary or thyme or a slice of grapefruit.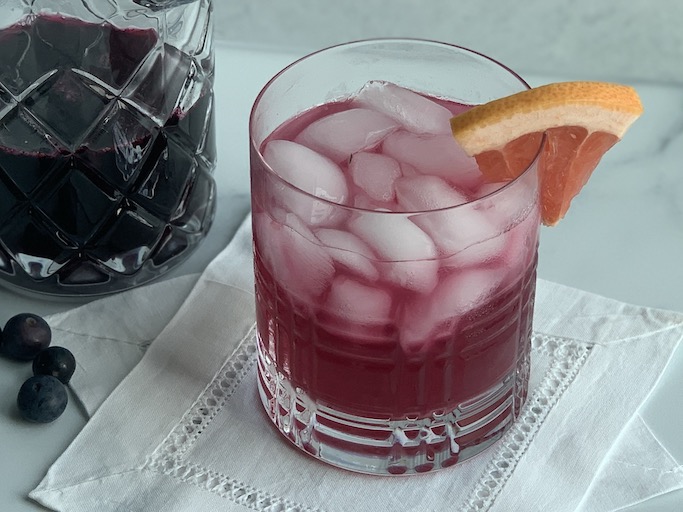 Frozen Strawberry Daiquiri
two servings
2 cups fresh strawberries (or use 2 cups frozen strawberries)
1 oz fresh lime juice
3 oz simple syrup (easy to make and store, or purchase)
1/2 cup ice (if using frozen berries, add 2 oz water instead of ice)
1 Tbsp sugar (for the rim)
Pour sugar into a shallow dish. Run a small piece of lime around the rim of each glass. Dip the rim of each glass into the sugar. Set the glasses aside.
Place strawberries, lime juice, water or ice, and simple syrup into a blender.
Blend until smooth.
Pour into your prepared glasses.
Garnish with a fresh strawberry or lime wheel.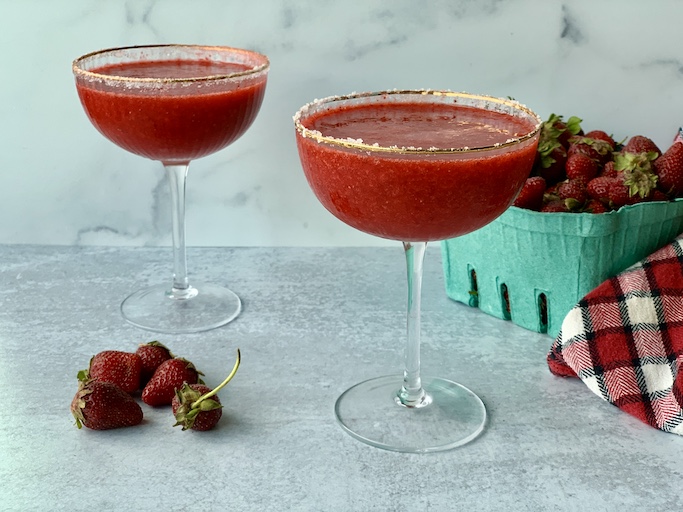 For more mocktails and cocktails, visit Katy's blog or Instagram page
Feature photo courtesy of Katy McAvoy
_________________________________________________________________________