Gabriel Guzman – New York City Doorman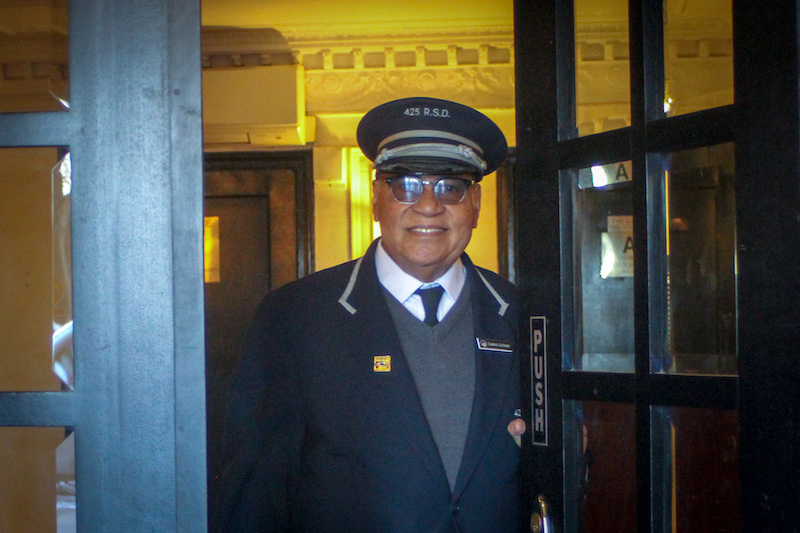 Over four decades ago, a retiring NYC doorman gave young Gabe Guzman some friendly advice.  "He shared a secret with me," smiles Gabe.  "He told me if I could find work in a hospital or a job as a doorman, I'd have one of the best jobs in the city," he recalls.
Greeting me with his huge grin and a friendly wave, Gabe opens the door and welcomes me into his domain—a pre-war (built before World War II) apartment building on Manhattan's west side.  The morning rush hour is over—dogs have gone out, tenants have headed to the office, parents have walked kids to school—and the doors and elevators are calm and quiet.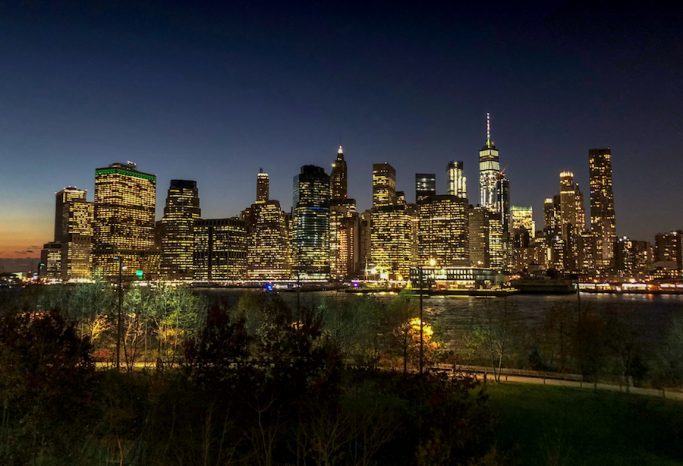 Doorman positions in New York City are hard to come by. Once hired, few leave. The job offers excellent benefits and wages for the roughly 10,000 union doormen employed in about 3200 apartment buildings across New York.
Gabe does believe he has one of the finest jobs in New York City.  His retiring friend, whose advice Gabe heeded, connected Gabe to this 16-story building 40 years ago. And this 76-year-old widower and veteran of five NYC marathons has no plans to retire anytime soon.  "What would I do if I retire?" he asks.  "The residents are like my family."
Screening visitors, routing maintenance requests, and sorting the mountain of incoming packages keep Gabe busy during his daytime post.  He hopes he provides "security and a sense of safety" to the residents of the 178 apartments. But this building has changed since Gabe began working here in 1980.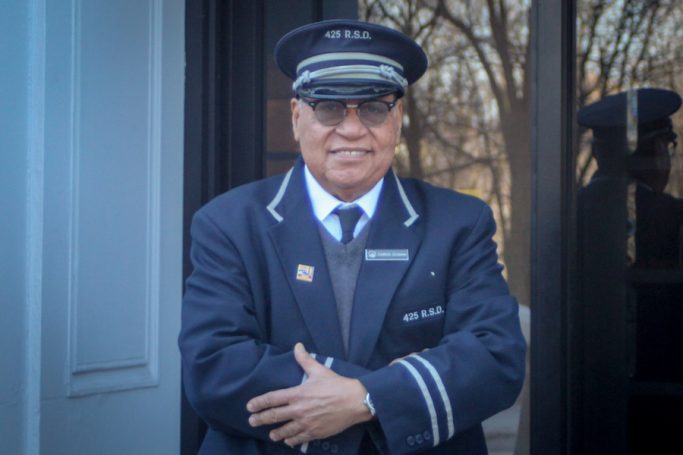 Although it seems modern-day technology has always been a part of our lives, there were no computers, email, or cell phones when Gabe began his doorman career.  All communication went through the doorman station switchboard, connected to a special phone inside each apartment.  He still uses the Seinfeld-like phone to buzz an apartment and announce deliveries and guests.
Gabe interrupts our conversation from time to time to greet residents and open doors and help a tenant maneuver his bicycle off the smallish elevator and out into the snowy morning. Continually flashing that charming grin, he politely proclaims, "I know everybody.  And the dogs, too."
Arriving in New York via the Dominican Republic, twenty-year-old Gabe washed dishes, drove taxis, and studied hard to learn English. "I did a lot of reading to learn the language," he says.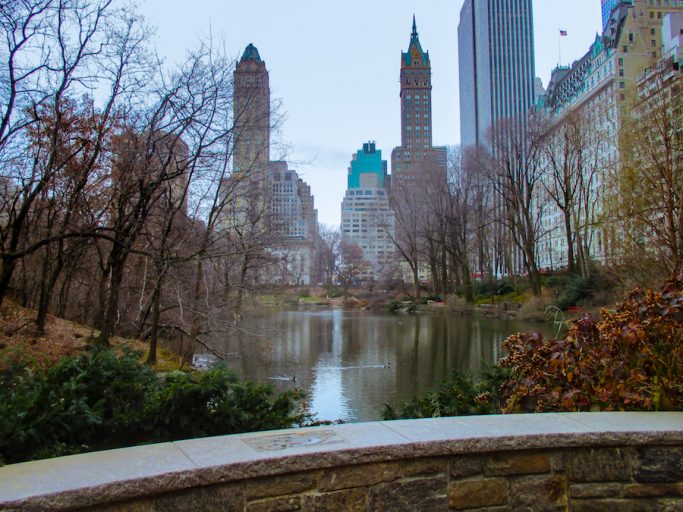 Proud of what he's accomplished, and rightfully so, he is also honored to be the shop steward for the local service worker's union. Sporting his unique pin, Gabe was appointed many years ago to handle issues between the building's thirteen employees and management. 
Seeing his residents several times a day, he can usually tell when something is "off" in their lives.  "Many have lived in the building for as long as I've been here, and it's hard to see them decline," he says softly.  "Some go to the hospital and never come back.  It's hard to lose the dogs, too," he continues.  He sees the residents' good behavior and "sometimes sees things they really wish I didn't……."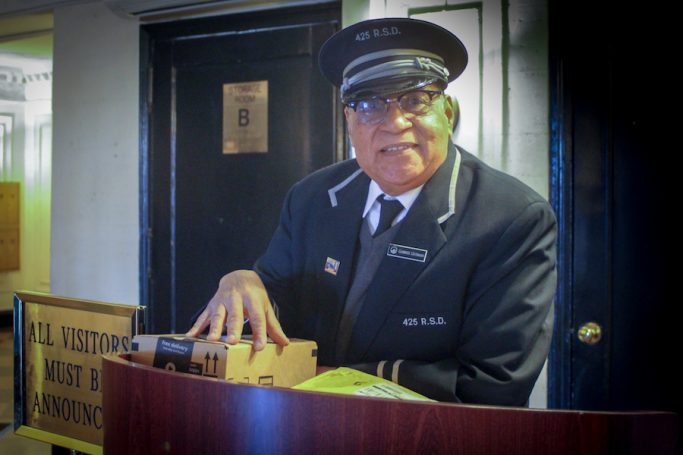 Fearing I know the answer, I wonder if all the occupants treat him kindly.  "Most do," he admits quietly.  "The ones who are demanding…I have learned, over the years, not to take it personally," Gabe tells me. "They are lost or angry with themselves, but it is not me."
Many years ago, "a woman often called on the switchboard and yelled about" whatever was wrong with her day, Gabe recalls. Finally, he had enough. Politely—of course—he asked her not to speak to him in an ugly manner again. Startled, the woman changed her ways, and they became good friends.
Gabe still walks in the park, swims, and loves to travel, most recently to Barcelona. One of these days, he will slow down and possibly head back to the home he still owns in Santo Domingo. And, hopefully, take that trip to Greece he's always dreamed about.