Anne Chisholm – Aging Gracefully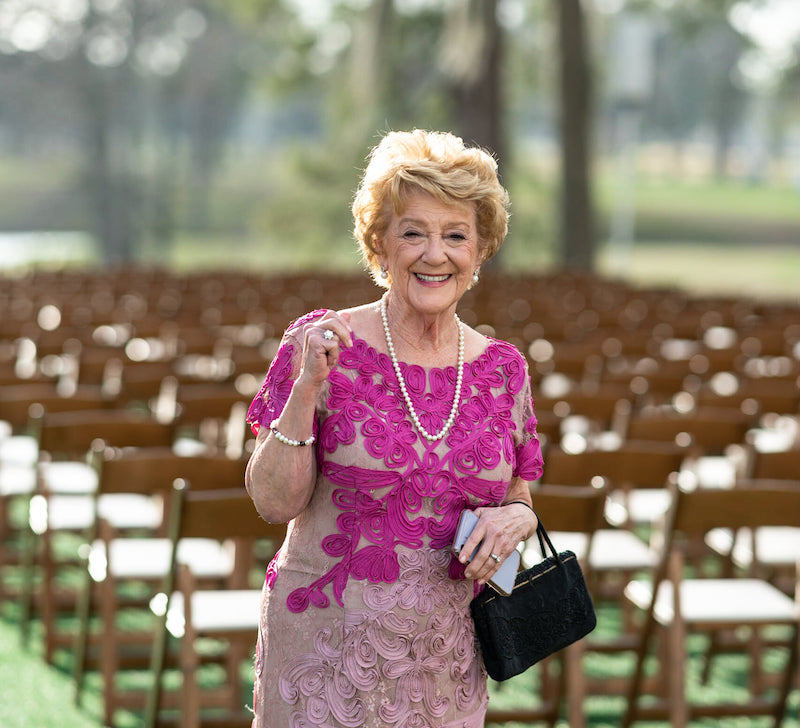 The Orchid Series
A collection of interviews featuring inspiring women over 75 years young. Curious, engaged, active, interesting. The sort of woman I want to be when I grow up!  
As tough as the preteen and early teen years are to navigate, can you imagine spending the entire workday with dozens of middle-school-aged kids? And, often, their parents? I hadn't talked with Anne Chisholm since my sons were in middle school, and she is still as spirited and direct and funny as she was all those years ago.
When Anne's husband finished dental school, she quit work and planned to stay home with their young children. "But I was happiest when I taught," she says. She interviewed for a part-time job and walked away with a full-time position as a middle-grade math teacher. When the school was in a tight spot, Anne agreed to work in administration. For one year.
"And the rest," says Anne, "is history."
After more than three decades at St. Francis Episcopal Day School in Houston, TX, Anne retired as Director of Middle School in 2008. "Always a go-getter," she almost immediately dove into a "second career." She spearheaded the push to create an alumni association. She coordinated parent groups, grandparent days, and taught religion and life skills.
Anne's mother had been an accomplished businesswoman and Houston's first woman homebuilder. At 72, she developed Alzheimer's. "Once my mom retired, my stepfather did everything for her," says Anne. "She no longer had to figure things out and exercise her brain."
"And that's not going to be me," thought Anne.
One of Anne's greatest joys in her "second act" was to tutor a young woman. According to Anne, this bright middle-schooler "had not been exposed to math." Anne proudly reports her pupil went on to high school, graduated with honors, and received a college degree.
"Working with that young lady kept me learning and doing and engaged," says Anne.
Now almost 77, Anne has retired again—sort of. When she's not mentoring disadvantaged middle school youth, she texts and calls and emails former colleagues. They go out to lunch and dinner, walk more than an hour each day, and swap books.
"My husband and I are both avid readers," says Anne. Both enjoy journalist Bill O'Reilly's myriad of books and recently read Killing the Mob simultaneously. "It gives us something to talk about," says Anne.
And The Killing of Crazy Horse (another by O'Reilly) "rocked her whole world." She instructed me to call her after I read it—and stop crying.
Anne feels lucky. Of course, she sees a few pesky wrinkles when she looks in the mirror. Exercises in the pool keep her shoulder replacement happy. "But I'm doing ok," she says. She seems to be a walking example of how to age well—moderate exercise, passion and purpose, and lots and lots of engagement and socialization.
But that's not to say hardships haven't come her way. And played into who she is and how she lives. Her handsome, smart, people-loving son—an alcoholic—died a few years ago at age 46. "I'm sorry he couldn't beat the disease," says Anne.
Her family, and those who loved her son, suffered a severe blow. They're still recovering. "It's a trite saying," says Anne, "but he's in a better place. And his death freed us all." His disease took a toll on his brother, ex-wife (who Anne is close to), and three "awesome, resilient" children. He'd lived with Anne and her husband.
Like many parents, her son's conduct "leveled" her a few times. Looking back, she understood and related to the students with struggles that she guided over the years. "I think my son's actions helped me in my career," she says.
What did she think this age would look like? I've always known Anne to tell it like it is. She encourages younger folks to prepare for this day. Vow to be active, but make a plan for bad health. Look over finances—it takes more than we realize to maintain a lifestyle. It's "really, really hard to watch friends become ill and die."
"It's not fun to think about what the future holds, but it's important that you do," she says.
Thanks to Anne for the lovely photo
PS—lifelong learning classes, another inspiring woman, and a neuroscientist's guide to aging