Jamie Pope – Nutrition Expert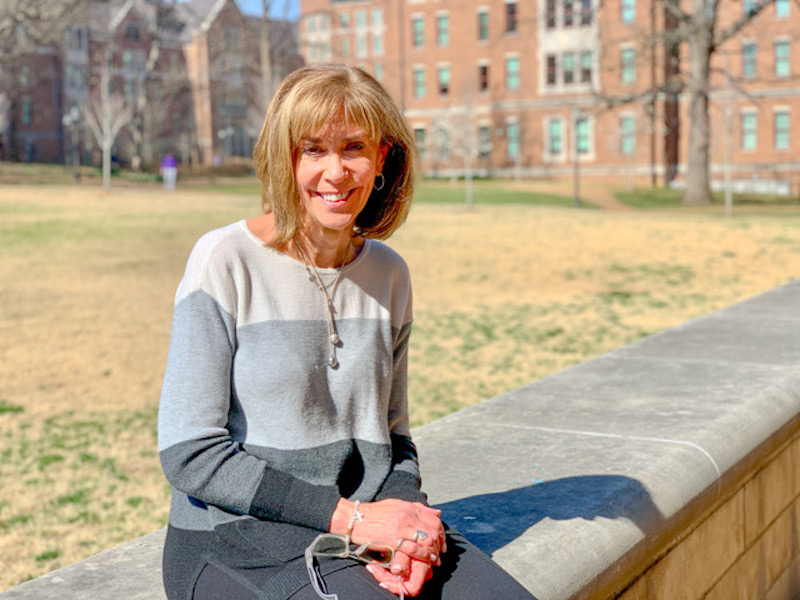 Years ago, when the bathroom scale numbers crept up or the jeans grew harder to zip, it seemed easier to shed an extra pound or two. I'd cut back on snacks and sweets, and the weight would fall off. Ha! Not anymore. When those excess pounds latch on, they do not want to leave—no matter how hard I try.
As a registered dietitian nutritionist and college professor for more than 40 years, Jamie Pope has watched diet and nutrition trends come and go. Low fat, low carb, Whole 30, keto, paleo. "Bombarded with food decisions and information, people are passionate about their nutrition opinions," says Jamie.
In the 80s, Jamie worked as a dietitian at a large Boston medical center. On a visit back home to Nashville, she met with Dr. Martin Katahn, a health psychologist and the bestselling author of The Rotation Diet and other weight management books. They chatted about his weight-loss research in Vanderbilt University's Psychology department. "You're doing diet-related research and don't have a dietitian working with you?" Jamie asked him.
A short while later, Jamie answered a call at work. "Want to come to Vanderbilt and work for me?" Dr. Katahn offered. Although she hated to leave her friends, skiing, and summers on Cape Cod, Jamie accepted the job. "I thought a year or two back in Nashville might be fun," she says.
When the university informed Jamie—already packed up and relocated to Nashville—they couldn't pay the salary her new boss promised, Dr. Katahn devised a plan. To bridge the salary gap, Jamie would collaborate on his future books and earn a consulting fee.
The T-Factor Diet
While he wrote The T-Factor Diet—chapters related to healthy eating and counting fat grams—Jamie assembled the appendix. The appendix listed 2500 foods and their fat, saturated fat, carb, calorie, sodium, and fiber contents.
With no internet at the time, Jamie compiled her information the old-fashioned way. Armed with a clipboard, she examined food labels in the grocery store aisles. She wrote to McDonald's and Burger King's corporate offices for nutritional information. She combed USDA databases for information on vitamins and minerals and nutrients.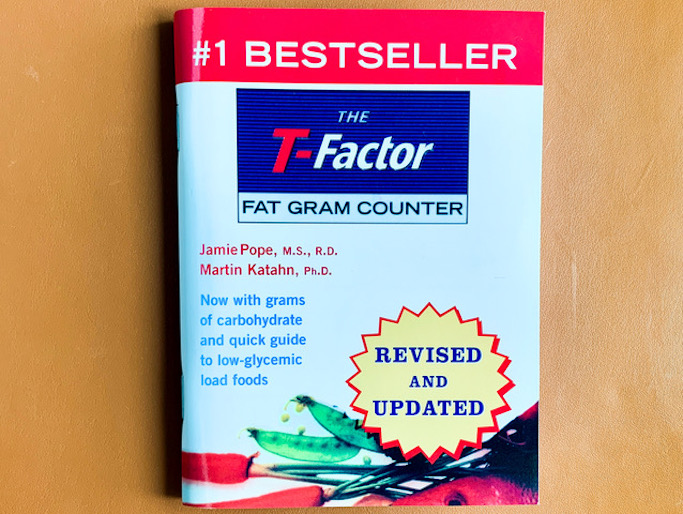 Readers copied the published book's appendix, tucked it into their handbags and briefcases, and counted fat grams on the go. The publisher decided to turn Jamie's appendix into its own little book. The pocket-sized spinoff, priced at $1.99, sold over seven million copies and sat on The New York Times bestseller list for over three years.
"Back in the late eighties, when this little fluke of a thing published, counting fat grams seemed like a great approach," says Jamie. At the time, the marketplace didn't contain an abundance of fat-free and low-fat foods. Consumers had to eat real food.
Low-Fat Foods Enter the World
And then, the market introduced Snackwells, low-fat cookies that consistently sold out in grocery stores. Along came low-fat yogurts, cheeses, sour cream, and mayonnaise. "All of a sudden, it became easier to eat less fat but not eat better," says Jamie.
Students of the fat-counting philosophy began snacking on Frosted Flakes and devouring frozen yogurt because the foods contained no fat. "But no fat doesn't always mean a healthy choice," says Jamie. Many of these low- or no-fat foods are loaded with simple carbs like added sugars and refined grains, making it easy to overeat. Complex carbs—beans, whole wheat bread, grains, oatmeal—not only provide nutrients but are rich in fiber and make for wiser, more filling food choices.
"I don't recommend the T-Factor approach now," says Jamie. "It's not wrong, but we've learned a lot since the late eighties including that it's quality, not just the quantity of fat, that's important."
Unfortunately, as we age, our bodies may require fewer calories to function. We have less wiggle room when it comes to empty calories (wine, anyone?). And that's one reason it's hard to keep the weight off.
No magic formula or diet exists. The bottom line is energy balance—calories in, calories out—determines what we weigh. "All diets restrict energy intake," says Jamie. "They just do it in different ways."
"Dr. Katahn taught me to view diet and nutrition behaviorally," says Jamie. "He had reservations about words like no, don't, restrict, and avoid."
Jamie fears restriction in our diets sets us up for resentment. She recommends subtle adjustments, rather than avoidance, and awareness of bites and portion sizes. Yes, Jamie enjoys dinners out and is a connoisseur of veggie burgers—without the mayo—around town. She loves chocolate and red wine, and baking is her stress reliever.
Processed Foods Not All Bad
Since plant-forward diets are the healthiest, Jamie cooks with lots of beans and vegetables. Even though purists will claim they are processed, Jamie doesn't shy away from frozen entree brands like MorningStar Farms, Boca, and Gardein.
"Processed foods is a term I think is abused," says Jamie. "We cannot lump all processed foods as unhealthy. In our society, it would be hard to feed ourselves without using some process."
Jamie stocks her freezer with frozen vegetables. The veggies in those bags and boxes are harvested and immediately frozen. Because they don't lose nutrients with transportation, air, and storage exposure, the frozen veggies are often nutritionally superior to grocery store fresh produce. "But any produce is great," says Jamie, "including canned."
Jamie shares an interesting website, with a formula calculating the calories and nutrient values our bodies need each day. As an example, based on my weight, height, age, and activity level, I require about 1800 calories a day. Nutrient needs don't decrease with age, so it can be a challenge to meet nutrition needs with limited calories. Even if we limit sugar and eat nutrient-dense foods, this is not a lot of calories to work with. No wonder it's hard to lose weight as we get older!
_________________________________________________________
Since it's hard to meet nutrition requirements when consuming under 2000 calories per day, Jamies takes vitamins. Daily: Centrum Silver for Women, Calcium (with Vitamin D), Fish Oil/Omega-3. A Few Times a Week: Vitamin D (2,000 IU), Magnesium