Angie Hester Cook – Life is a Celebration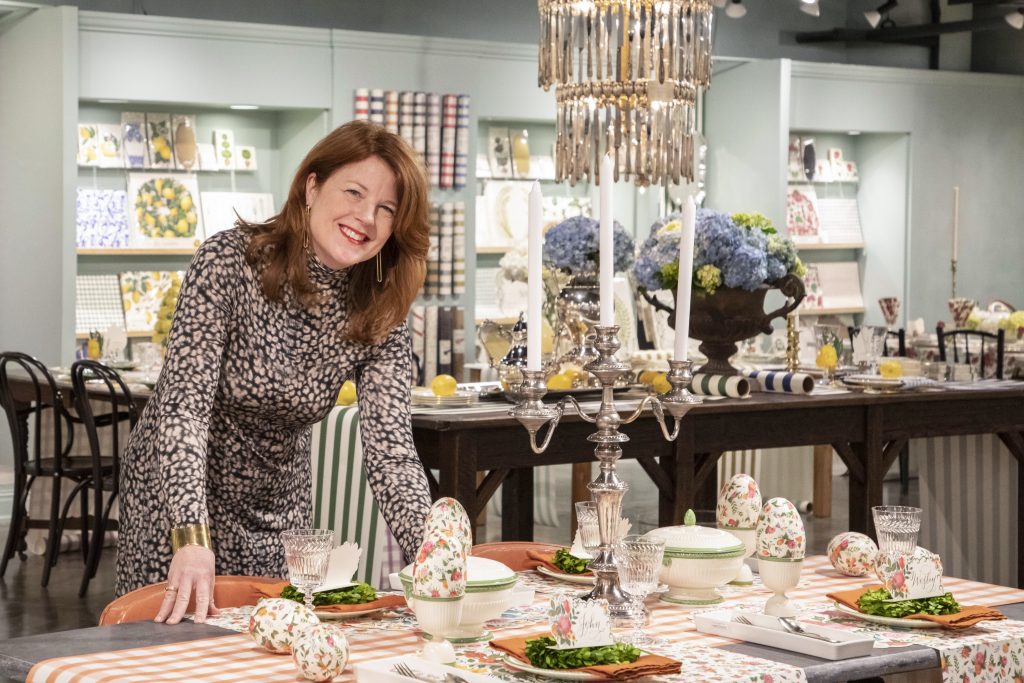 When it's just the two of us for dinner on a weekend night—or a holiday—I often pull out pretty dishes, paper mats, and delicate stemware and set a festive table. Fun place settings elevate the specialness of an ordinary Friday or Saturday evening. "Because," according to Angie Hester Cook, "life is a celebration."
In 2005, Angie Hester Cook, her husband, and a group of friends sipped wine and debated which vintage door knob would look best for a reclaimed apartment door. Her husband, Robbie, placed one of the knobs atop a wine bottle. And that wine stopper was the beginning of Hester and Cook.
Hester and Cook
Offering everything from hand-crafted chandeliers to glitter candles to fancy pencil sets, Hester and Cook is best known for its whimsical, vintage-inspired paper products. Although 3000 stores across the country stock an assortment of their playful table runners, placemat pads, and die-cut lemon wreath placemats, the three Nashville-area stores (one within walking distance to me!) offer hometown folks an overwhelming supply of fun and creativity.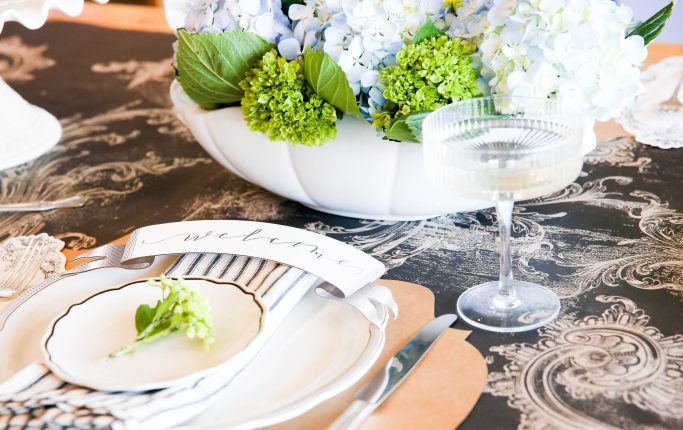 "My husband and I manage very different roles in the business," says Angie. Robbie coordinates real estate, logistics, and the warehouse. Angie runs the business side—including sales and marketing—and serves as the company's creative director. 
In-House Designers
Although Angie sketches and paints in her free time, she is "more of a designer than an artist." She "sees things and shares the vision for the in-house creatives to carry out."
Hester and Cook employs four designers to draw, paint, and create the colorful, classic artwork. Before they developed a solid creative team, Angie collaborated with artists who fit the company's aesthetic.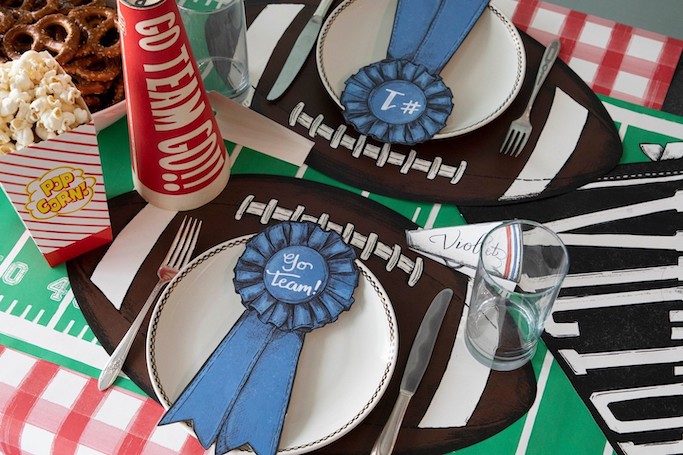 How does the successful business couple shut off work when they return home in the evening? How do they avoid rehashing supply chain, staffing, or expense issues 24/7? "It really works well for us that we do life AND business together," says Angie. "Doing both makes it simpler than if we each had different jobs." Of course, an upside to co-running a business is that Angie's and Robbie's schedules can be flexible. They attend soccer games, school events, and can be there for their three sons. 
This flexibility proved helpful when their two-1/2-year-old son was diagnosed with an aggressive, inoperable brain tumor. After five years of grueling chemotherapy treatments, their young son went into remission. At 19, he remains healthy and cancer free. 
Angie and her husband were lucky they had a robust support system. Friends and family members stepped in so they could "drop everything else" and tend to their child. "While we fought for his life, we interacted with many families not as fortunate as we were," says Angie. 
The Wonderful Life Foundation
The couple created the Wonderful Life Foundation, a 501(c)(3) nonprofit organization, to ease other families' financial burdens when dealing with a child's life-threatening illness. "In many families, someone has to quit their job when a child is diagnosed with cancer," says Angie. "One parent must travel to treatment centers or stay home to care for the child."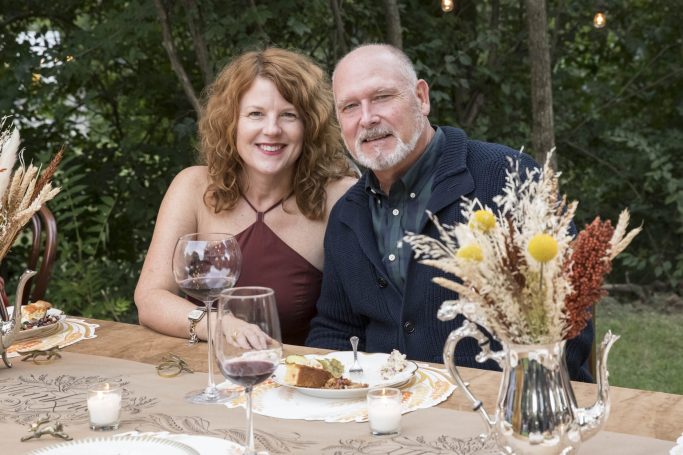 Although they don't cover medical expenses, the Wonderful Life Foundation—the name derived from the beloved holiday movie—assists with mortgages and car payments. They pay for grandparents to fly in and help out with other children. "It's very meaningful for us to give back, and a huge need exists," says Angie. 
Between running the foundation, traveling for Hester and Cook, and baking her famous sugar or chocolate chip cookies, does Angie pull out her colorful striped runners and set an elegant table every night? "I do not," she laughs.
"But, you can ask my family; I am adamant about sitting AT a table every night," Angie says. Gathering for dinner as a family—or a couple—is important to her, and she tries to honor that tradition even when not using linens or mats. 
Setting the Table
According to Angie, mixing cloth with paper on a dining room or serving table is key. "An all-paper table will be a very flat table," she says. Hester and Cook's paperware is designed to go with everyday dinnerware or grandmother's china and crystal. Sometimes, when we own expensive tablecloths, runners, or placemats, we feel locked into using these items. Hester and Cook gives hosts and hostesses an affordable option to change up a table and make entertaining—or weeknight dinners—fun.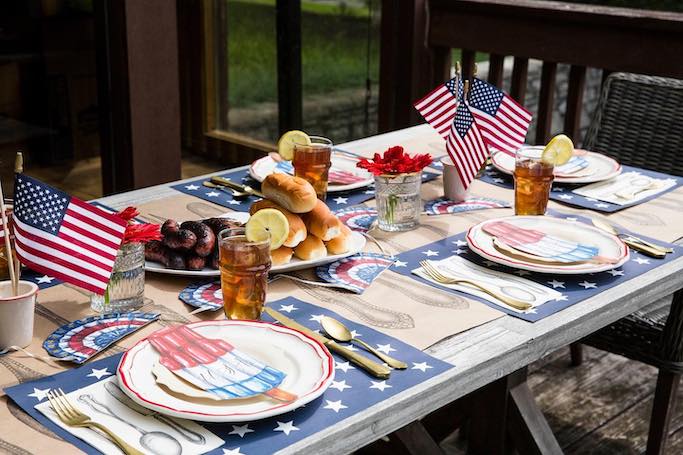 Twenty years ago, most hostesses—including me—would not have thought paper placemats or runners belonged anywhere near fine china or a polished mahogany table. Times have changed, and "we've broken through that glass ceiling," says Angie.
Angie will rummage through her cupboards and drawers this New Year's Eve, haul out her treasures—paper and otherwise—and set a beautiful table. She and her husband—and maybe a son or two—will prepare dinner and spend the evening at home. She'll make it "a super special affair" because, after all, life is a celebration.
Photos courtesy of Hester and Cook