Susie Orman Schnall – Novelist, Screenwriter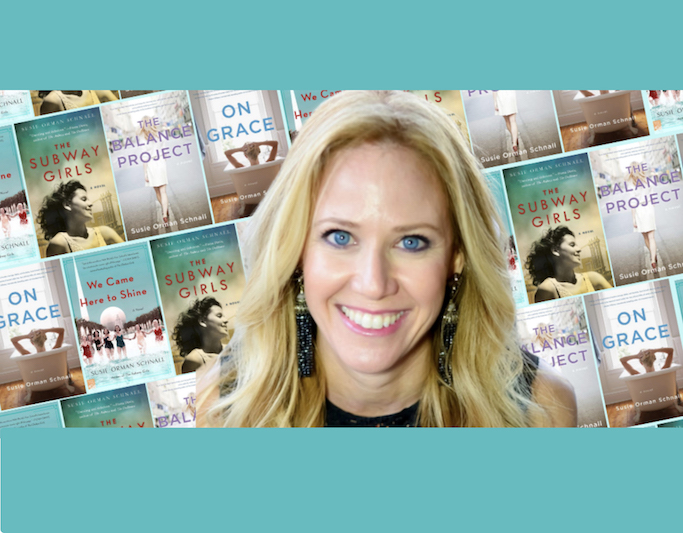 The pandemic wasn't all bad for Susie Orman Schnall. Amid last year's isolation and cancellations and shutdowns, she received some wonderful news.
The rights to We Came Here to Shine, her historical fiction novel which burst into the world in early 2020, had sold to a production company.
A few weeks ago, Susie finished up and turned in the final version of the novel's screenplay. The company will now talk to investors and directors and— fingers crossed—a film will be in theaters someday.
Susie once heard someone say "You have to pick your top three things." And for her, in no particular order, those top three are her family, her health and wellness, and her work.
Nineteen years ago, after her first child was born, Susie left her marketing and communications career to be a stay-at-home mom. She wrote articles for magazines and websites then, as her young family grew, shifted her focus to crafting fiction.
With three young sons and a budding writing career, Susie struggled with "how to be the type of professional who felt right for me while being the type of mother who felt right for me."
Her debut novel, On Grace, "in a few ways mirrors what I was dealing with in my own life," says Susie. Along with Grace, the novel's protagonist, Susie turned 40, experienced changes in friendships, and returned to the work world.
Searching for that elusive secret formula, Susie reached out to Reese Witherspoon, Sara Blakely, and 173 other successful women. She asked them how they achieved a balance between work and home life. On her website, Susie formalized those responses into an interview series.
At the time, women wrestled with the concept of "having it all"—a thriving career and happy family life. Bookstore shelves overflowed with non-fiction books on how females can balance work and motherhood. Few novels tackled this subject.
Susie's interview series was the springboard for her second novel, The Balance Project.
"It took me a while—and lots of trial and error—to learn what does and doesn't work for me," says Susie. "I'm careful what I commit to, and I'm at my best when life is not too hectic." She visits with friends during walks and rarely goes out to dinner during the week. "I'm now old enough and mature enough to know I can say no to things that don't serve me or my family," she says.
A few years ago, after making breakfast for her teenage sons and dropping them at school, Susie listened to a radio program. The NPR story featured the Miss Subways contest, an advertising program in the New York subway system from 1941-1976. Each month, the campaign highlighted an ambitious, bright, attractive young woman and her goals.
"What a great idea for a novel," Susie thought.
The Subway Girls arrived in the book world in 2018. Readers devour this fun read about competition—and a piece of New York history—we'd scoff at today. For many of the contestants—working young women—the contest was the path to a career as an entertainer, model, or singer.
We Came Here to Shine centers around another delightful piece of New York history. One of my favorite books from the past few years, I raced through this story set against the backdrop of the 1939 World's Fair and its Aquacade swimming and diving extravaganza.
When I see a film, based on a book I've loved, I'm often disappointed with favorite scenes left on the cutting room floor. "The novels I write are 350-400 pages," says Susie. Screenplays are much shorter. But, at one minute per page, a 90-minute movie is a 90-page document. A two-hour movie is 120 pages. To adapt her novel to a screenplay, Susie had to cut—a lot.
She eliminated entire scenes and storylines. She consolidated some characters and scratched out others.
Just for fun, who would she cast in the film?
When she writes, Susie chooses actors to play the characters in her book. "It helps me write the voice of that particular person," she says. She can picture Blake Lively as Vivi, the star of the synchronized swimming show. She votes the sassy Florence Pugh, from Little Women, as Ruby. And Emma Stone would be perfect as Max, the ambitious, bold journalist.
Nowadays, Susie moves forward on her next book, based on a "current social phenomenon." In the coming months, with pen and paper, she'll plot and brainstorm. She'll research. Then she'll turn to her computer and bust through the first draft. During this phase, "my family's on their own for dinner, and I don't exercise," she laughs. She writes all day long.
I'm rooting for Susie and hope, one day soon, she gets the call. "We have a director, he/she loves the screenplay, we're going to make a movie!" I'll be at the theater on opening day.
Photos courtesy of Susie Orman Schnall