Raymond Roy – Newport Mansions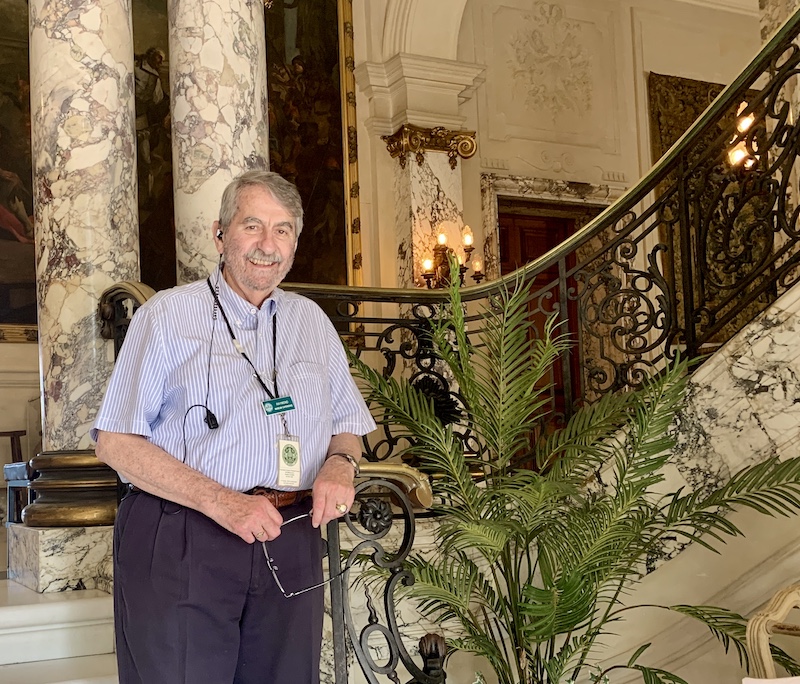 I'm hooked on HBO's The Gilded Age. I adore peeking into the late 1800s and the opulent lives of America's shipping, railroad, and coal mining magnates. I love the history, fashion, architecture, and those over-the-top homes.
Many of the industrial tycoons and their families lived in New York City. But for the summer season—all six weeks of it—they packed up their trunks and gowns and escaped to their "cottages" in Newport, Rhode Island.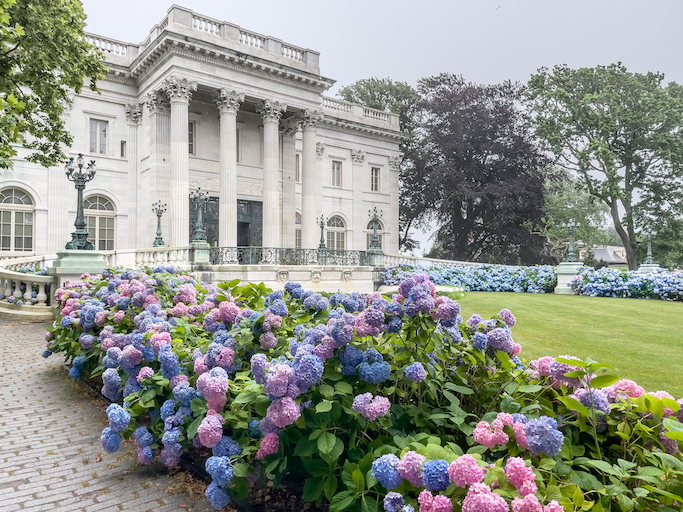 Raymond P. Roy, an expert on Newport's historic mansions, is one of those humans with a knack for storytelling and conversation. And he puts those gifts to use for the Preservation Society of Newport County. 
A former naval officer, Ray spent over three decades in sales, corporate training, and management at a midwest pharmaceutical firm. "A couple of acquisitions later," Ray retired at age 59.
"I puttered around the house, gardened, walked, and went to Friday night neighborhood cocktail parties," says Ray. And then he "couldn't do it anymore." 
A friend suggested Ray connect with the Preservation Society of Newport County. The nonprofit works to "protect, preserve, and present" an exquisite assortment of homes and landscapes in historic Newport. "You like history, and you like to talk. It may be something you enjoy," the neighbor told Ray.
That was 15 years ago.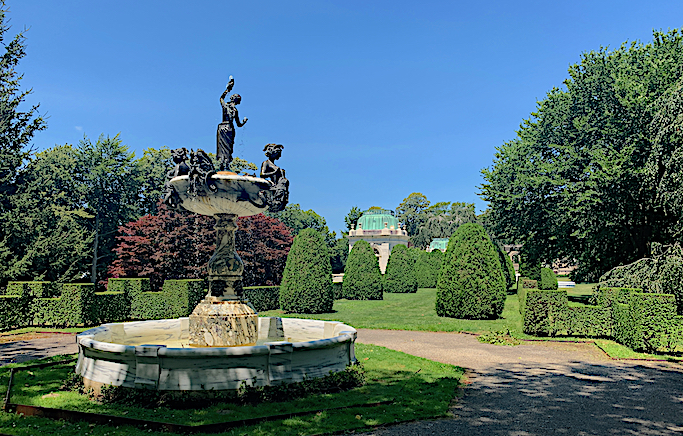 As Master Tour Guide, Ray coordinates the training program and prepares all mansion docents to welcome the public. Since 1948, visitors have flocked to Newport to tour American aristocracy's summer palaces. Thirty million people have gone through the 48-bedroom Breakers—the grandest home of all—built by Cornelius Vanderbilt II. 
The Newport Mansions
"The beautiful thing about our properties is they span three centuries," says Ray. Depending on interests, visitors can view architecture from Colonial (Hunter House) to Gothic Revival (Kingscote) to Victorian (Chateau-sur-Mer) to Italian Renaissance (The Breakers.) "We have something for every taste," he says.
"But the estates are much more than beautiful homes," says Ray. The mansions were constructed with the latest technological innovations. Edward Berwind, a coal mining baron, grew weary of transporting ice blocks cut from frozen lakes to his home. When he built The Elms, the house featured the first semi-modern ice maker. He also installed an elaborate underground coal delivery system.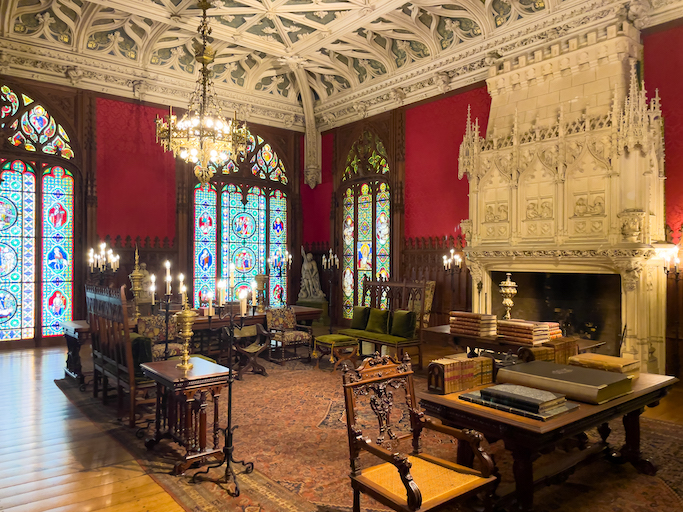 Residents and guests at The Breakers enjoyed bathtub faucets flowing with hot and cold fresh water. And hot and cold seawater too. Since electricity was new and often unreliable, servants switched the mansion's chandeliers from electric to gas with the simple pull of a chain. 
In most cases, visitors are no longer accompanied through the mansions. Nowadays, audio tours replace live tour guides with well-trained and informed docents stationed throughout each home.
Other Tours
If you're lucky, you can catch up with Ray on one of his private tours. He enjoys squiring actors, dignitaries, and politicos through the mansions and meeting people from all over the world. 
He also gives the highly-recommended (by me!) Servant Life Tour at The Elms. "And we've had an incredible response to the Gilded Age Tour, based on the television show," says Ray. He takes wide-eyed visitors through the houses where HBO films the show—The Breakers, Marble House, Chateau-sur-Mer, and The Elms—sharing filming tricks along the way.
A Weekend of Coaching
I plan to return to Newport someday for the Gilded Age Tour. And Ray suggests I try to catch A Weekend of Coaching too. In 1784, horse-drawn coaches began delivering mail in England. When trains came along and replaced the coaches, wealthy individuals purchased the vehicles. "Racing became a big sport in England," says Ray. "Alfred Vanderbilt shipped fifty horses and his coaches to racing events."
The sport died off, but the Coaching Club of America revived the tradition. Beautiful horses, period-attired groomsmen, coachmen, and meticulously cared-for coaches converge on The Elm's back lawn every three years. The teams parade down Bellevue Avenue in a spectacular display of history.  
Unsustainable Mansions
If Ray could travel back in time and chat with a mansion resident, he'd love to talk with Countess Gladys Moore Vanderbilt Széchényi. After inheriting The Breakers from her mother in 1934, she summered in the lavish home until her husband passed a few years later. During her mourning period and World War II, the mansion sat boarded up and abandoned. 
"After ten years, Gladys had the foresight to realize it couldn't survive as a single-family home," says Ray. The mansion was huge and costly to operate, and Gladys knew she couldn't find servants to run the home. Men had died in the war, and Europeans were no longer interested in coming to the U.S. for positions in service.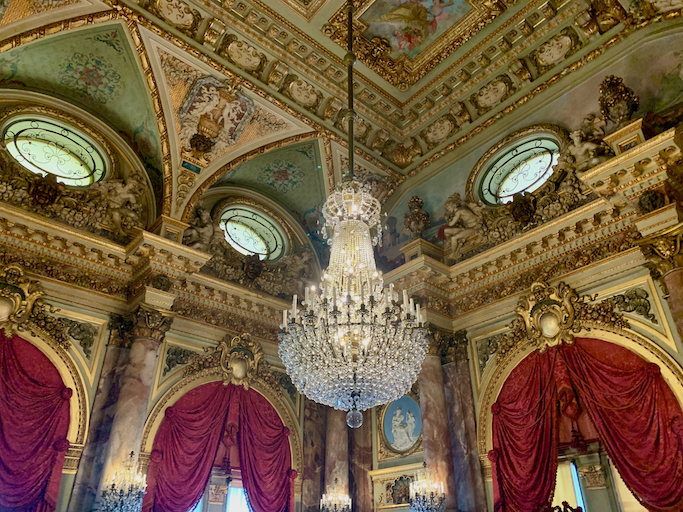 In 1948, Gladys saved The Breakers by converting it into a museum. "That house was the beginning of the Preservation Society," says Ray. Although families donated many historic mansions and some were acquired at auction, bulldozers and developers razed dozens more. 
Ray, who will turn 79 on St. Patrick's Day, has no intention of stepping down until he "is unable to work. Why would I?" he says. "I meet nice, interesting people, we have great conversations, and my job is a whole lot of fun."