Hunter Gibbes – The Maze Man of Sunset Beach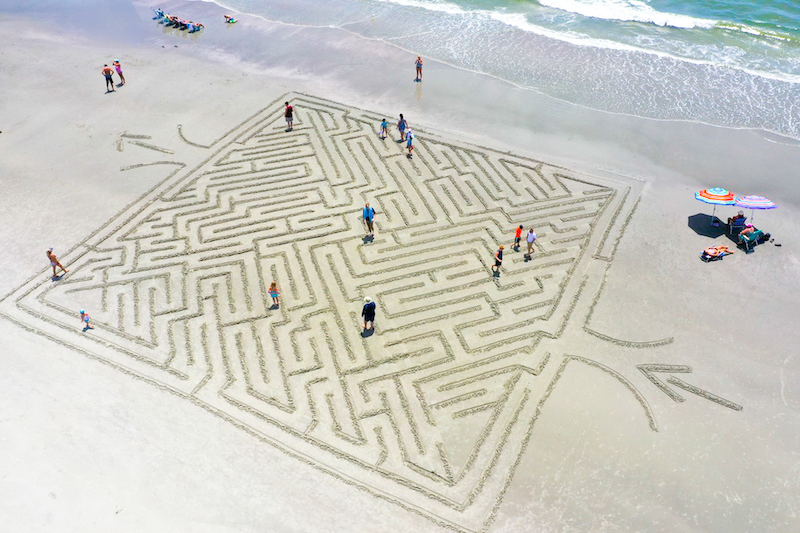 Years ago, sandcastle-building kids in Sunset Beach, North Carolina nicknamed Hunter Gibbes. His moniker? The Maze Man. A celebrity in this part of the world, Hunter is a big part of the Brunswick Islands'—a chain of five barrier islands—charm.
Hunter grew up vacationing in family-friendly Sunset Beach, the Brunswick Islands' southernmost beach. Nestled between Wilmington and Myrtle Beach, the idyllic seaside town offers visitors incredible sunrises and sunsets, quaint shops, and endless sand. After getting married and having a family, Hunter continued to spend two relaxing, sun-drenched weeks here each summer.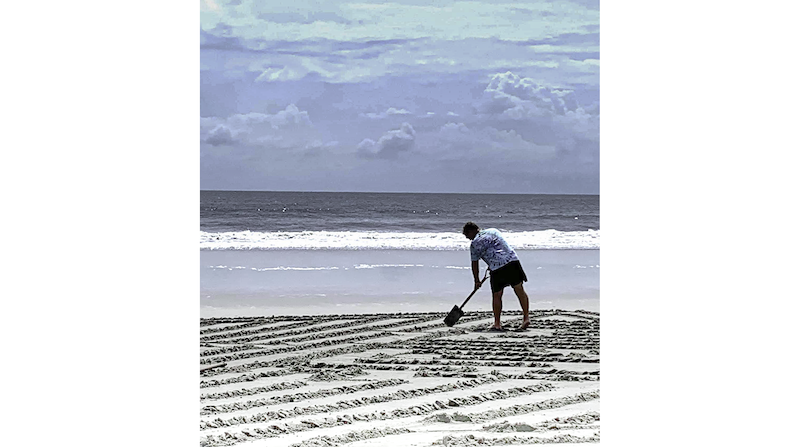 Back in 2005, he and his family soaked up their last moments at the beach. They congregated with their "extended beach family"—the friends they'd made coming to the same place at the same time over the years.
"I knew, once we gathered our beach towels and chairs and sand toys and headed back to our rental, the vacation was over. We'd spend the evening cleaning the refrigerator and packing the car," says Hunter.
And he constructed a maze.
For the next decade or so, Hunter created mazes on Sunset Beach's expansive sand canvas during the two weeks he vacationed at the shore. He delighted beach-goers and vacationers with elaborate mazes, some stretching from the shoreline to the marshy dunes and measuring 200 feet across.
He'd watch and chuckle as adults and children wriggled through the life-size mazes, navigating the ridges and lines and attempting to work their way to the exit.
And then he returned home to Winston Salem.
Nowadays, Sunset Beach is lucky to call The Maze Man a full-time resident. Hunter, his wife, and two daughters moved from Winston Salem to this peaceful coastal town in 2017. A retired "tech guy," Hunter says, "I'm not an engineer or an architect or a mathematician." But he likes to build mazes.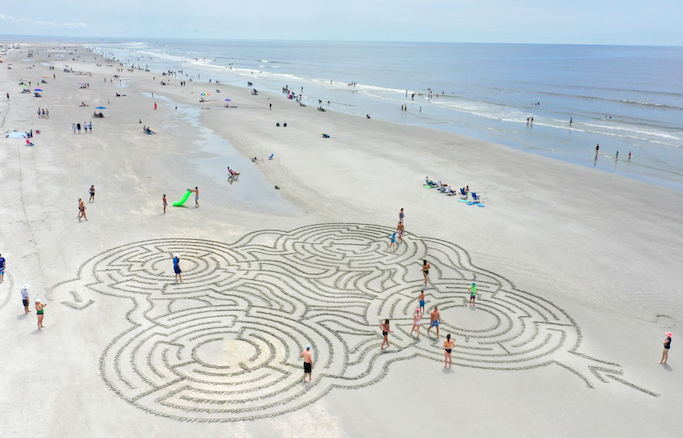 With only a basic garden shovel repurposed into his unique maze-making tool, Hunter doesn't use a plan or sketch to craft his mazes. "The mazes don't transfer from paper to beach," he says. Of the 500 mazes he's built, no two are the same. He'll come to the beach with the idea of working with circles or squares, but outside of that, creativity takes over.
He aspires to make the mazes as tricky as possible for people to solve, rating them from 1 (easy) to 10 (challenging). His largest maze was 17 circles wide, big enough for 60 people to walk through at the same time. His mazes' grooves and ridges seem precise and almost perfect. "Lots and lots of practice," laughs Hunter.
It's hard work bending over a shovel in the hot sun, and Hunter tries to limit his maze building to two hours. "But I get carried away sometimes," he says.
Of course, vacationers and locals are curious. And that's where Hunter's wife, The Maze Manager, came in. Linda fielded questions and engaged the onlookers as Hunter worked. Once he finished his masterpiece, Linda tested the maze and posted drone photos to Hunter's Facebook page.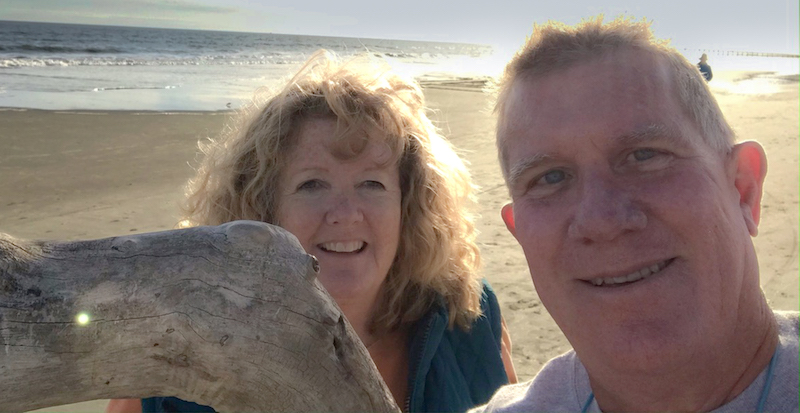 Sadly, Linda passed away in December. This summer is Hunter's first without his biggest fan at his side. And it's a tough one. Is maze building a type of therapy for him? "A bit," says Hunter. "I'm continuing what I love to do, and she would want me to do it."
So—this summer—he heads to the beach as often as possible. Almost every day, he watches the tide, stakes out his spot, and constructs a maze.
Then he sits back to watch.
Hunter's mazes provide entertainment for those wandering through them—and for him. He likes seeing the joy—and eventual understanding—on faces, both young and old. "I can see their wheels turning and turning, and then, click. They solve the maze and celebrate," he says.