Nicola Harrison – Hotel Laguna
Nicola Harrison's latest historical fiction novel, Hotel Laguna, is my favorite type of book. A compelling story, a bit of intrigue, an interesting backdrop, and an introduction to an event I knew nothing about. I was lucky enough to snag an early copy. The beautiful cover screams summer reading and is the perfect novel to tuck into your beach bag. 
Nicola always knew she wanted to be a writer. Before she graduated, her UCLA creative writing teacher offered her some good advice. Don't graduate from college and rush to write your first book. It won't work. You have to live some life first, so you have something to write about, something to say.
So Nicola moved to New York City and "fell into a job working for a men's fashion magazine." She later sat in fashion show audiences as a style writer for Forbes. "Yes," she says, "it was as glamorous and fun as it sounds!"
Her first and second novels
While working, Nicola took writing classes and earned a Master's in Fine Arts. Her debut novel, Montauk, entered bookstores in 2019. The Show Girl followed two years later.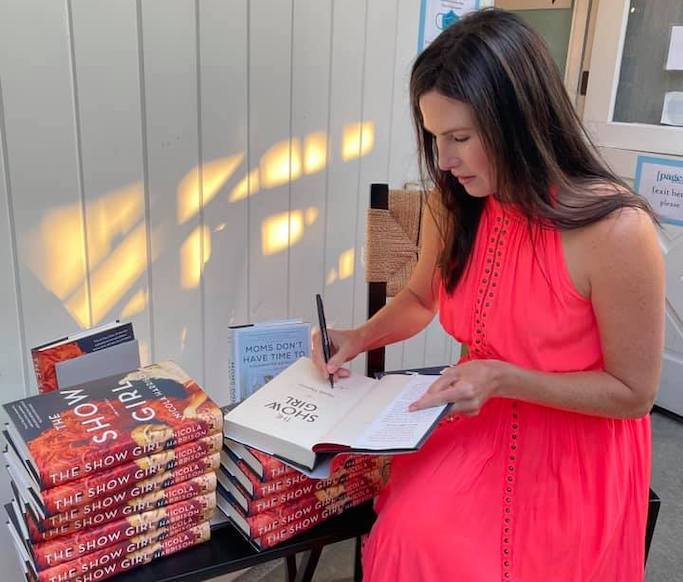 Her third novel, Hotel Laguna, arrives in the world on June 20. In this historical fiction read, Hazel Francis leaves the Midwest and moves to Los Angeles in the 1940s. She was one of the six million women who stepped into jobs held by men who went off to World War II. Hazel thrives in her position at an airplane factory. But the war ends, the men return, and women resume their roles as housewives. Hazel is most definitely not a housewife, and she flounders.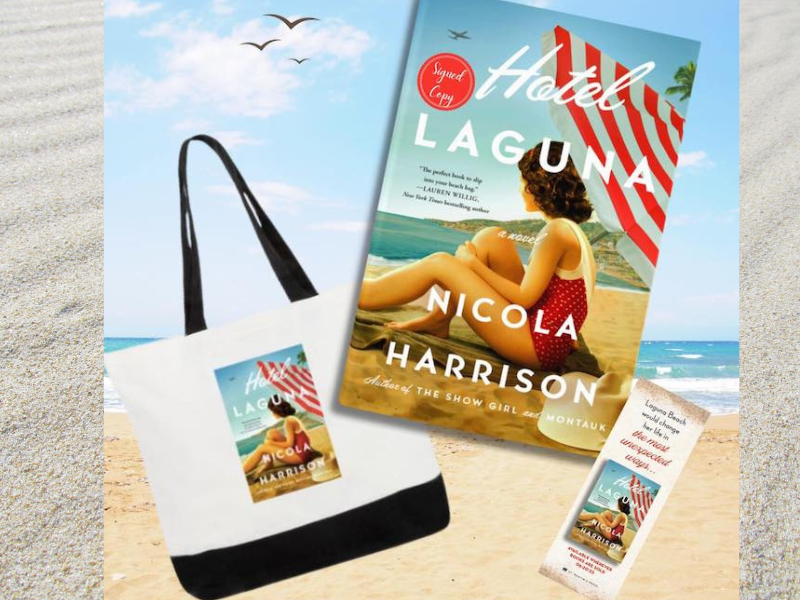 Arriving in artsy Laguna Beach, Hazel is unemployed and desperate. She works for a cantankerous artist who turns out to be quite famous and is haunted by a scandal from his past. 
Hazel falls in love with the beach town, its artist community, and the quirky characters she meets. Nicola says, "The story is about friendship and perseverance and living a life that is meaningful to you."
Nicola grew up—and now lives—not far from Laguna. It's still a quaint artist town, brimming with galleries, art festivals, secluded beaches, and charm.
For 125 years, the oceanfront Hotel Laguna welcomed movie stars searching for an escape from Hollywood. It closed several years ago, and Nicola wanted to bring the neglected icon back to life—in fiction. While writing the book, developers purchased and renovated the hotel. "It's now in the process of opening back up," says Nicola. 
Hotel Laguna
In Hotel Laguna, Hazel volunteers for Pageant of the Masters, an actual 90-year-old Laguna Beach extravaganza I was not familiar with. And I loved learning about it through the story. Running July through September, this summer spectacle recreates famous works of art with real people posing in elaborate sets. "It's tableau vivant or living pictures," says Nicola.
Hundreds of volunteers, including local artists, paint backgrounds, adjust shadows and lighting, craft clever costumes, and apply makeup to make amphitheater audiences think they're looking at a life-sized painting.  
In January, Southern California residents audition to portray individuals in the art. A narrator, accompanied by an orchestra, describes the artist and artwork as each painting rotates on a massive stage for ninety seconds. According to Nicola, "There are three different versions of the show. You can attend three times over the summer and not see the same thing."
Surrounded by hills, Laguna Canyon provides a picturesque setting and ideal acoustics. "It's quite a production," says Nicola.
A scene in Hotel Laguna highlights a grunion run, and I had to ask—Is this a real thing? Nicola once lived in a tiny apartment (the inspiration for Hazel's apartment) directly across the street from the beach. Walking along the beach one night, she saw a mass of "silvery stuff." It turns out grunion, fish found only along Southern California's coast, emerge from the ocean at various times during the year to spawn. Females bury themselves in the sand, build a nest, lay their eggs, and then return to the sea. 
Her next book
Nicola is hard at work on her fourth novel. This story takes place on Balboa Island, near Laguna, and is home to frozen banana stands. (I know this from personal exploration!) The book centers around three 1950s women who form an unlikely friendship. Look for it in 2025.
Other books Nicola is reading this summer
Same Time Next Summer by Annabel Monaghan 
The Spectacular by Fiona Davis
The Soulmate by Sally Hepworth
And her one new thing…
Not long ago, Nicola and her family moved back to California. And she realized how difficult it is to make friends. "In my forties, I discovered everyone was settled and had their friend groups," she says. A couple of other recently relocated women invited her to a tennis lesson. Despite "zero interest in tennis," Nicola joined them. She's now "addicted to the sport" and has found a community of younger and older women she enjoys. 
Photos courtesy of Nicola Harrison