Vivian Shudde – The Brookwood Community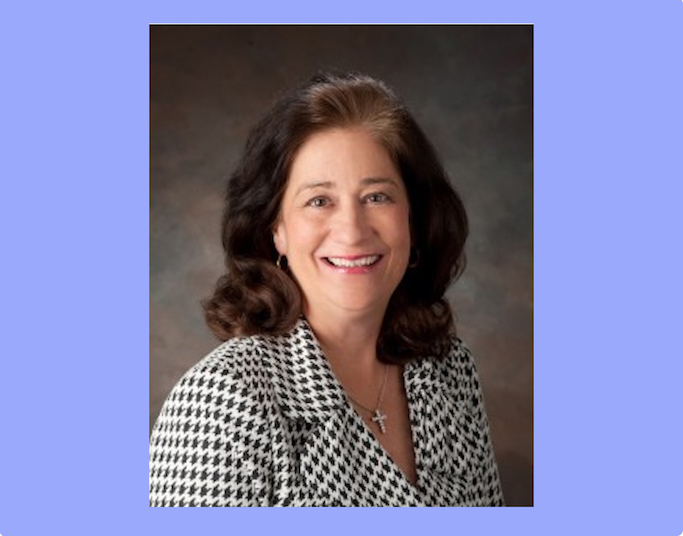 "This is my life—and your imperfect life too," says Vivian Shudde, CEO of The Brookwood Community, to the roomful of parents whose children have various intellectual and physical challenges. "Believe me, our sorority sisters and cousins and neighbors and school friends have imperfections in their lives too. But they're easier to hide."
As a small child, Vivian's younger sister, Vicki, contracted the mumps. The disease led to meningitis and brain damage. Like parents everywhere, their heartbroken mom, Yvonne, tried vitamins and special exercises. Anything to cure her little daughter. "Mother thought if Vicki could get sick in an instant, she could get well in an instant," says Vivian.
Sixty years ago, non-verbal individuals with "my sister's type of disability lived in institutions," says Vivian. But Yvonne did not consider that arrangement an option for her daughter.
On a picnic table in the backyard, Yvonne home-schooled Vicki each day. A boy who suffered seizures and a young girl with functional disabilities joined the pair. Then another child with special needs, and another, and another. As the makeshift classroom grew, the learning group moved into a church. And then, thanks to a grant, into their own school building.
When it came time for Vicki to graduate and emerge into adult life, once again, she had no place to turn. Realizing the need to provide lifelong special education, Yvonne founded The Brookwood Community, a non-profit residential facility and vocational program for adults with disabilities.
Meanwhile, Vivian studied Special Education at The University of Texas, married, and started her own family. Wilson, her oldest, began to miss formative milestones. He seemed, to Vivian's well-trained eyes, developmentally and intellectually delayed.
Wilson's diagnosis was unrelated to her sister's, and Vivian struggled. Animated and not one to mince words, she says, "God was driving a bus to special needs land. I'd been there, and I did not want to get on that bus again."
But Vivian took a hard look at herself and her family. She decided to embrace her special son and all his wonders—including his love (still) of Zambonis and airplanes and paddlewheel boats.
"You're the ones who need to change," she advises the parents in her audience. "There's not so much wrong with your child. What's wrong is you driving yourself crazy trying to fix them," she says.
Nowadays, Wilson, 36, and Vicki are full-time Citizens (the proper name honors the adults as functioning members of the community) of The Brookwood Community, a 40-minute drive from Houston, TX. Opened in 1985, Yvonne studied facilities worldwide in her quest to build "an educational environment that provides meaningful work, builds a sense of belonging, and awakens genuine purpose in the lives of adults with disabilities."
"Our vision is to change the way the world thinks about adults with disabilities," says Vivian. As they tend to poinsettias in the greenhouses, design Christmas cards in the print shop, and mix dough for dog treats sold in the gift center, the Brookwood Citizens feel productive, dignified, and respected.
In the past five years, representatives from 250 organizations around the world—every continent except Antarctica—have traveled to this special place in Brookshire, TX to study "The Brookwood Way." Visitors see Citizens splashing in the lazy river. As they tour the leafy campus, they stroll past Citizens walking and biking. They marvel at the chapel with an empty chair reserved for God.
Vivian, who also has a daughter and three grandchildren, pours her heart and soul into this community of 110 full-time adults with functional disabilities who live in one of Brookwood's nine group homes. Almost 100 commuters arrive each day, ready for work in the soap shop, cafe, ceramics studio, or garden center.
And every single one has Vivian's phone number.
"We're all an auto or bike accident away from being a Citizen in The Brookwood Community," says Vivian. "The range of diverse needs we help include adults with autism spectrum disorders, intellectual disabilities, developmental disabilities, traumatic brain injuries, dual diagnoses, and/or aging care needs."
The Brookwood Community takes no money from the government. "We are funded by tuition, money raised in our garden center, gift shop, online sales, cafe, and private donations," says Vivian.
"Our Citizens are resilient, have no fear, and accept what comes," Vivian says. Certainty is not a given for any of us. But, if an individual is non-verbal or has another type of disability, everything is uncertain. "When they ride in a car, they don't know if they're going to knee surgery or Disneyland," says Vivian.
She continues to learn from the Citizens, her son, and her sister. And celebrate who they are.
"Their world can be whatever it needs to be," says Vivian. During the shutdown, Citizens remained in their rooms, with work and meals delivered. "They loved the room service," she laughs. The few who came down with the virus lived in the community's converted gymnasium until they tested negative. But with dividers, televisions, activities, and beds, no one wanted to leave Camp Covid!
Do you ever worry about who will take over your role? "Every single day," says Vivian. With its special people and their special circumstances, Brookwood is the type of community ingrained in Vivian, and her family, from a young age. Hers has to be a position tough to fill.
When they receive a heart-wrenching diagnosis from their child's doctor, Vivian hopes to help parents see the good news. Their disabled child's life can have meaning and purpose. They will be safe. And they will be a tremendous joy.
Photos courtesy of The Brookwood Community