Sherry Hall – Therapeutic Riding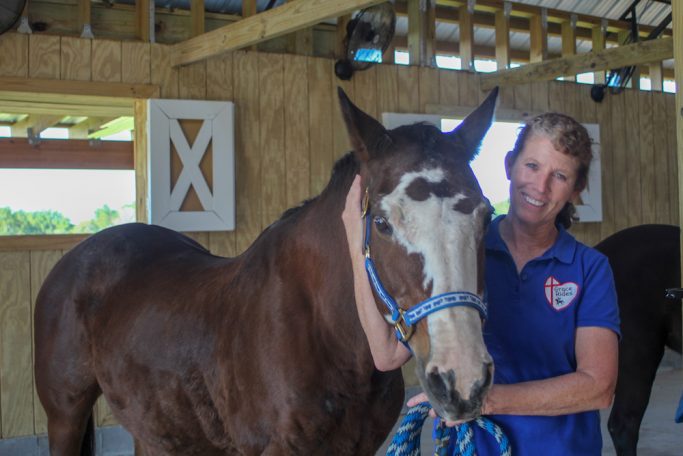 Sherry Hall marvels at how God took the assorted pieces in her life, arranged them for her, and showed her what to do. "It was hard and scary, and I didn't think I was capable of making it happen," she reflects. Guiding me through the new and improved, brand new barn in Defuniak Springs, Florida, Sherry points to a wooden sign hanging in the office—We are seldom qualified for the things God calls us to do.
Therapeutic Horseback Riding
For people of all capabilities, therapeutic horseback riding provides mental, physical, and emotional stimulation.  Therapy and rehab exercises are difficult and dull for those with depression, epilepsy, autism, and down's syndrome.  But, as I see the big smiles and excited faces at Grace Rides, that's all the proof I need. Riding a gentle, loving horse can help kids and adults make remarkable progress.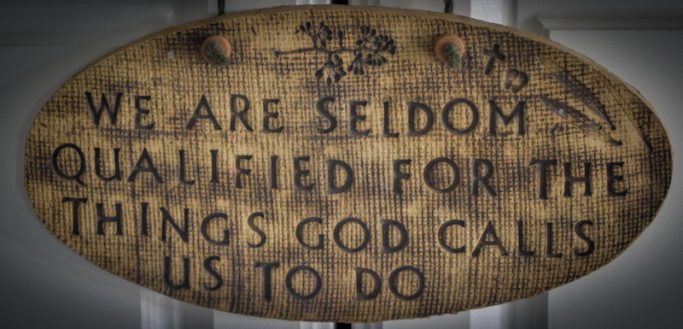 On her family's working farm in northwest Florida, Sherry grew up riding horses and assisting with her mom's special education classes. Armed with a trio of degrees from Florida State—Clinical Psychology, Rehabilitation Counseling,  and Law—Sherry advised high school grads with spinal cord injuries. "Kids" who wanted to attend college and be independent.
"There is something about the outside of a horse that is good for the inside of a man."  – Winston Churchill.
When her five horseback-riding daughters "flew the nest," Sherry longed to do something special and helpful with horses. After 25 years of practicing law, she wanted to give back. She recognized how her life's "pieces" might all fit together—"my counseling background, law degree, experience assisting people of varying abilities." 
Grace Rides Founded
Sherry and her husband, Steve, founded Grace Rides, a 501(c)(3) equine therapeutic riding center, in 2008. Operating on a "postage-stamp-sized piece of property" in Niceville, Florida, Sherry was "scared to death" and didn't think she was qualified to undertake the project. But she kept taking the next, right step.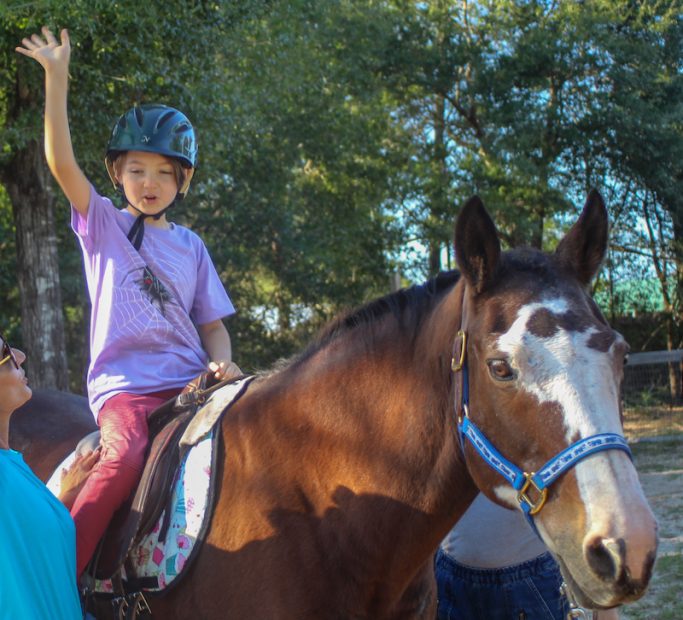 As we watch the pre-teen riders—spotters and handlers beside them—mount their horses for this afternoon's lesson, Sherry gestures to one of her young students. When Nelson* began working with Sherry and the Grace Rides instructors, eight years ago, he could not lift his leg high enough to get on a horse.
Horses Unlock Motivation and Desire
Other types of therapy and exercises had not interested him. But riding the horse was something he wanted to do, and this desire unlocked a new motivation in Nelson. "If they want to get on a horse, we can help them accomplish amazing things," says Sherry.
"No hour of life is wasted that is spent in the saddle." – Winston Churchill
Kids and adults with spina bifida, cerebral palsy, multiple sclerosis, and brain injuries "open up around the horses" at Grace Rides. The excitement—and fun—of riding a horse around a tree-lined oval makes them feel good about themselves. They learn patience, responsibility, and compassion as they groom, feed, and ride the sweet-natured animals.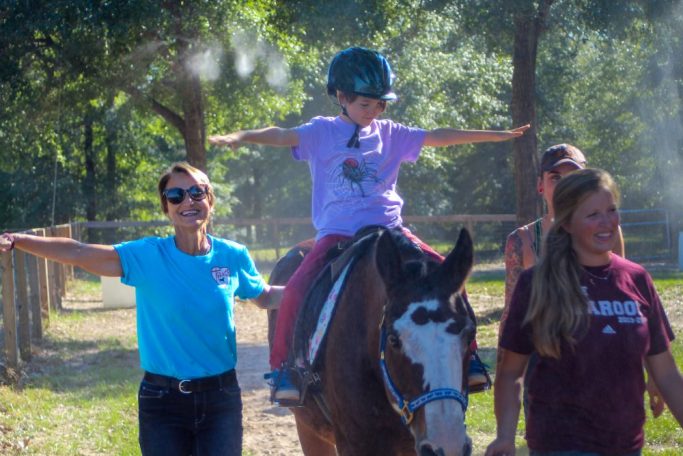 Sherry points out the simple rhythm of the horses' steps loosens tight muscles and strengthens muscle tone. The warmth from the horses' bodies helps with circulation and digestion.
Games on Horseback
The instructors run the young riders through a series of games this afternoon. Lifting their arms like an airplane and passing batons, the pupils work on hand-eye coordination, dexterity, and balance. Being outside, interacting with animals, playing games with no judgment…. What better way to build fine and gross motor skills?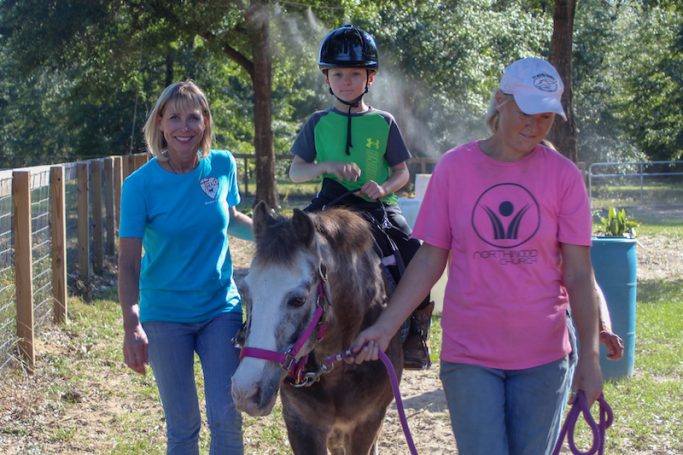 For all the students, including the group of military veterans who rode earlier today, "consistency is key." It is important to ride the same horse with the same horse-savvy volunteers and certified instructors every week. According to Sherry, "Consistent social groups increase conversation, adaptability, and cooperation."  The riders develop respect and love and compassion for their beautiful, friendly animals. And this builds confidence.
Where Do Horses Come From?
Stroking Emily, a black mare, I ask Sherry how she acquired "the equine helpers" with the gentle, accommodating dispositions. Many of her 18 horses and lone donkey (Nestor) were donated by families with kids leaving home or heading off to college. Animal lovers—like Sherry—rescued others.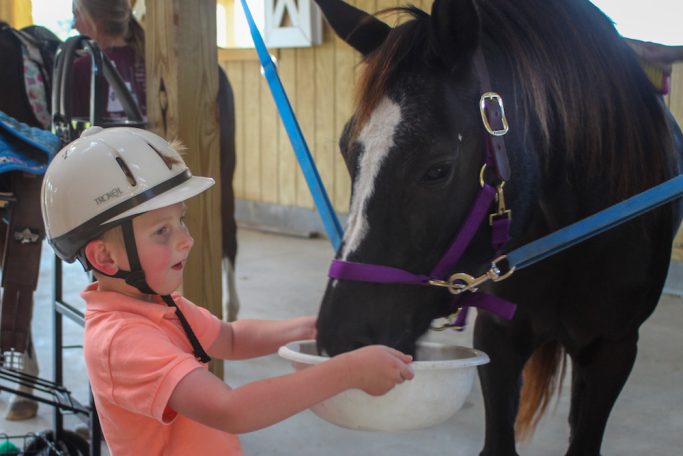 Alice was a sad example of abuse. She was terrified for Sherry, or any adult, to come near her. "But we brought her to the farm anyway," says Sherry. "I couldn't leave her in an awful situation." When she placed Alice in the corral, Sherry worried as the kids ran over to greet the new arrival.  "But, she loved the children. And, thanks to a lot of hard work, she now likes me too!"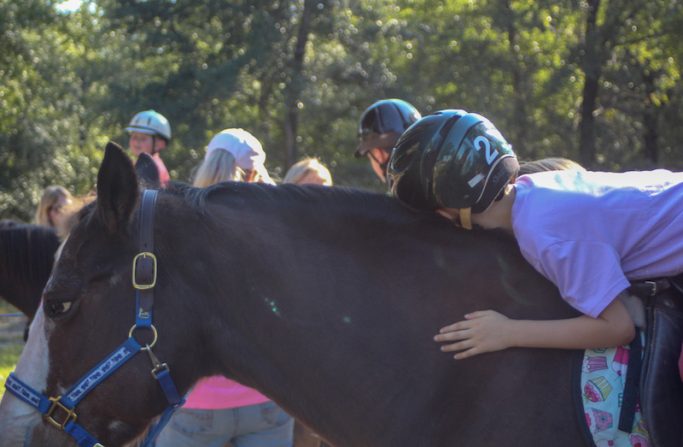 "Whoa-ing their horses" and wrapping up the games and exercises in the riding ring, the riders stretch waaaay over to give their equine buddies a big hug. It's now time to feed their friends apples, brush them, and say goodbye for the week. And I bet, based on the happy faces I see, they can't wait for their next riding session!
*names have been changed for this story