Jennifer Clinger – Human Trafficking Survivor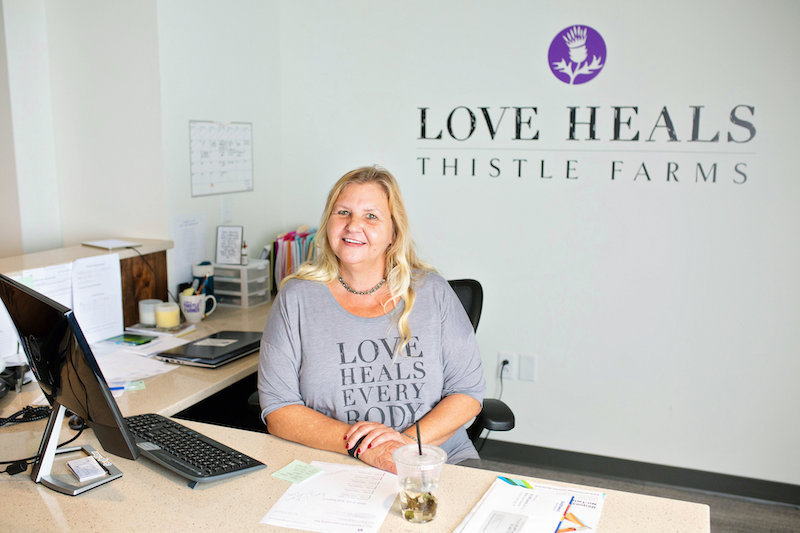 The first night in her new apartment, Jennifer Clinger sat down to a meal of pancakes and sausage. She'd prepared a combination of breakfast and dinner—"brinner," she calls it. Tears rolled down her cheeks as she devoured "the best pancakes ever"—in her home, at her table, in her kitchen. 
"The night I ate those pancakes," says Jennifer, "was when I knew I would be ok."
Her traumatic and abusive childhood steered Jennifer to defiant behavior, illegal drugs, and life on the streets. From the age of 13, Jennifer and her lifestyle created the perfect target for human traffickers, pedophiles, and pornographers.
As she passed in and out of jail and mental institutions, drugs provided the former prostitute with the "only good feelings" she had. "I didn't care if they were illegal or wrong. I didn't know how to cope otherwise. I didn't want to look at my life and actually see it," she says in her direct, unrestrained manner.
For 20 years, while she roamed the streets and picked up "work," Jennifer went to church and prayed. On her knees, weeping, she'd plead with God. "When will you pluck me from this hell?"
Jennifer was stuck in a cycle she couldn't break. "I couldn't find a real job with my type of history," she says. Employers don't want to hire criminals or drug addicts or streetwalkers.
Broken and forlorn, Jennifer wandered into a Catholic church in Dayton, Ohio. "I had nowhere else to go," she remembers.
While she prayed in the sanctuary, a kind priest approached Jennifer. He listened to her long and tortuous story. "I repented and confessed my sins. He forgave me for all of it," she says.
And he told then 45-year-old Jennifer about Thistle Farms.
Nine years ago, her brother drove her to Nashville, TN and the beginning of a new life. Operating on the philosophy of love heals, Thistle Farms provides two years of housing, food, therapy, education, and medical care to women as they recover from prostitution, addiction, and trafficking.
The non-profit also offers jobs—with a living wage—to the healing women. Jennifer, employed as the Volunteer Coordinator, explains Thistle Farms hires the women and pays them a sufficient salary. "They don't have to return to illegal hustles to make ends meet," she says.
"We are good women, but we need a first chance at life. We didn't get one as children," continues Jennifer. Prison, for these women, is a vicious cycle. They get out, they can't get a job, and they return to what they were doing to land them in prison in the first place.
Thistle Farms did not produce a "spontaneous, miraculous transformation" in Jennifer, and she didn't feel safe for a long time. But she did feel loved and cared for. And she learned to care about, and love, herself.
Step by step, Jennifer's new life at Thistle Farms moved forward, and she began to feel alive. Therapists helped her grieve her past, get angry about it, and let it go. "It felt like resurrection," she says.
She gave up drugs and—required to keep appointments and commitments—learned self-control and discipline. She discovered true love is sometimes "strict" and "stern."
According to Jennifer, miracles happen at Thistle Farms.
Women are frightened when they first arrive, with hollow, empty eyes. Once they know they are safe and others care at this special place, peace washes over them. They begin to smile and "get a glow in their eyes."
Seven years ago, Jennifer finished her two-year program, and it was time to find a place of her own. She was terrified. "I'd always lived under someone else's rule," she says.
But God winked at her again. A Thistle Farms volunteer, teaching Jennifer budget tips and tricks, needed a house-sitter while she left the country on a work assignment. "For two years, I didn't have to worry about the rent and could focus on other areas of my life," reflects Jennifer.
This sort of kindness has been hard to adjust to. All those years she was homeless, few people were nice to Jennifer. Passersby looked the other way or crossed the street to avoid her. "I felt unseen most of the time," Jennifer says, "like I wasn't a part of the world around me." A place most of us don't know…
"

Life is still hard

, but things have been turned right side up," she continues.
Late last year, Jennifer entered an Ohio courtroom via the main public entrance doors—not from the familiar prisoner-holding area in the back. After she related her life story, an expert from a respected university discussed the effects of trauma on individuals.
The judge asked Jennifer to approach the stand. In front of her lay a stack of files—Jennifer's drug and prostitution cases from so long ago. When the judge informed her the cases no longer exist, Jennifer's knees buckled.
"Ask me how many criminal cases I have in my records," Jennifer says to me. "None. She erased them all. I am no longer a criminal."
All those years, Jennifer had waited for God to remove her from her mess of a life. And, all that time, Jennifer later realized, God was waiting for her. "God loves me. And love is the most powerful force to change the world," she says.
How does it feel, I ask?
She's a published author, a speaker, a volunteer coordinator, and a mentor to other survivors. Before she responds, she laughs and reminds me she only completed the 8th grade and earned a GED in jail.
"How does it feel? It feels like a performance. Light is inside of me now. I should not have survived, but the hand of God was on me."
"I am still standing. And those left standing must dance."
Jennifer's book and related show, Delivered-The Fragmented Memories of a Former Streetwalker, began as a journal. She dedicates the book to everyone she's ever disliked and loved. They've made her the woman she is today.