Matt Russo and The Gambling Stick BBQ Trailer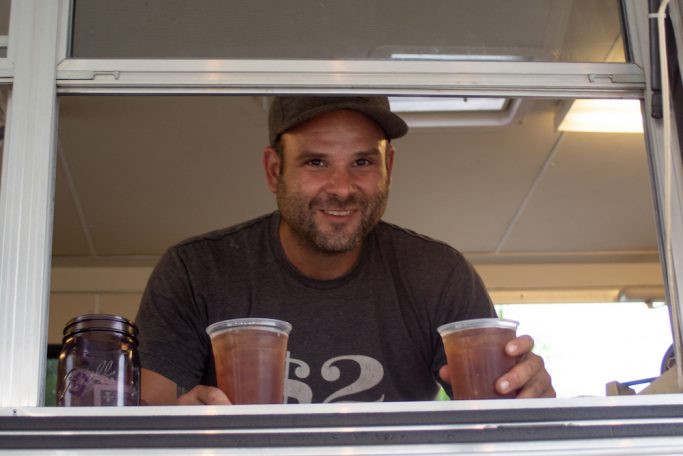 According to Matt Russo, "a gambling stick is an old Appalachian name for a stick used to hang a pig from the limb of a tree. Threaded through the heels of the pig, the stick supports its weight while the animal is harvested."  The gamble, and hope, is the stick can handle the pig's weight, and the animal will not come tumbling down.
In a parking lot in trendy East Nashville, barbecue lovers find a different sort of Gambling Stick.  Serving barbecued beef, chicken, and pork – and cornbread bowls too –  out of a trailer, Matt's barbecue operation is simple, fresh, and delicious.
Memphis barbecue centers around pork, a dry rub, and a tomato-based sauce
As he raises the lid of the smoker he designed, a former 250-gallon water tank,  Matt covers the first lesson of the day. What is the difference between barbecuing and grilling? When you barbecue or smoke, Matt explains, the charcoal or wood fire never touches the meat. You cook low and slow – Matt's ribs, briskets, and sausages are on the smoker by 7:30 each morning – and the indirect heat infuses the meat with a wonderful smoky flavor.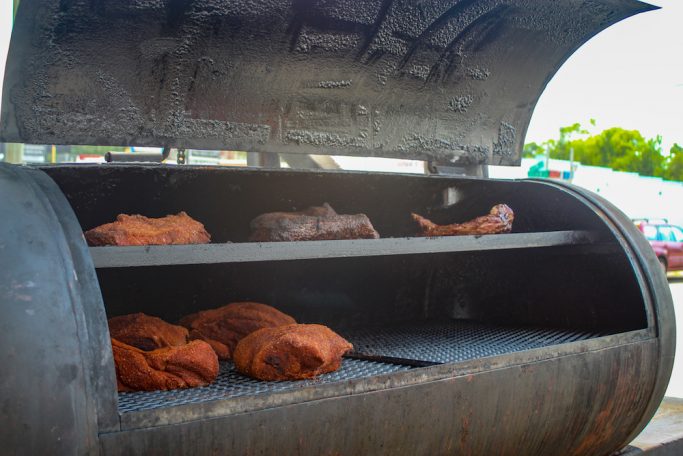 Matt pats a concoction of spices and salt and pepper onto his meats. He doesn't use an oil – it's a dry rub. "Shake off all the excess so it's not heavy," he instructs. Smiling, he adds, "Of course I can't give away all my secrets.
In North Carolina, barbecue is typically "all about the pig" with a vinegar-based sauce
After 12-16 hours of slow smoking over the cherry wood fire, at a "pretty constant 250 degrees," the briskets come off the grates and rest for several minutes.  "Resting helps the meat retains its juices," he says.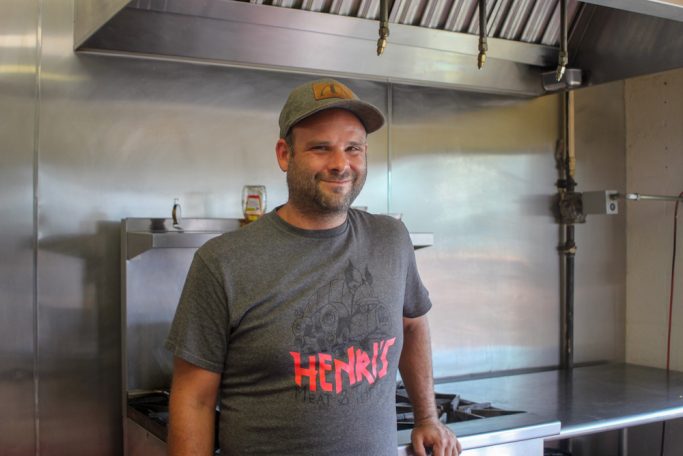 Kansas City barbecue encompasses all kinds of meat and a sweeter, molasses sauce
Although he seems quiet and reserved,  Matt describes himself as someone who's "always liked to work with fire." Growing up in Louisville, one of his first jobs was to smoke the meats and maintain the fires at a bbq joint. Back then, Matt already knew he wanted a career focused on food and, someday, his own barbecue restaurant.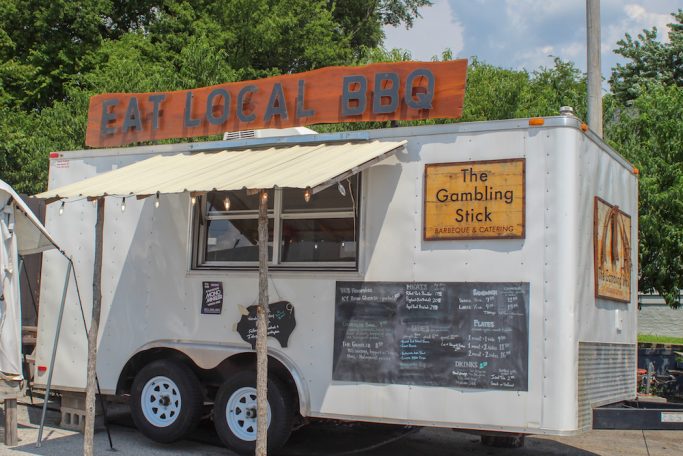 Matt credits his grandfather for encouraging him to turn his passion into a livelihood. After the older gentleman suggested "food can definitely be an educational option," Matt headed off to upstate New York and the Culinary Institute of America. The famous school, overlooking the Cascade Mountains, prepared him for various chef roles at Michelin-starred restaurants in New York City.
Typical Alabama barbecue is served with a white sauce
After managing cold foods and salads as the garde manger ("keeper of the food" in French) in an elegant restaurant, Matt "sidetracked into the cheese world for a bit. I'm always curious about how things work," he says, "and I wanted to learn as much as I could about the restaurant business." Besides handling the stylish restaurant's famous table-side cheese cart, he learned how to age and store cheeses in the "cheese caves." 
South Carolina is known for a mustard style barbecue sauce
Taking a break from the fine dining scene, Matt landed in a butcher shop in hip East Nashville. The "hands-on kind of guy" figured learning how to "break down the whole animal" might come in handy in the food business.

Nowadays, that same butcher shop supplies all the pasture-raised beef, pork, and chicken AND the parking lot for The Gambling Stick. Matt is proud of his initial step into the restaurant business and, for now he's taking it slow, a little at a time.  "I can't afford to pay a lot of people, so I've learned to do whatever necessary to make things work," he says. 
In Texas, brisket is often chopped instead of sliced
Unlike a traditional restaurant, Matt gets to see who he is serving from his perch in the trailer. He enjoys interacting with his customers and watching their happy reactions to his plates and sandwiches and cornbread bowls. Offerings today include heirloom tomato and cucumber salad, collard greens, apple slaw, and baked beans. I sampled – and recommend – them all.
I'm rooting for Matt and can't wait for this hard-working guy to open his next venture. In the meantime, I'm happy he is doing what he loves – working with fire – and turning out some of the best barbecue this Texas girl has eaten.