Jade Roser – Cheekwood's Holiday Lights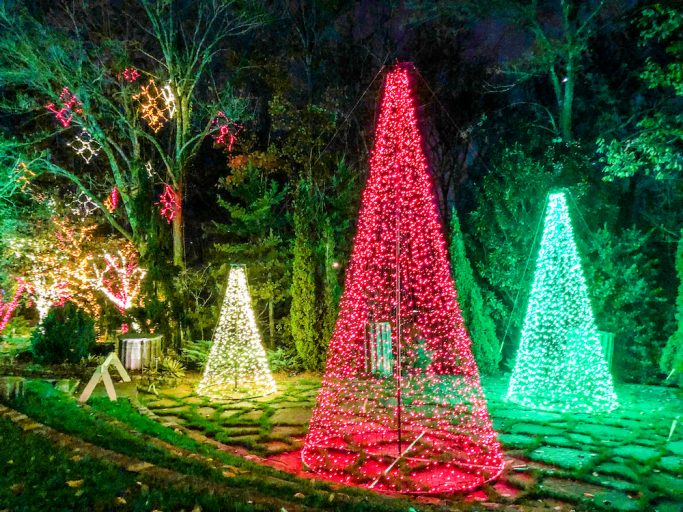 On a gloomy Monday in October, this Nashville treasure is teeming with activity.  Despite the misty morning, a crew works to put finishing touches on transforming this 55-acre botanical garden into a magical, holiday wonderland.  As we stroll around the Cheekwood estate and grounds, built with the Maxwell House coffee fortune, Jade Roser gives me a behind-the-scenes look into how Holiday Lights comes together.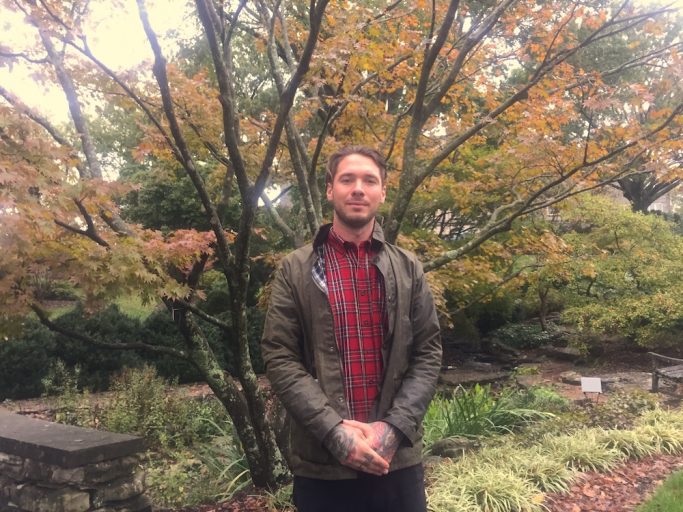 With his easy going, infectious enthusiasm, Jade admits he has "a lot of fun with his job."  In his second year at the helm of Garden Installation and Events at Cheekwood Estate and Gardens, Jade coordinates the festive Holiday Lights project. Growing up a Lego fiend, the former sound engineer now gets to build things to excite people of all ages.   "I am kind of like a grown up doing kid things," he laughs.   
How do you make the leap from mixing sound at concerts to managing garden projects Cheekwood offers to the public during the year?  Jade grew up "welding and building stuff" alongside his airplane mechanic grandfather in Niceville, Florida.  In later years, when not on the road with the band, he designed and built display architecture for retail spaces and corporate events.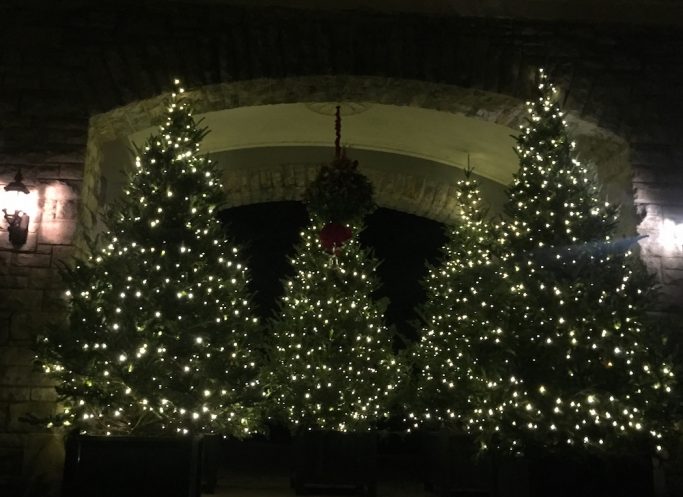 On August 1, installers began erecting holiday-themed displays and hanging over one million lights.  Jade says the crews "tend to work very close to the wire in a nice way," finishing right on schedule every year for the November preview night.  An absolute fan of twinkling and brightly colored lights, I love the flower petal strands he points out along the way. Tube lights in the shape of snowflakes line a garden bed full of pansies.  Giant ball topiaries will greet visitors along the entrance path. 
Bedecked with hundreds of jewel tone lights, the many cone tree structures around the property used to be difficult to string with lights. "Our installers are very creative at coming up with ingenious ways to get things done," Jade points out.   Watching the newly devised technique, we see the crew members carefully manipulate 20 feet long rods and hooks to thread the lights and weave them into the even taller cone trees.  "Whenever we try a new design, we have to dream up a solution to the install issue," Jade smiles.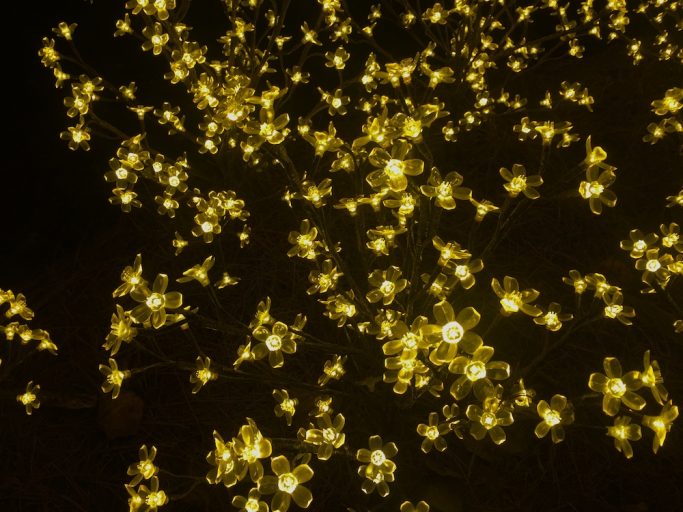 As much as I love bright and shiny bulbs, I know they can be frustrating to keep working.   Jade explains the commercial grade LED lights hanging in the Cheekwood trees are more energy efficient, and they have a much longer life cycle.   LED lights  do not typically burn out.   Instead, the brightness dims slowly over time – they generally last three years. "This is the third season, so next year we will be swapping out quite a few of the lights," he predicts.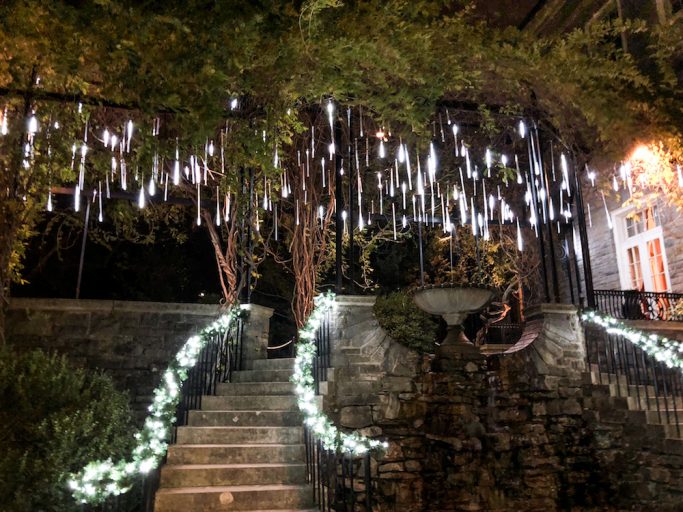 The cute squirrels scurrying around the grounds prove to be one of the bigger problems for Jade and company. The crew spends a lot of time repairing the meticulously and painstakingly wrapped trees because squirrels nibble through the wires.   Showing me a monster tree outside the mansion entrance, Jade reveals it has 700 light strands wrapped on its gigantic limbs.  Jade chuckles when I mention my light packages at home indicate more than 6 strings should not be connected to one another.    LED lights are low voltage and don't draw that much current.  "This tree, with all its 700 strings, only uses 9 outlets," he tells me.   
I wonder if a guy who manages holiday decorations for a living has the time or desire to hang lights at his own house?  Jade confides he has lots of managing to do at home also.  At his farm, he hosts weddings and events, raises goats, and frequently tests new ideas for future Holiday Lights.  He's received nice reviews for the giant lights he designed to shine on his farm's tree canopies this year.  Also part owner of a tattoo shop and a motorcycle business, he says, "It is all fun, and I like to manage things."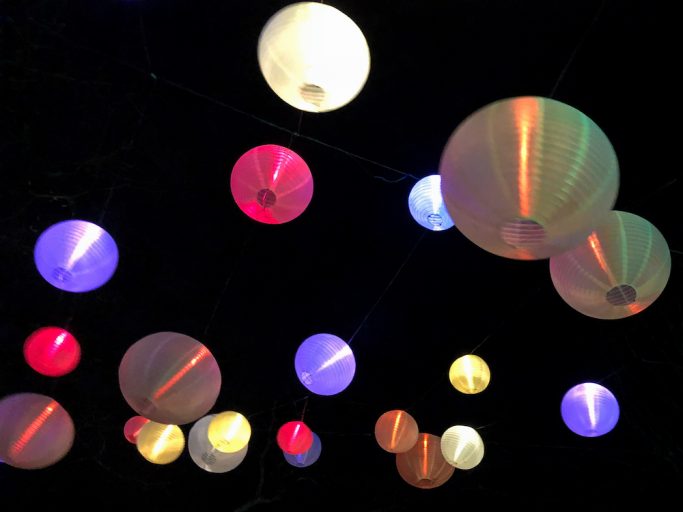 The lights and holiday displays take about a month and a half to dismantle, and then the process begins all over again.  An outside source provides the initial design blueprint for Holiday Lights, then Jade and his colleagues  at Cheekwood do "some tweaking and refining." He says they "collaborate with color ideas and elements."   Each year, some ideas and designs are completely different, and some are repeated.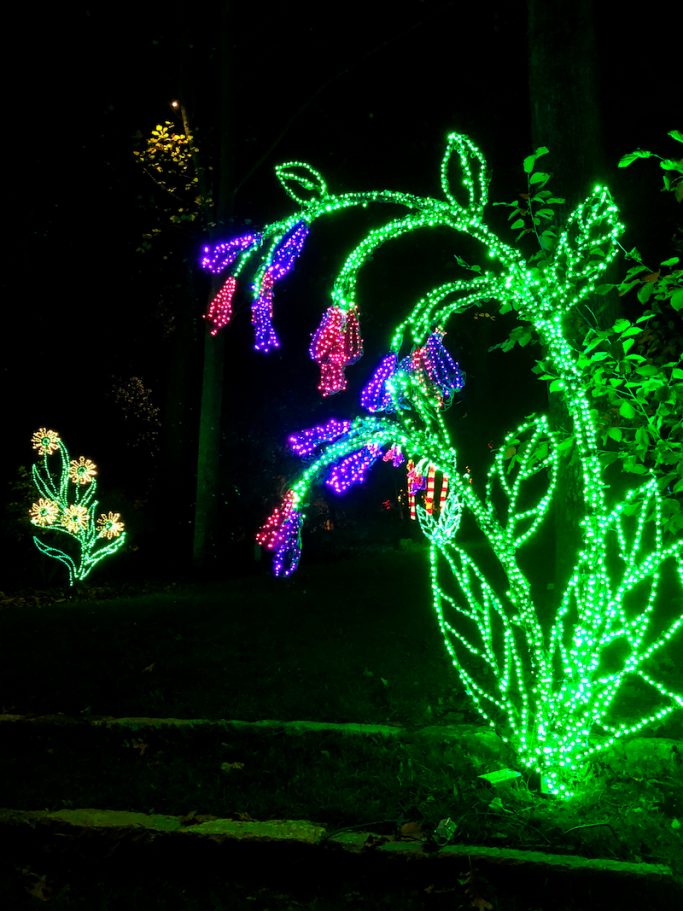 Jade is excited about the new elements this year, including an ADA accessible path. At the side of the mansion is an area constructed to look like snow falling.  The giant kissing ball, the train village, and the lights reflecting off the lake are all favorites.   He and his fiancé, marrying in Switzerland next June, will come to Holiday Lights several times this season.  "It's fun to hear the music, stroll around,  and see the community enjoying what we've worked so hard to produce," he adds. 
Visit Cheekwood's Holiday Lights through December 31 from 5 pm to 10 pm.  Closed Mondays.  Tickets may be purchased at the gate or online.