Marci Houff – Ovarian Cancer Symptoms to Know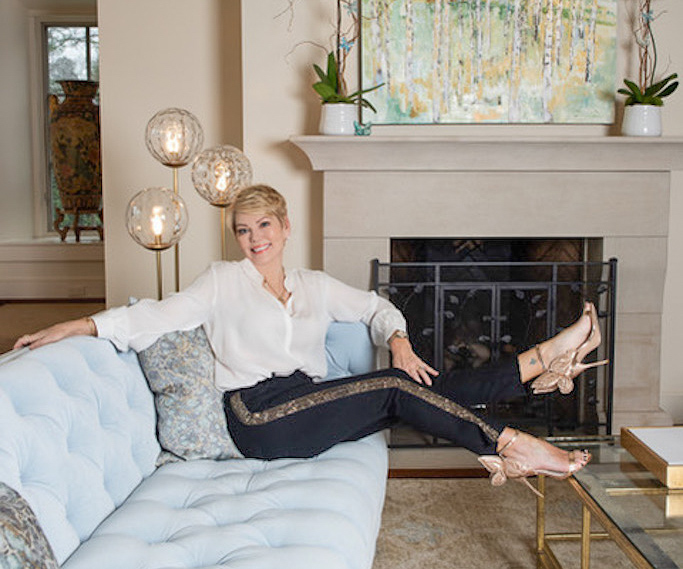 The American Cancer Society estimates ovarian cancer will strike more than 22,000 women in the United States this year. And 14,000 of those women will die. Ovarian cancer is difficult to detect in its early stages and challenging to treat once the disease spreads. According to Marci Houff, "Every woman in the world is at risk of developing ovarian cancer, and a great majority don't know much about it." Including me.
In her mid-forties, Marci dismissed her stomach aches as stress. She was certain the bran-fortified cereal she ate for breakfast caused her digestive issues. Lower back pain? She lugged her little daughter everywhere.
Symptoms are Easy to Miss
"Looking back," Marci says, "the symptoms were there." But ovarian cancer signs are hard to recognize and mimic other issues. The sorts of annoyances we brush off as insignificant—anxiety, stress, indigestion, irritable bowels, overworked muscles. And that's why the disease is so deadly.
While watching cartoons together, Marci's four-year-old daughter accidentally kicked her in the stomach. The resulting pain – the sort "that took her breath away" – caught Marci's attention. When she met with her ob/gyn for her annual exam the next week, Marci mentioned the excruciating, split-second ache to the doctor.
"Your uterus feels a little thick," the physician said when he examined her. "I'm sure it's fibroids or a cyst, but let's do a vaginal ultrasound."
The disease is rare, most often occurring around age sixty, and Marci had no family history of the gynecological cancer. Her physician did not expect to find ovarian cancer.
But he did.
"I was lucky," says Marci. A gynecological oncologist – part of the Canton, Ohio hospital system – performed her hysterectomy. Many women do not have this type of surgeon, specializing in gynecological cancers, practicing in their communities.
Since Marci's cancer had spread to both ovaries and the surrounding tissues, her diagnosis was classified as Stage 3. The good news? The surgeon labeled her case "with no evidence of disease (NED) and optimally debulked (no visible signs of cancer). And that's exactly what you want to hear," she says.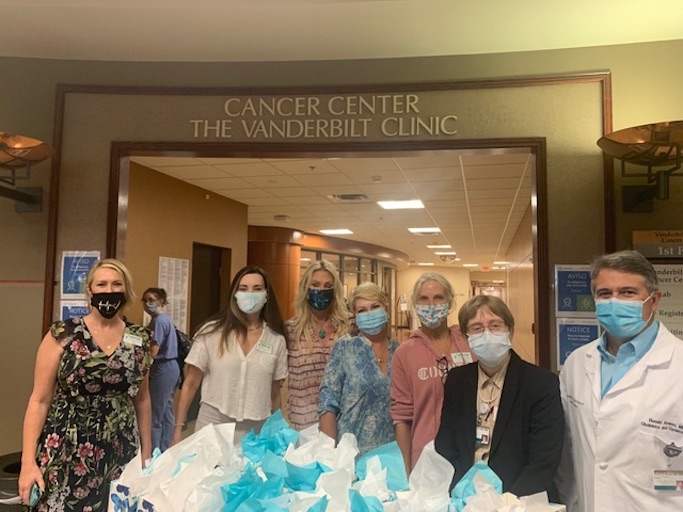 But microscopic cells may still exist, so Marci endured five grueling months of chemotherapy. "I'm one of these people – tell me what to do, I'll get there," she says.
Several years ago, when Marci sold radio advertising, she scheduled each campaign to start on a certain day and end on a specific date. Whether the campaign lasted one week, two weeks, or six months, it had an end date.
August 7 was Marci's end date for chemotherapy and, she hoped, ovarian cancer. She slapped notes – with her end date – on the refrigerator, microwave, mirrors, picture frames. "It really helped me get through the chemo," she laughs.
Recurrence Rate is High
Ovarian cancer packs a double whammy. Women learn they have a disease with the lowest survival rate of all female cancers. THEN, they find out the rate of recurrence is strong. It tends to come roaring back – inside of six months.
Twelve years later, Marci is enjoying her daughter's high school years and is cancer-free. She credits her survival to the fact she visited the right doctor immediately and got the ball rolling. Many women spend precious time bouncing around from doctor to doctor with diagnoses of gastro issues or back problems or anxiety.
After her experience, Marci moved to Nashville and discovered many women don't know much about this dreaded disease. And she wanted to educate them.
A methodical organizer, and lover of fashion and parties, Marci founded Chic Awearness. Physicians stepped in to support the group, and a handful of girlfriends pulled off a fundraising event. Now in its seventh year, the Nashville party and fashion show has raised more than $500,000 for ovarian cancer awareness and research funding at Vanderbilt Ingram Cancer Center via the T.J. Martell Foundation.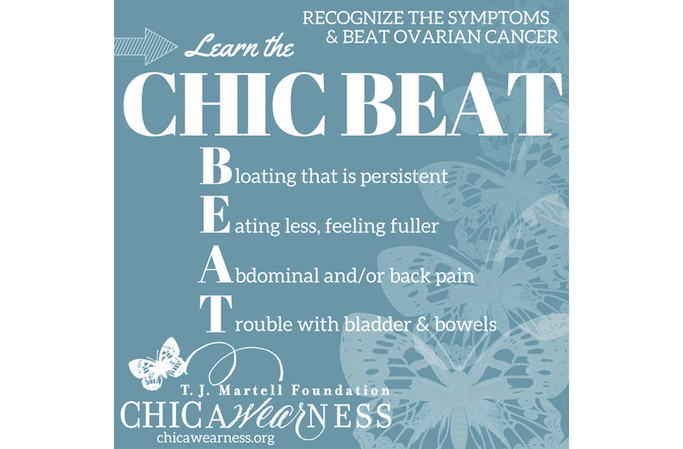 A Pap Smear Does Not Screen for Ovarian Cancer
Important to remember – no screening test exists for ovarian cancer. The CA 125 blood draw is somewhat of a barometer, but it results in loads of false negatives and positives. Pap smears screen for cervical cancer NOT ovarian. Marci stresses annual exams, no matter your age, with an ob/gyn. "And be certain your exam includes making sure all is well with your reproductive system," she says. "If you have symptoms for 10-14 days, it is well within your rights to ask for a vaginal ultrasound."
Although Marci wishes she could do more to save women's lives, creating awareness brings her fulfillment and passion. Women must be informed, must ask questions, must speak up. We need to be in charge of our health. "Unfortunately, the statistics have not improved much during my twelve-year journey," she says.
Ovarian Cancer Symptoms
Abdominal bloating or swelling
Quickly feeling full when eating
Weight loss
Discomfort in the pelvis area
Changes in bowel habits, such as constipation
A frequent need to urinate
Lower back pain
You may also enjoy reading about another cancer survivor
Photos courtesy of Marci Houff and Ashley Hylbert Photography
Pam Lamp wrote this article for  Sixty and Me