Laticia Williams – Lunch Counter Segregation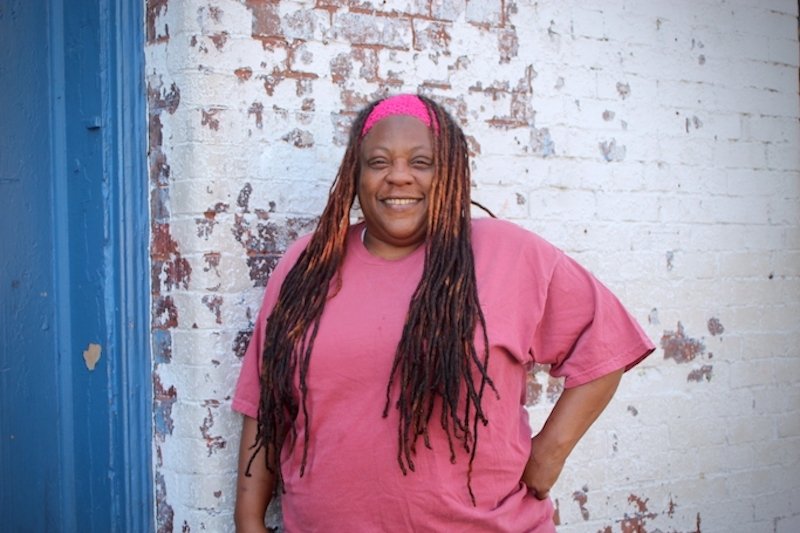 As a teenager, Laticia Williams' grandmother needed a new pair of shoes. In the basement of Nashville's FW Woolworth building, one of the original "five and dime" stores in the country, the sales clerk agreed to sell Big Mama the shoes. But, like in other stores of the day, Big Mama wasn't allowed to try them on.
Big Mama traced the outline of her foot on a brown paper bag. The salesperson matched the drawing to available shoes to determine the best fit. "My grandmother was able to spend her money, but she couldn't put her foot in the shoe," says Laticia.
Her grandmother couldn't grab a milkshake at Woolworth's lunch counter with her high school sweetheart either.
It was 1959, and they were African Americans.
Laticia, her conversation splashed with "baby's" and "sugar's," grew up listening to her grandparents' tales of African American life in a segregated South. Despite poverty, racial obstacles, and little education, Big Mama was a role model for Laticia. She taught her to "thank God, persevere, and have a positive attitude."
Along with several other teenagers from church, her grandparents wanted to do their part to help put an end to segregation. Led by Diane Nash and John Lewis, they and their fellow Fisk University Freedom Riders trained at the college's gymnasium.
According to stories passed down from Big Mama—who died a decade ago—Nash and Lewis prepared the teens for lunch counter sit-ins. They drilled on how to maintain self-control while mocked, taunted, and belittled. "You won't be welcome there," Laticia says they were warned.
"He who is not courageous enough to take risks will accomplish nothing in life." —Muhammad Ali
On February 13, 1960, Laticia's grandparents grabbed a pile of homework, skipped high school for the day, and headed downtown. The day the Freedom Riders had trained for had arrived. To the bewilderment of onlookers and employees, the African American teens settled on stools at Woolworth's lunch counter.
Big Mama and friends unpacked their schoolbooks and papers and pencils. During the long day—from open to close— the Freedom Riders sat.
And refused to get up.
Employees wouldn't serve them, and onlookers heckled them. Despite mustard and ketchup squirted on their clothing and flour and sugar hurled their way, the teenagers didn't budge. Not even to help a friend burned with a cigarette. They'd trained to remain seated—no matter what.
Over the next few weeks, Laticia says, her grandparents continued sit-ins at downtown businesses. The mission of the nonviolent, student-run campaign was to end segregation at lunch counters.
And they were successful. In April, 3000 people marched to the Nashville courthouse and confronted the mayor. He agreed with the crowd—lunch counter segregation wasn't right. The following month, downtown businesses, including Woolworths, began serving African Americans.
Now in her forties and a restaurant hostess in the same downtown area, Laticia didn't finish high school. Big Mama, a cotton picker, always wanted her granddaughter to get an education. Thanks to a local assistance program, Laticia studied at night for her GED.
With a big smile, Laticia tells me she "just graduated." And Big Mama would be proud.