Jenna Testa Kilpatrick – Coastal Dune Lakes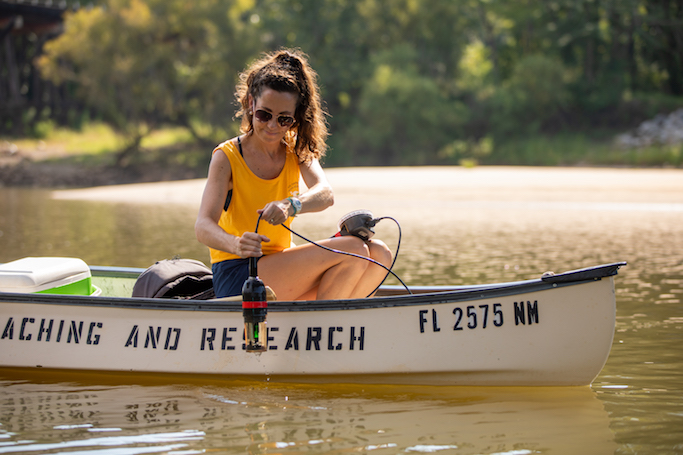 I can't think of anything I enjoy more than walking the beaches of 30A, the pristine stretch of coastline in Northwest Florida's Walton County. When surrounded by waves and sandpipers and the rising sun, I'm in my happy place. If I'm lucky, as I sip my morning coffee, a dolphin or two will swim by to greet me. And then, I know, it will be a good day.
Besides soft sand, emerald green waters, and lush protected spaces, this area of the Florida Panhandle is home to fifteen, globally rare, coastal dune lakes. Dune lakes exist in only a few places around the world—Madagascar (an island off southeastern Africa), Australia, New Zealand, Oregon, and here—in my little spot of bliss.
As Monitoring Coordinator with the Choctawhatchee Basin Alliance in Santa Rosa Beach, FL, Jenna Testa Kilpatrick manages water sampling at 133 sites in the area—a bay, river, creeks, and the dune lakes. Her non-profit's mission is to "promote swimmable, fishable waterways in our community through monitoring, education, restoration, and research."
As I stroll the beach, my path is often blocked by a channel of tea-colored water flowing into the Gulf of Mexico. Some days I tiptoe through this water and continue on my way. Other days, the channel is too wide and deep to cross, and I must turn around and go back the way I came.
"In all things of nature there is something of the marvelous."-Aristotle
"The coastal dune lakes are constantly changing," says Jenna. "As their water levels rise, due to rainwater drainage and other groundwater and tributary seepages, these lakes flood and create an outfall."
The outfall, or the channel I happen upon, breaks across the sand and empties into the gulf. These outfalls get wider or narrower, on an ever-changing basis, depending on wind, tides, and lake water levels.
And the dark brown water isn't dirty. Jenna explains "the water is stained in the forested uplands before it washes into the lakes. Pine and cypress needles, along with other leaf litter, create the tea-stained color."
With the rise and fall of the lakes' water level comes a mix of salt and fresh water. One day a lake is high in salinity, the next week not so much. And that constant change of the ecosystem can take a toll on the crabs, trout, bass, and otters living in the lakes. And the occasional bellowing alligator.
Each month, Jenna and her team of forty "citizen scientist volunteers" test the water quality in the county's bay, river, creeks, and dune lakes. They examine and track the changes in plant matter. To aid with conservation decisions, the Alliance provides this information to the public and government officials.
"Many of our region's wildlife, such as birds and our bottlenose dolphins too, are indicator species," says Jenna. Their behavior, or lack of it, can signal changes in the ecosystem. "If I were to go out, do a survey on Choctawhatchee Bay and NOT see any dolphins, I would question if the water quality has changed, leading to changes in the dolphin's food supply or other environmental conditions," Jenna says. If resident birds are leaving a particular waterbody, their departure can imply a change in the environment's health.
A Biology major at Florida State, Jenna longed to explore what grew and lived in the ocean. At Disney World's Epcot Theme Park, she snagged a coveted animal internship in the Marine Mammal Department. "Coolest thing I've ever been a part of," she says.
"Look deep into nature, and then you will understand everything better." – Albert Einstein
Working with dolphins, she learned these "incredibly smart" mammals all have different personalities, moods, and learning styles. Like us, dolphins are social creatures and enjoy strong community. Moms and their young "all hang together" in this "female-led society." Males find another guy friend or two and stick with those buddies for life.
As part of a marine mammal stranding team, closer to home and Santa Rosa Beach, Jenna studied dolphins washed up on the shoreline. Some still alive, Jenna and the team wrapped the animals, kept them moist and cool, and transported them in a special vehicle for treatment.
Sadly, marine animals land ashore for various reasons. At CBA, Jenna and her colleagues work to keep them safe through education, awareness, beach clean-ups, and the monofilament recycling program. Along waterways, fishermen and fisherwomen are encouraged to place their used fishing line in CBA's small recycling bins.  This keeps the line from entangling terrestrial and marine animals such as raccoons, pelicans, sea turtles, and dolphins.
What else can we do to keep the waters, and the dune lakes, healthy?
"Be a role model and what we call water and environmental stewards!" says Jenna. "Be aware of what you're doing and the footprint you are leaving. Fill in sandcastles, pick up trash, stay on trails and boardwalks."
"But, most of all, appreciate the nature around us and find inspiration in it. We are all part of one planet and one ocean. Respect nature, preserve nature, and we all win."