A Tuba Christmas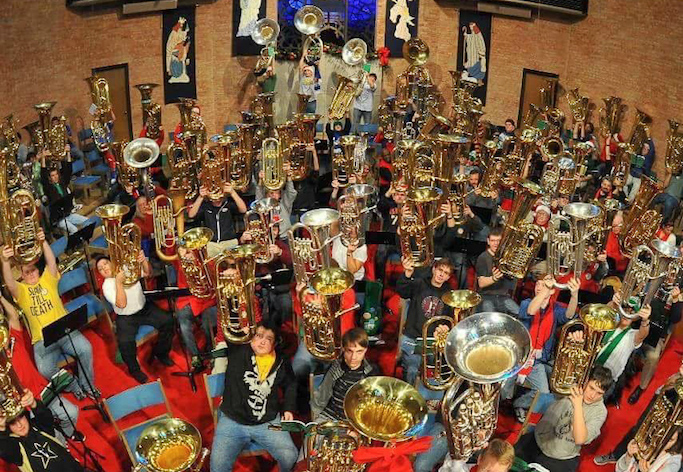 It's a Merry Tuba Christmas!
This month, in hundreds of cities across the country, bunches of tuba-toting musicians will gather to play holiday music. What began as a tribute to a tuba performer, who was born on Christmas Day, has become a unique showcase of tubas and their brass relatives – euphoniums and sousaphones and baritones. 
As a graduate teaching assistant at Indiana University's acclaimed music school, Garnett (G.R.) Davis studied Tuba Performance under Harvey Phillips. Over the years, G.R. collected a computer degree, taught tuba classes at universities, and toured the U.S. with a military band. He performed in ensembles and accompanied Frank Sinatra, Henry Mancini, and Frankie Avalon.
Now retired from Vanderbilt University's Blair School of Music, where he taught tuba classes for 25 years, G.R. looks forward to Nashville's annual Tuba Christmas on December 10. G.R. and fellow tuba enthusiast, Nancy Holland, have coordinated and conducted their city's festive event for three decades.
In 1974, Harvey Phillips – the gentleman from G.R.'s grad school years – wanted to honor William Bell, a mentor and legendary tuba player. Mr. Phillips also wanted to introduce the public to tubas and their versatility.
"Tubas can actually cover a wide range of notes," explains G.R., not only the guttural, low notes many of us recognize.
It was Mr. Phillip's hope younger players and tuba novices would join more experienced musicians in spontaneous holiday concerts and learn, firsthand, all the melodies a tuba can carry.
G.R. played the tuba and supported his friend in the first Tuba Christmas – a test run in Bloomington, Indiana. With his debut concert a success, Mr. Phillips set his sights on New York City.
According to G.R., Mr. Phillips, now deceased, was a charismatic, never-take-no-for-an-answer sort of guy. So why wouldn't he phone the folks at Rockefeller Center and lay out his plan?
Next to the Prometheus statue, and ON the famed ice skating rink, Mr. Phillips wished to assemble 300 tuba players to perform Christmas carols for spectators and shoppers. May he please reserve the space?
His proposal was met with silence at the other end of the phone line.
Mr. Phillips suggested the apprehensive Rockefeller Center agent contact a few references – performers he'd played with over the years in New York. "People who would verify Harvey could actually make the Tuba Christmas concert work," said G.R.
After speaking with Doc Severinsen and Leonard Bernstein and another luminary or two, the astonished Rockefeller Center rep called back in a rush.
"Mr. Phillips, how can we help you make this concert work?"
On December 15, Rockefeller Center will host the 46th annual Tuba Christmas. All 200 Tuba Christmas concerts around the country, and several outside the United States, are free to the community. Professional musicians, retired performers, and students drag their instruments to venues, indoors and out, and share their musical talents.
Under G.R.'s and Nancy's direction, the Nashville Tuba Christmas began with 25 musicians in a now-shuttered outdoor mall. With no cap on the number of performers, fire codes and seating capacities required the show to move to larger and larger spaces through the years.
Since 2006, downtown's First Baptist Church has hosted the tubas. About 150 musicians register early in the morning, rehearse as a group, and perform two shows to 2000 audience members. 
The audience will sing along to their favorite Christmas carols and soak up their merry surroundings. "No matter who shows up – with the wide range of talent and ages – the music always comes together," says G.R.
For more information about a concert  near you, please visit the Tuba Christmas website.