Marty Pavelich – Hockey Player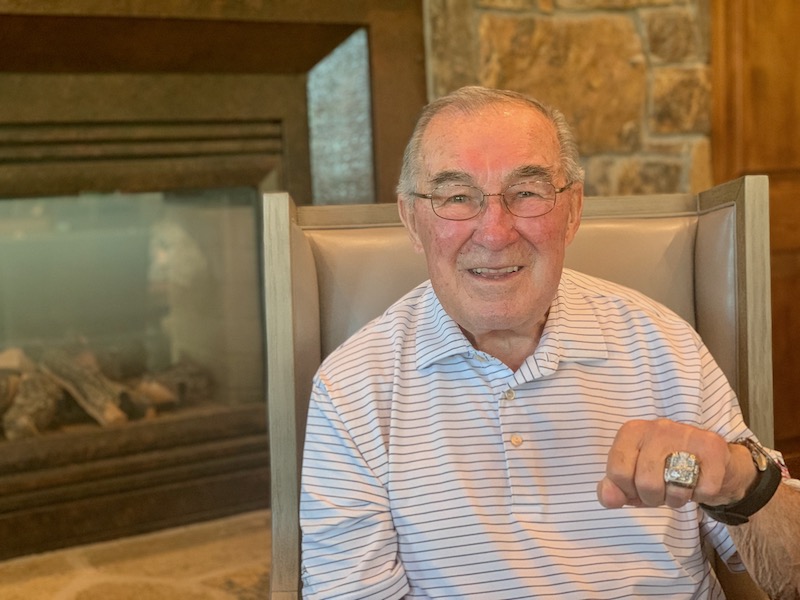 The Orchid Series
A collection of conversations featuring inspiring humans over 75 years young. Curious, engaged, active, interesting. The sort of person I want to be when I grow up!  
How did I know, when I said hello to Marty Pavelich at a Colorado workout center, this almost 95-year-old dynamo would turn out to be one of my favorite people stories? With his wisdom, crinkly smile, and gift for storytelling, Marty makes anything in life seem possible. From now on, whenever I plop my coffee or water bottle into my car's cup holder, I'll think of Marty…
In 1929, Marty watched as his father and uncle hopped on a freight train bound 200 miles north of Sault Ste. Marie, Ontario. They said goodbye to their families and headed off in search of better wages in the gold and coal mines. The two men built a log cabin—complete with outdoor plumbing and a well—and their families joined them the following year.
"In Canada," says Marty, "kids are born with skates on." Marty played hockey wherever he could—juvenile leagues, public school, junior leagues as he got older. An Orange Crush salesman and part-time National Hockey League scout heard about the determined young kid with the quick stick. He invited Marty to a Southern Ontario junior training camp.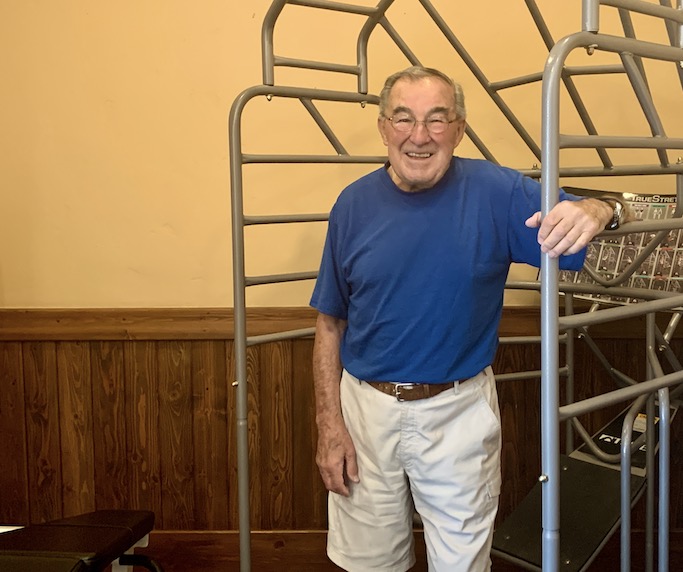 Against his mom's wishes, Marty left home toting a cardboard box with a few pairs of pants and socks. "I didn't have much," he says. Determined to succeed—and not return home to the mines—he trained and played "with everything he had." 
One day after practice, the equipment manager approached Marty. "What size skates do you wear?" he asked. "You're moving up." Marty set off for Indianapolis, the NHL's Detroit Red Wings farm club. 
On to the Big Leagues
"What in the world am I doing here?" Marty thought as he skated alongside the best young players throughout the U.S. and Canada. All vied to move up one final notch—to the "big leagues." And—after three weeks—Marty got the call. The Detroit Red Wings needed him for the playoffs. 
"I broke into the Red Wings—and the NHL—as a 19-year-old kid," says Marty. In 1947, he signed a contract for $6,000. "I'd never seen so much money," he says. He bought a new, $1500 Pontiac.
In his ten seasons with the team, the Detroit Red Wings won four Stanley Cup Championships. Marty will never call himself a legend, but a Red Wings manager once referred to Marty as "one of the four key men around whom we build our hockey club." 
"I love to win," says Marty. "Life can be wonderful, and anyone can be successful, but good fortune will not just drop in your lap. You've got to work for it."
He Always Set Goals
Marty stresses that, throughout his life, he set goals. "I always wanted to build something and work for myself," he says. When he retired from his storied career at age 30, Marty took a job as a manufacturer's sales rep. With only an eighth-grade education, he knew he lacked skills. But he was confident, professional, and a hard worker. 
After acquiring business experience, he and a former teammate eventually founded a plastics manufacturing plant that supplied parts to the auto industry. "We knew the Chrysler and Ford executives from our playing days," he says. Their successful business turned out sun visor hooks, accelerator pedals, trim metals, and hundreds of other parts for auto companies. 
The Cup Holder
Marty smiles when he recalls the morning Lee Iacocca phoned. "Hey Marty, I want something to hold my coffee cup while I'm driving," the Chrysler CEO said. "Can you come up with some sort of gadget?" In 1984, Chrysler minivans rolled off assembly lines outfitted with cup holders. "People loved them," laughs Marty.
His current goal? He wants to ski when he's 100. Marty credits aging well to his positive attitude and consistent workout routine. Several mornings a week, he rides a stationary bike and works with weight machines. "And then I stretch for 45 minutes," says Marty. 
Companionship is essential too. Marty's lost two wives. After his second passed away several years ago, Marty hated the quiet, empty house. "I'm pretty tough, but loneliness was horrible for me," he says.
About five years ago, he rekindled a friendship with a woman who also lost two spouses. They'd known each other fifty years ago in Michigan but hadn't seen each other in three decades. Shuttling back and forth between Big Sky, Montana and Aspen, Colorado, they now golf, ski, and fly fish together.
"We have more fun than a barrel of monkeys," says Marty. 
Of course, like everyone else, he's experienced sad times along the way. He lost his dad in a mining accident, and his mom only saw him play one game. But "I've really enjoyed my life. Who knows how many more years I have left? I wanted to be the best that I could be, and I did my best with the skills I had. I love life!"