Judy Freedman – Loneliness To Loveliness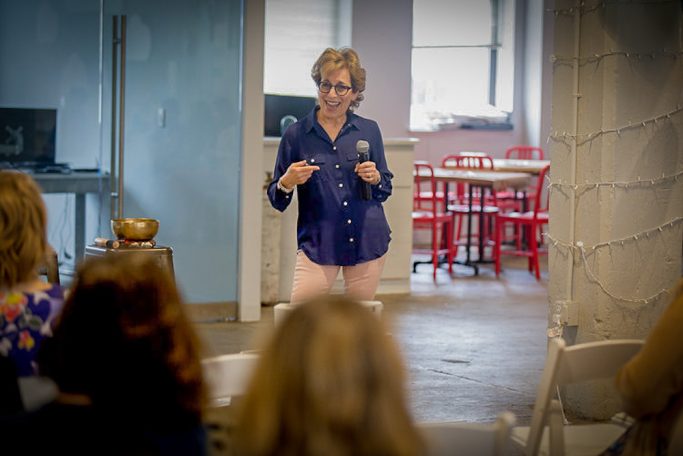 Perhaps you've read about negativity bias – the human brain's tendency to focus on what is wrong in our life, rather than what is right. Some days, I fall squarely into this pattern.  I fixate on the silly remark I made to a friend – replaying it over and over again – and completely forget about the many things I managed to do well. 
Judy Freedman has completely revamped the way she looks at negative events in her life.  Unfortunately, grief was the catalyst for her reinvention, and it took her years of working through her feelings before she truly hopped on board the gratitude train.
Lonely and frightened and upended when she lost her husband ten years ago, Judy turned to writing. Almost fifty at the time, the corporate communications executive blogged about grief and aging issues and worries.  "My writing was therapeutic for me," reflects Judy.  "Women were reading my  posts and commenting, and people I felt like I knew but really didn't were supporting me."
Encouraged by her therapist, Judy began practicing mindfulness – before it was really a "thing" – and yoga.  Deciding it was time to slow things down, her husband's passing caused Judy to think about her future, her own dreams, and what she "was going to do now."
All the while, Judy waded through the phases of grieving – denial, anger, bargaining, depression.  Working toward accepting her situation, as impossible as it may sound to actually do, was tough. "Grieving takes time, lots of time," says Judy.  "And you have to go through every single one of the stages," she adds.   
Attending a session of her grief counseling group in southern New Jersey, "it hit me," reveals Judy.  "We were talking about transitions and marriage, and I suddenly realized I was one of the lucky ones," she continues.  "I had  been blessed with a loving, 25-year marriage."
And so her thinking began to shift.  Judy recognized she was more fortunate than many people.  She was thankful for her "wonderful husband, two fabulous kids, and a great career."  As she studied mindfulness and meditated on the special cushion in her bedroom, she became more aware of just all she had to be grateful for. 
Gratitude makes sense of our past, brings peace for today, and creates a vision for tomorrow. – Melody Beattie
From personal efforts, I know training yourself to focus on what you have to be thankful for – rather than what is not going your way – is challenging. For most people, the negative comes shining through.  The repair guy did not show up, I didn't sleep well last night, I wish I could lose some weight…..
Judy quickly points out this gratitude habit "didn't happen overnight." Speaking on panels and to community and corporate groups, Judy tells other women "it is not possible to go straight from grieving to gratitude.  That is not going to happen when you've experienced a loss."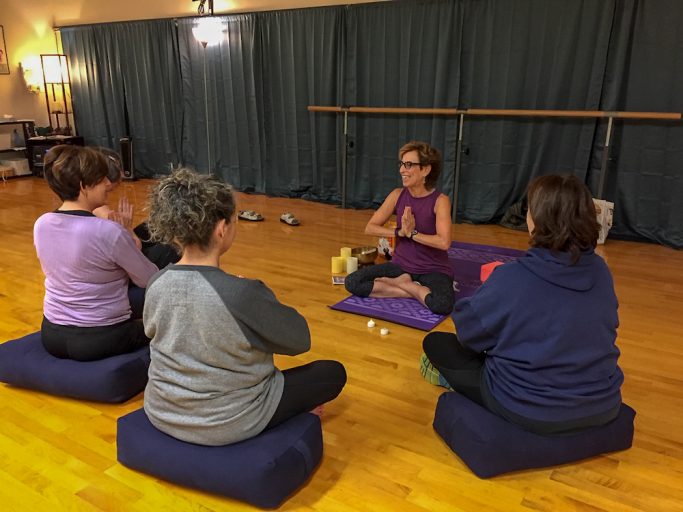 Retiring – "I detest that word, I like reinvention better!" – five years ago, Judy now fills her days with things bringing her joy.  Although not good at turning down opportunities, she only says "yes" to things she really wants to do. 
Her yoga practice evolved into part-time and substitute work.  She especially enjoys teaching restorative and senior yoga classes.  "I feel like I am giving back when I help others with flexibility and stress," she explains.  And she doesn't "need to put on makeup, pack a suitcase, or make sure the right outfit is pressed and ready to go."
Writing articles for her blog brings her travel and speaking opportunities.  She loves sharing travel information and helping others feel more confident when traveling solo.
Although she can't replace her husband, Judy's reinvention story is a happy one.  Celebrating several years with a new soulmate, she is now grateful for another long-term relationship.  She has "a companion" – someone to share travel and food and adventures.
If you want to turn your life around, try thankfulness. It will change your life mightily. – Gerald Good
But Judy likes her quiet time too.  After her husband died, she realized she had never really been alone – and it took a bit of getting used to.  Growing up in the Bronx, studying at Cornell, and working in Manhattan, she always had a roommate. And then she got married.
Judy discovered she enjoys doing things on her own and is truly happy with herself. Smiling, she declares she is in much better shape physically, emotionally, and spiritually than she was ten years ago.  I am so very glad she said "yes" to meeting me.  And I hope I brought her joy!
Photos courtesy of Judy Freedman