Designing Jewelry Leads to Helping Widows in India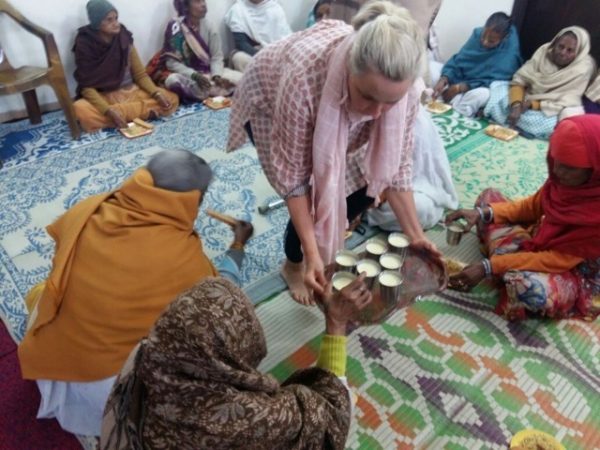 Susan McVicker and Katie Gilliam describe their chance meeting as a God thing.  With a mother-daughter age difference, they both marvel at the timing of their worlds coming together and the adventure that unfolded.  Susan says she "couldn't possibly have imagined that her art would someday help women on the other side of the world." 
Four years ago Susan came across a dilapidated shoe box filled with her late grandfather's old coins.  She toyed around with them and eventually turned the coins into beautiful pieces of jewelry.  Her twin daughters, and their college friends, loved the necklaces and bracelets Susan created.  In short time, a hobby turned into a business.   Her unique designs, crafted from stones, leather, African glass, and pearls, can now be found in boutiques in Aspen and other parts of the Southwest.  Susan began as a one-person operation, and she still personally handles every single facet of her business – from sourcing to crafting to marketing. She laughs when she remembers where it all began.  "I used to sit in my living room at night, watching tv with my husband, drinking a glass of red wine, and beading," she recalls.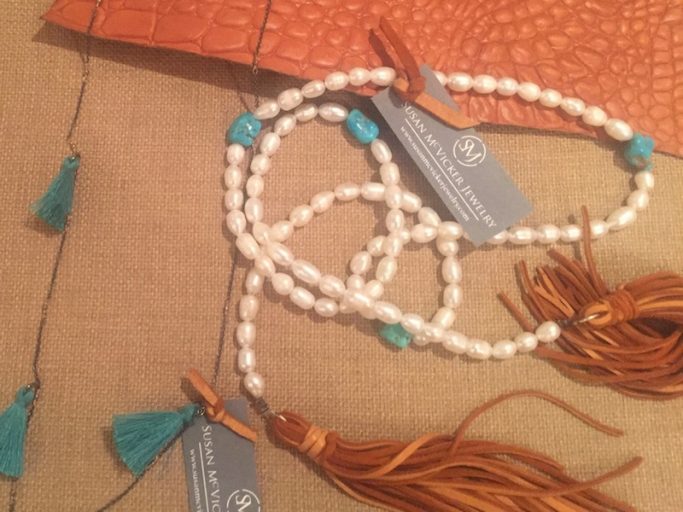 Katie was introduced to the White Rainbow Project while studying at Pepperdine University. The  U.S. based 5013c nonprofit, works to lessen the shame and disgrace brought to widows in India.  The organization strives to teach the widows basic skills, giving them hope and a sense of safety and security in an otherwise dismal existence.  Through an Intercultural Communications internship with the group, Katie helped to produce a documentary about widowhood in India.   The film explores the stigma of widowhood and the daily task of survival without husbands.   After graduating, Katie headed to India to continue setting up a program in Vrindavan,  the town known as "the city of widows."  She eventually assumed the role of Executive Director of the White Rainbow Project and works tirelessly to solicit funds and spread awareness about the program. 
Their paths crossed when Katie spotted Susan and her jewelry creations at a Nashville art show.   Katie was impressed with Susan's unusual and lovely pieces, and they began discussing India and its bounty of precious and semi-precious stones. "India is the holy grail of gemstones and color and vibrancy.  I had always wanted to travel there and do some sourcing for my line," Susan added. Several discussions later, Susan and Katie set off to India with an idea to benefit the jewelry business and a group of widows.   Susan's goal was "to work with  widows on new designs while sharing and visiting with them.  I wanted to help raise awareness about their plight."
Although Indian ideals are changing favorably for women, many impoverished and illiterate, as well as high caste families, still believe in a variety of widow superstitions.  The general public  regards widows as bad omens or bad luck.  The disgraced widows are shunned by society and abandoned by their families –  left to fend for themselves with no job or shelter.  They are identified by the white saris they wear and their lack of adornment or jewelry.  "The culture wants the widows to feel like they have done something wrong.  They want them to disappear, be ghosts," Katie explained.  With no way to earn money or survive, thousands of Indian widows seek refuge in the sacred, northern city of Vrindavan.  They arrive in droves, pursuing safety and security in the government ashrams, or homeless shelters.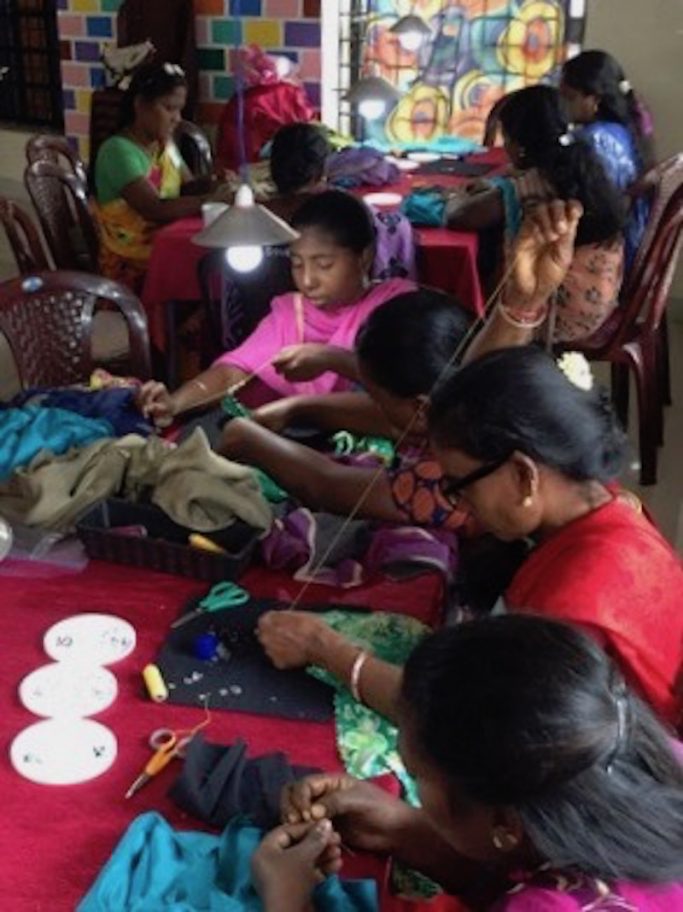 Next door to an ashram in Vrindavan, the White Rainbow Project operates a day shelter where widows receive food, support, and hope two days a week.    A Christian couple, devoted to their ministry, keeps things running at the shelter.  The husband and wife travel 2 1/2  hours each way, every week, from their home in Delhi to teach skills and provide opportunities to the women.  The WRP shelter offers a sanctuary where the widows can talk and rest and escape from the streets.  The women share stories and empathize with one another.  The caring couple teach hygiene and crafts and pray with them.  The  widows enjoy making bracelets, fair trade certified,  which WRP ultimately sells at craft fairs in the U.S.  The widows earn money for the bracelets, and the activity gives them a sense of accomplishment and satisfaction.  Katie is quick to point out the bracelets produced are few in number.  "It's about giving them a bit of purpose, making them feel good about themselves," she explained.
Susan arrived at the WRP shelter in Vrindavan eager to teach the widows how to make bracelets from her design sample.   Along with jewelry making tools and gemstones, Susan came bearing much-appreciated gifts for the widows – eyeglasses and  pretty sandals.   She learned every widow at the shelter has a role she seems to enjoy.  One is proudly responsible for making and serving tea, another washes dishes.  The younger women help the older with crimping the metals, and the widows assemble the bracelets in groups or pairs.  Susan described it as a "very sweet environment."   She plans to sell the bracelets as a special part of her collection and hopes for the collaboration to be ongoing.  "They wanted to learn and had a fun time making the bracelets, although it was tiny and painstaking work," she said.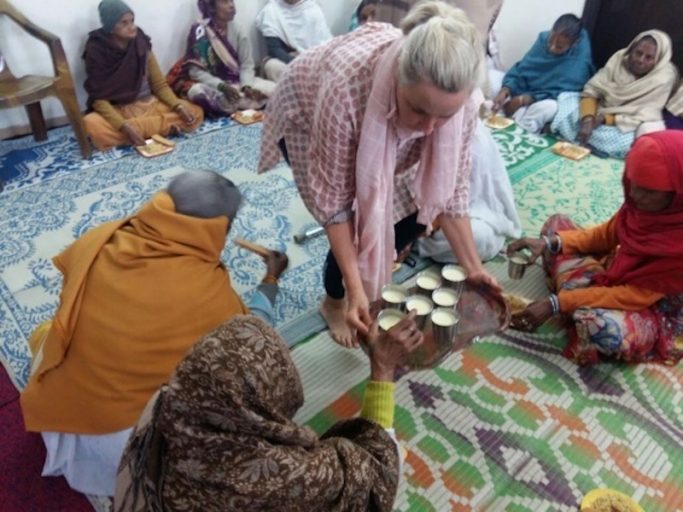 Susan reflects back on the last few years with a smile.  She relishes the experiences her business has given her.  "It's been the biggest adventure of my life.  This has expanded me in every way – my creativity, my personal growth, my ambition.  I have made tons of mistakes and learned and developed and grown."  And she happily admits her daughters and husband are REALLY proud of her.