Brian Castillo – Adaptive Snow Sports at Park City's National Ability Center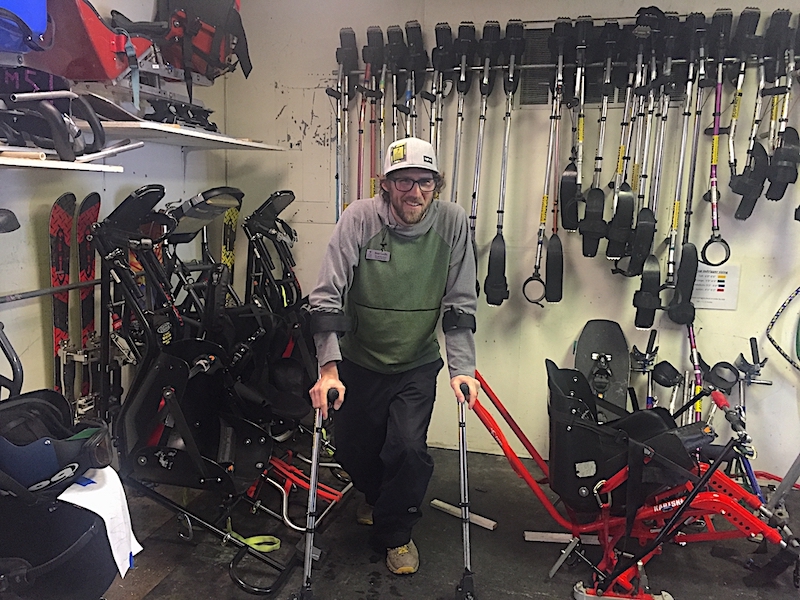 For those who don't know the quiet thrill of sliding down a mountain—carving out turns and leaving tracks in the snow, relishing the scenery and the solitude—it is exhilarating. And always a little bit out of my comfort zone. When I try to imagine doing this with one leg, no sight, or without the ability to use my body to lean into a turn as I careen down a mountain — well, I can't.
Brian Castillo and I meet in the small, prefab building at the base of the giant Park City, UT ski resort. Being a fair-weather skier, I am taking the day off from the slopes on this cold and snowy day. But the weather does not dampen the spirits of the excited folks who mill around the National Ability Center. Donning bright orange vests and adjusting their specialized adaptive equipment, the volunteers, guides, instructors, and participants are eager to head to the snow.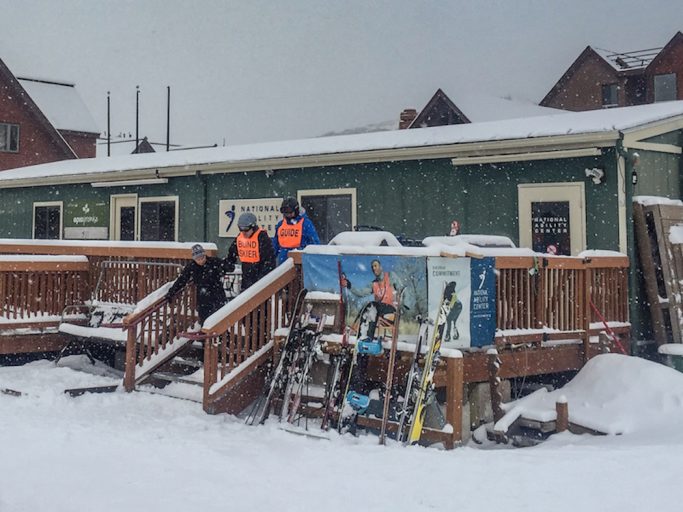 In the middle of his 10th season, Brian is the Ski and Snowboard Program Manager for Park City's National Ability Center. Although the non-profit offers year-round adaptive recreational programs, this location's focus takes advantage of Utah's "greatest snow on earth." Whatever their physical disability or cognitive challenge, Brian and the crew at the NAC work to get all individuals up on skis or a snowboard and out on the slopes. Offering training to locals and visitors to the area, Brian stresses "everyone can play on the snow and have fun."
With his comfortable smile and relaxed manner, I can picture Brian snowboarding as a child in Madison, Wisconsin. Surrounded by all things University of Wisconsin and ready for a change, he headed 300 miles north to study therapeutic outdoor education and recreation at Northland College. Focused on people with challenges, Brian says it didn't take long to realize he wanted a career in this specialized area. Kind and passionate, Brian explains he knows he "might not get rich money-wise, but I can go home every day knowing I worked to make someone's world a better place."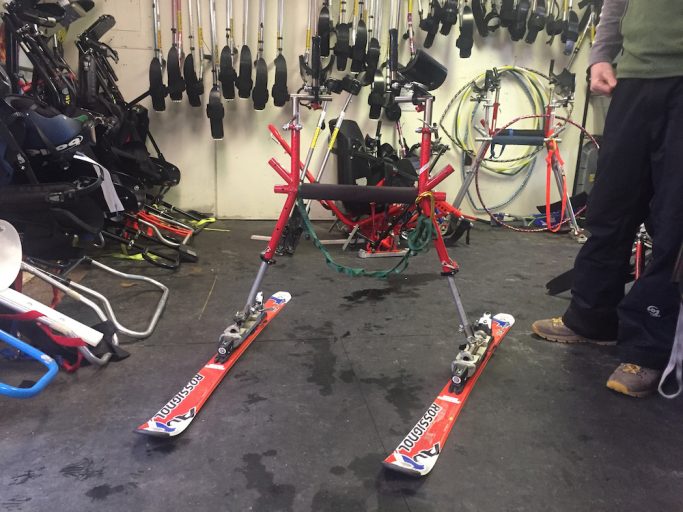 In the center's "toy room," the walls and floor are stuffed with all kinds of adaptive snow equipment—riggers, bi-skis, mono-skis, cart skis. "We hope the people we teach will gain the skills they need and then go play with their families," Brian admits. Laughing, he tells me this is a "twisted goal and would put us out of operation!" Of course, many people will always need their instruction, and lots come back season after season.
"Every day is different and challenging, and I never know who will cruise through the door."
As he grabs a bi-ski, he points out this is the quintessential piece of snow equipment for someone who spends a large amount of time in a wheelchair. The skier sits in the bucket-type seat and uses a handlebar for balance. This gives the individual a sense of security—"like a bike with training wheels," Brian explains. Once positioned—and it takes about an hour to get an individual set up with adaptive equipment—they can steer by turning their head to the left or right. Depending on each circumstance, the instructor may follow behind and tether—or not.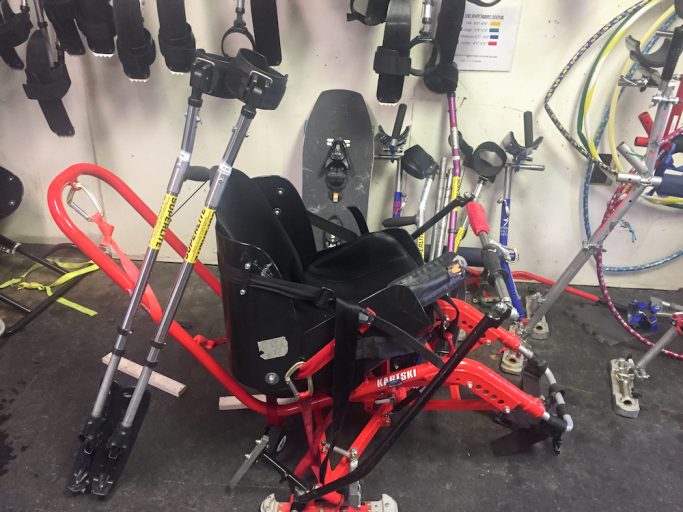 Although most participants at the NAC prefer to ski, snowboarding is a good option in some cases. With his big, lopsided grin, Brian tells me about "one little gal" he worked with for a season. Her entire family skied, and she struggled. Her illness caused asymmetry, with one side of her body stronger than the other. Unable to turn with her weaker side, she skied in a circle. Brian set her up with a snowboard and taught her to place her stronger leg forward to steer. Soon she ripped down the mountain, beaming all the way. "We thrive on those experiences," he smiles.
I leap at Brian's offer to ski a few runs with an instructor, a guide, and one of their visually-impaired skiers. Lindsay's goal is to join her older sister, Sarah, on the high school ski team next year. With the instructor leading the way down a decent-sized hill, the guide and Sarah run interference on either side of Lindsay. The instructor and Lindsay wear headsets and communicate via the clock method— turn at 2:00 and hold for 3 seconds, turn at 10:00 and hold for 2. I am amazed how much trust and faith Lindsay has in the instructor and the trained and capable volunteer guide.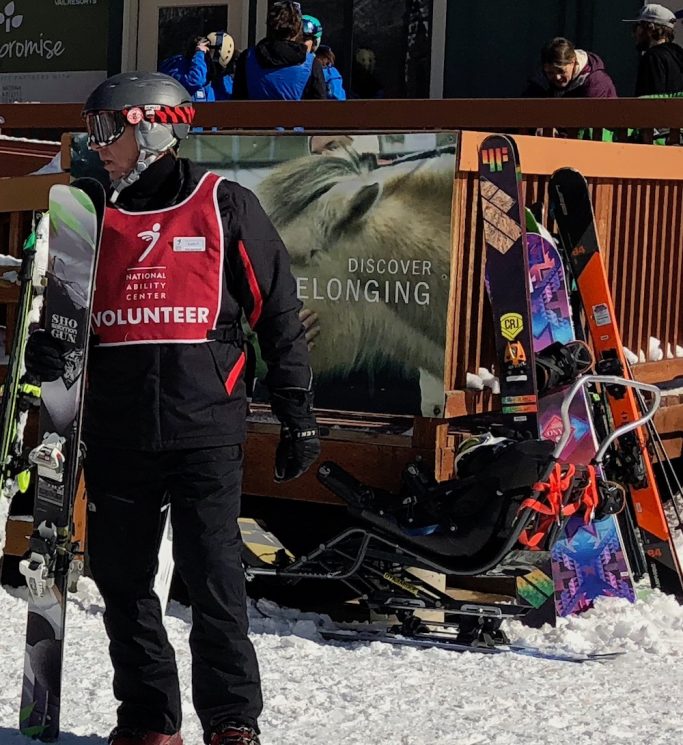 If the snow is fresh, Brian says he is out on the mountain with his snowboard. He also thinks telemark skiing (heels are not locked in) is great fun, which I'm certain translates to "very difficult."  Like an academic calendar, his role at the National Ability Center "is a 10-month gig." This gives him time to recharge and nourish his love of paddling, kayaking, and biking, during the summer months.
When Brian and I discuss that everyone is a car accident or health emergency away from adaptive sports, it reminds him of other "iconic moments." He remembers the avid skier who had a stroke and thought skiing again wasn't possible. Adaptive sports equipment completely changed his life—and outlook. He recalls watching a young man who used a wheelchair, with cerebral palsy, balance on a piece of equipment and take a few runs downhill with his grandfather. Shaking his head, he confirms the "smiles are unbelievable, and they keep me coming back."