Ben Estus – Book of Mormon Actor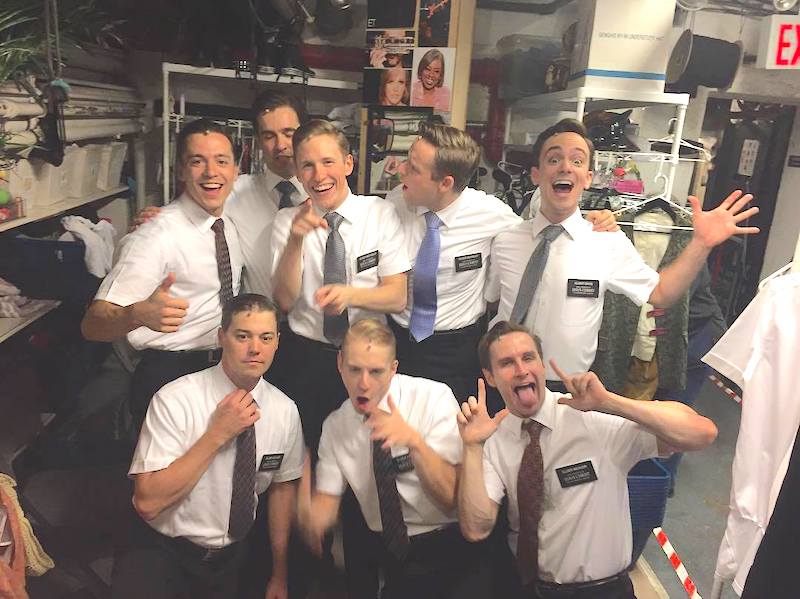 Tapping my toes and laughing out loud,  I  admit—a little sheepishly—I thoroughly enjoyed myself.  The material was shocking and offensive and often not tasteful at all. But the actors, singing the catchy songs and dancing to the spirited tunes, seemed to have a whole lot of fun on stage.
According to Ben Estus, he and his fellow ensemble members ARE having an absolute ball. For 2 1/2 hours, The Book of Mormon stretches acceptable boundaries on almost every topic—religious or otherwise.  An "equal opportunity offender," the story centers around young Latter-Day Saints missionaries who travel to Uganda to convert poor, diseased villagers to their religion.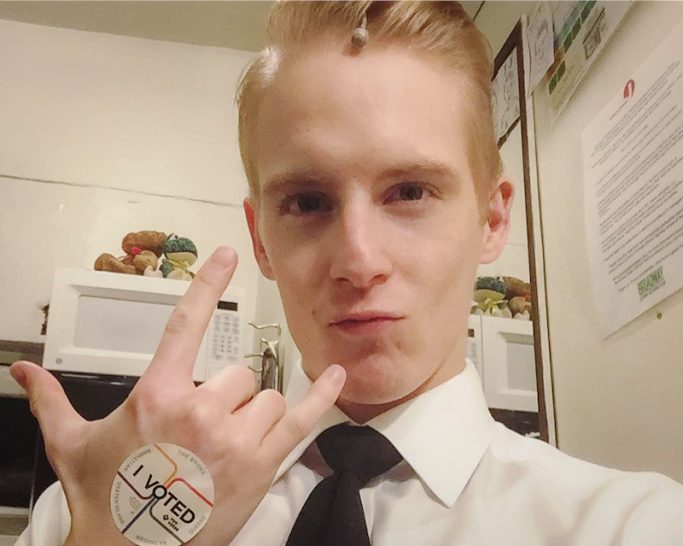 The Book of Mormon is one of the most successful musicals of all time. Winning nine Tony awards, it has grossed more than $500 million since opening in March 2011. Five years after joining the New York company, Ben realizes he "is lucky is to be acting on Broadway with amazingly talented cast members." And this keeps it fun to perform, night after night, in eight shows each week.
Ben was in his junior year of Northwestern University's acclaimed theatre program when Book of Mormon casting agents came to Chicago. Auditioning for the musical comedy's first national tour, Ben admits "the timing wasn't right, and I wasn't ready."
The following year was different. In the annual Senior Showcase, graduating students in the acting and musical theatre classes audition for various shows' casting agents. Ben explains the Book of Mormon scouts, with four companies – Broadway, the National Tour, London, Australia—have a revolving door of parts to cast and are continually looking at talent. 
Called back eight different times to perform his own songs, run a cut from the show, and meet with the director, Ben knew he "was close." Breaking into his boyish smile, he still remembers getting the phone call. Shaking his head and reliving the moment, Ben says "it was a life-changing call."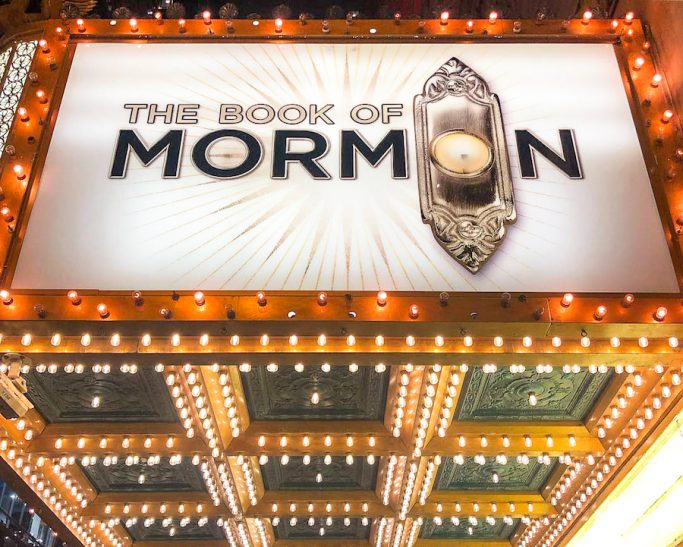 Not quite a year after graduating from Northwestern, he began rehearsals as part of the singing, tap-dancing, wise-cracking ensemble. It was unbelievable that only two weeks later, it was showtime—performing on Broadway in the Eugene O'Neill Theatre to packed houses every night.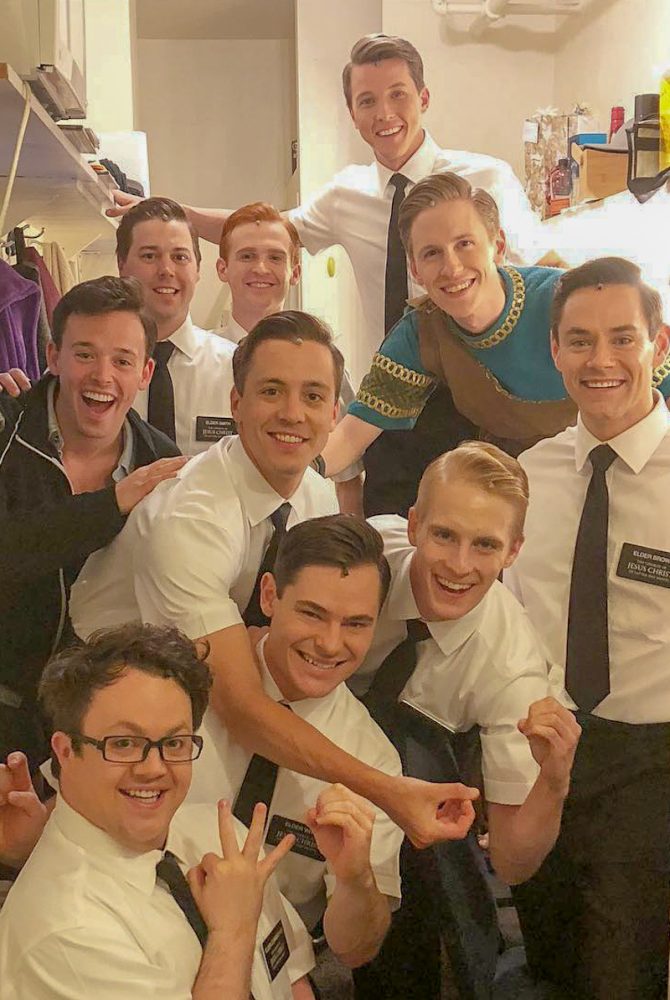 Ben explains tracks are "different roles in the show played by the same cast member."  "We call them tracks in the ensemble because the Mormon Boys don't always do the same part the entire time," he continues.
Singing and dancing and ringing doorbells as Elder Grant at the beginning of the show, Ben switches to Elder Church when the missionaries arrive in Uganda.  His favorite part of his track? Laughing, he says, "Playing Elder Cunningham's mom in the airport scene!"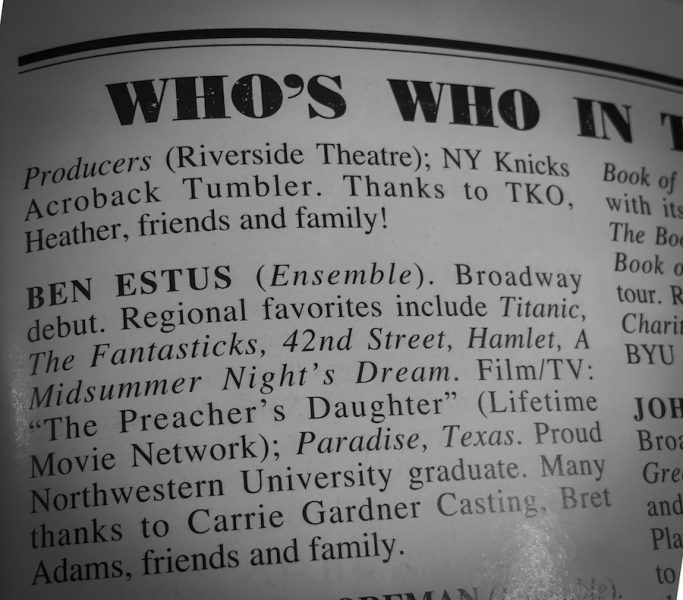 All the Mormon Boys—the ensemble—have understudies. "They and the Ugandan villagers also have swings in the building at all times—just in case," explains Ben.  A swing is a utility person, of sorts. They can play many different tracks and fill in for anyone at a moment's notice.
Covering sixteen different tracks, Ben's wife was a swing actor on Broadway's Matilda. She later performed in Hello Dolly until it closed in August.  Married late last year, Ben says, "It is helpful to have a partner in this industry. We work the same crazy hours, and we understand this unique business and what the other is going through."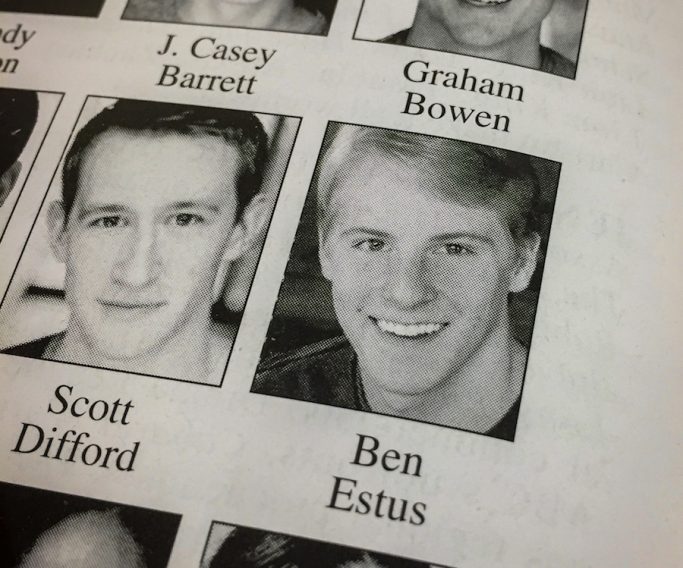 Things start to buzz backstage at the theatre, and Ben prepares to style his hair and do his makeup for the Tuesday evening show. His Mormon Boy uniform—crisp white shirt and black trousers—is laundered and hangs on a rack nearby.
It's a glamorous job but, of course, it's still a job. And, like any other, it's sometimes hard to get motivated every single day. Ben reminds himself how lucky he is.  "If I had told high school Ben, back in Texas," he says with that wholesome grin, "he'd be acting in a Broadway show, I know he would have been very, very happy."
Photos courtesy of Ben Estus and The Book of Mormon